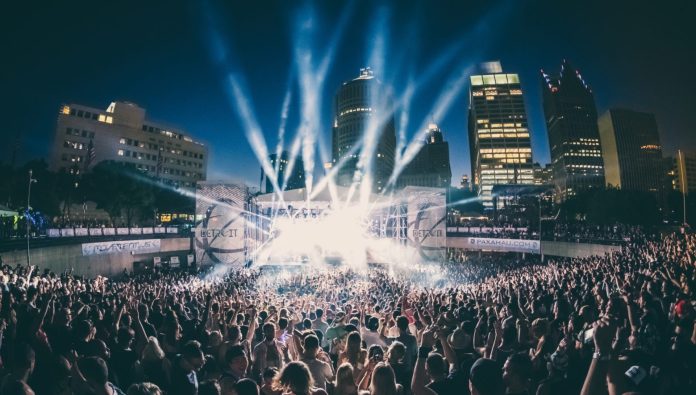 Check Out The Movement Festival 2023 Lineup In Detail
Have a detailed breakdown of this year's Memorial Day Weekend historic gathering, to be held in Detroit.
Each year, thousands gather in Detroit, the birthplace of Techno, to celebrate the heritage of the city on the Electronic Music industry. Movement Music Festival is one of the longest-running dance music events in the world, taking place in Hart Plaza — Detroit's legendary riverfront destination.
The festival, known for its House and Techno spirit, gets ready for this year's edition, with a handful of amazing artists, old and new, veterans and newcomers, spanning 3 days and 6 stages per day. The New York Times part of their "50 Essential Summer Festivals" list, has revealed their full lineup for this year's edition. Read on to find out what Memorial Day Weekend holds for EDM.
Movement Detroit 2023 Full Lineup Breakdown
DAY 1 (Saturday, May 27)
Movement Stage
Basement Jaxx (DJ Set)
Ida Engberg
Maceo Plex
Stacey Hotwaxx Hale
Stacey Pullen
Waterfront Stage presented by JARS
DJ Godfather
J House & Másquenada (Houseparty)
Kash Doll
MJ Nebreda
Shigeto ft. Dez Andrés (Live)
Three 6 Mafia
Uniiqu3
Zeds Dead (Altered States)
Stargate Stage: Detroit Love Showcase
Carl Craig ft. Jon Dixon (Live)
DJ Holographic
Kyle Hall b2b Byron the Aquarius
Moodyman
NIKS
Octave One (Live)
Pyramid Stage: DJ Minx presents House Your Life
Al Ester
Derrick Carter b2b Mark Farina
DJ Minx
Magda b2b Mike Servito
Masters At Work
Shaun J. Wright
TSHA
Underground Stage
Akua
BMG
Erika
Mark Broom
Onyvaa
Surgeon
Detroit Stage
2Lanes
AK
Aux88 (Live)
Fusegrade
Ladylike
Milan Ariel
Sheefy McFly
SILLYGIRLCARMEN
VIP Area Pop-Up Stage
Soul Clap presents House of EFUNK
DAY 2 (Sunday, May 28)
Movement Stage
Ben Klock
Charlotte de Witte
Cybotron
Eddie Fowlkes
Huey Mnemonic
Robert Hood (Live)
Waterfront Stage presented by JARS
Caribou
Cassy
Ela Minus
Kevin Reynolds (Live)
Mister Joshooa
Paranoid London (Live)
Special Request
Stargate Stage: KMS Records presents Defected Showcase
Adam Port
Ash Lauryn
Kevin Saunderson b2b Dantiez
KiNK (Live)
Melé
Rimarkable
Sam Divine
Pyramid Stage
Green Velvet
Mathew Jonson (Live)
Ricardo Villalobos
Ryan Crosson b2b Shaun Reeves
Seth Troxler
Zip
Underground Stage
AMX
Ben Sims
Chris Liebing
Decoder b2b Jay York
DJ Nobu
Lindsey Herbert
Detroit Stage
Asher Perkins
Buzz Goree
Craig Gonzalez
Dru Ruiz
Rebecca Goldberg (313 Acid Queen)
Santonio Echols
Scan 7 (Live)
Suburban Knight
VIP Area Pop-Up Stage
Detroit Techno Militia
DJ Cent
DJ Seoul
Joe Hix
T.Linder
DAY 3 (Monday, May 29)
Movement Stage
Audion (Live)
Bonobo (DJ Set)
Logic1000
Skrillex
Underworld
Waterfront Stage presented by JARS
Brian Kage
DJ Seinfeld
FJAAK
Lauren Flax
Luke Hess
Multiples (Surgeon & Speedy J) Hardware (Live)
Stargate Stage
Beige
Dom Dolla b2b John Summit
Georgia Angiuli (Live)
Kaskade Redux
Lee Foss
Pyramid Stage
Father Dukes
Fisher
Heidi
Ladymonix
Rebüke
Stephan Bodzin (Live)
Underground Stage
Henry Brooks
Klangkuestler
LSDXOXO
Sara Landry
SPFDJ
Detroit Stage
Audia
Beatnok
Ben Scott
Javonntte & Isaac Prieto (Hybrid Set)
Sinistarr
Soundmurderer
Whodat
VIP Area Pop-Up Stage
Mija & Friends
Check out the lineup in pictures, down below: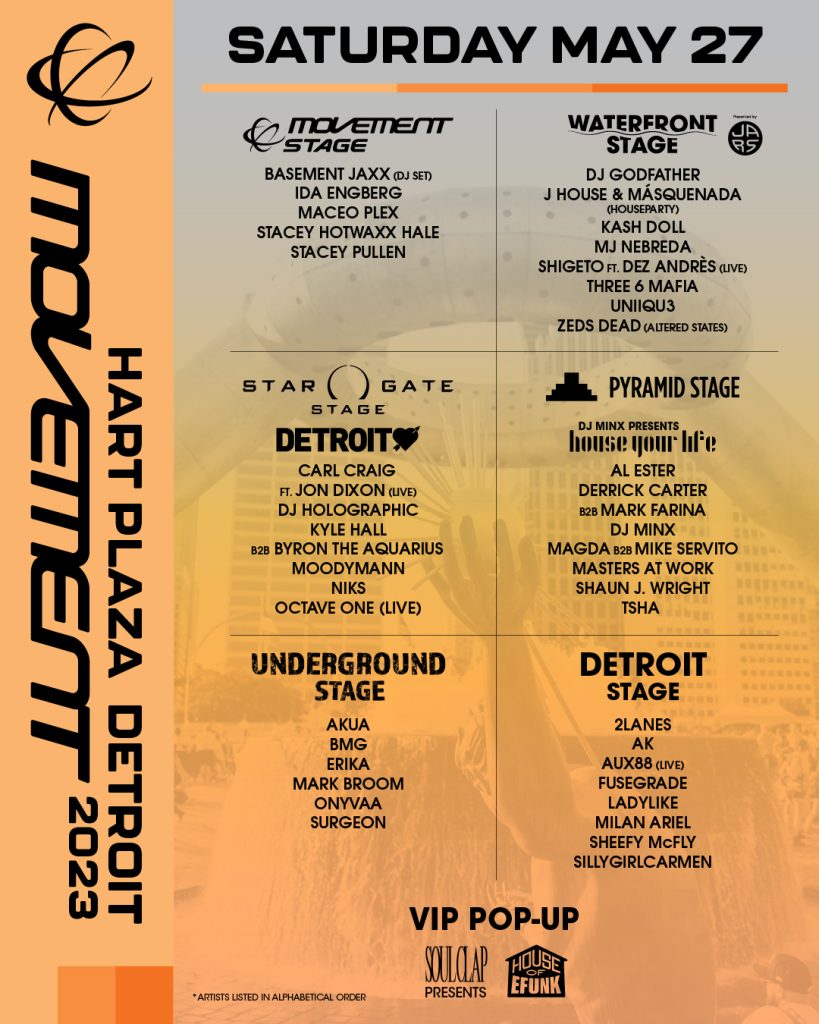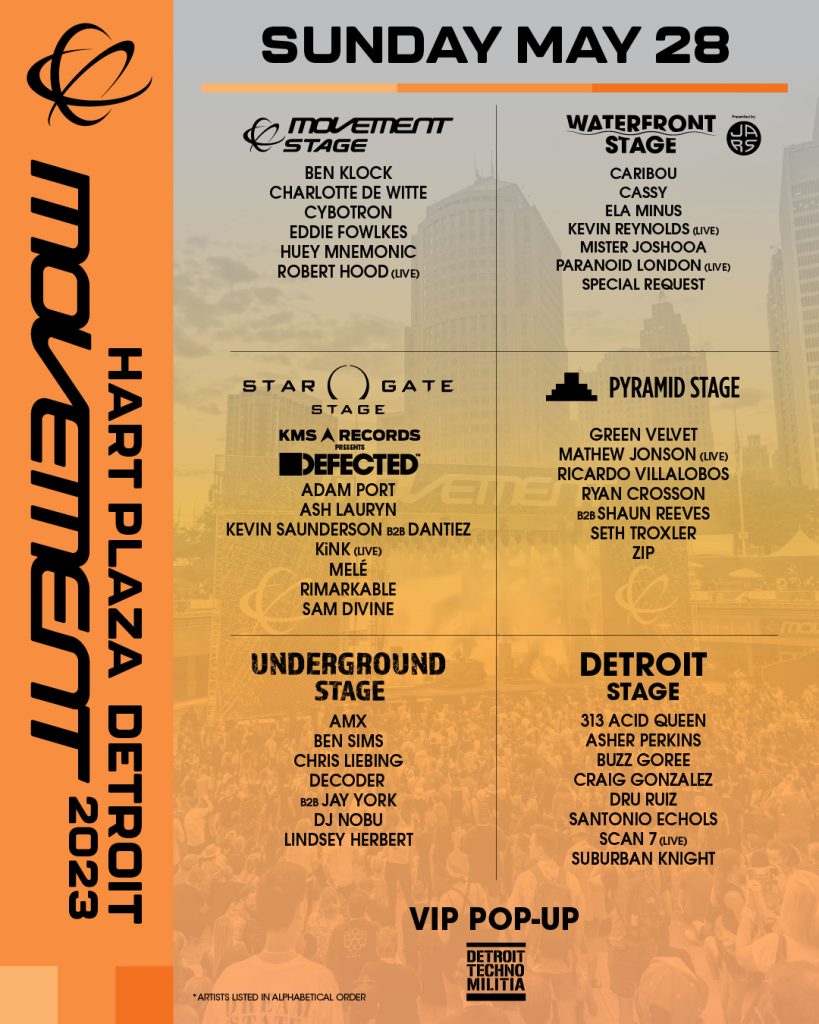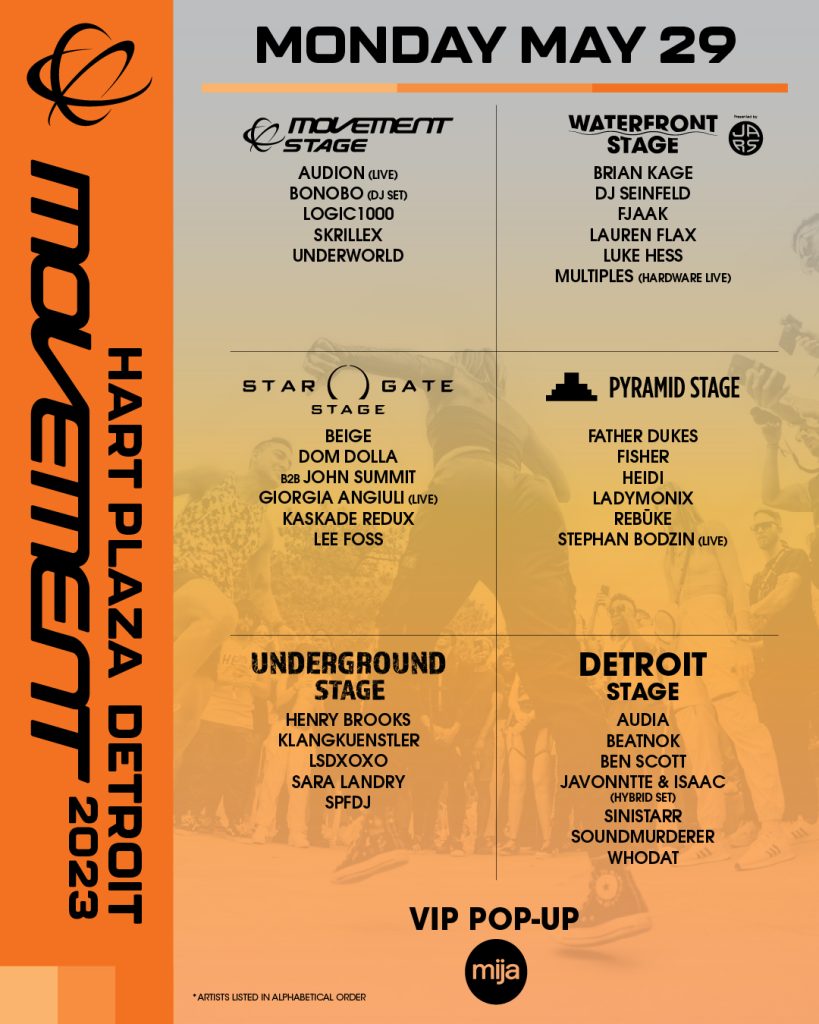 For more information about the festival, check their socials — MOVEMENT WEBSITE | FACEBOOK | INSTAGRAM — and to secure your tickets, head over here.