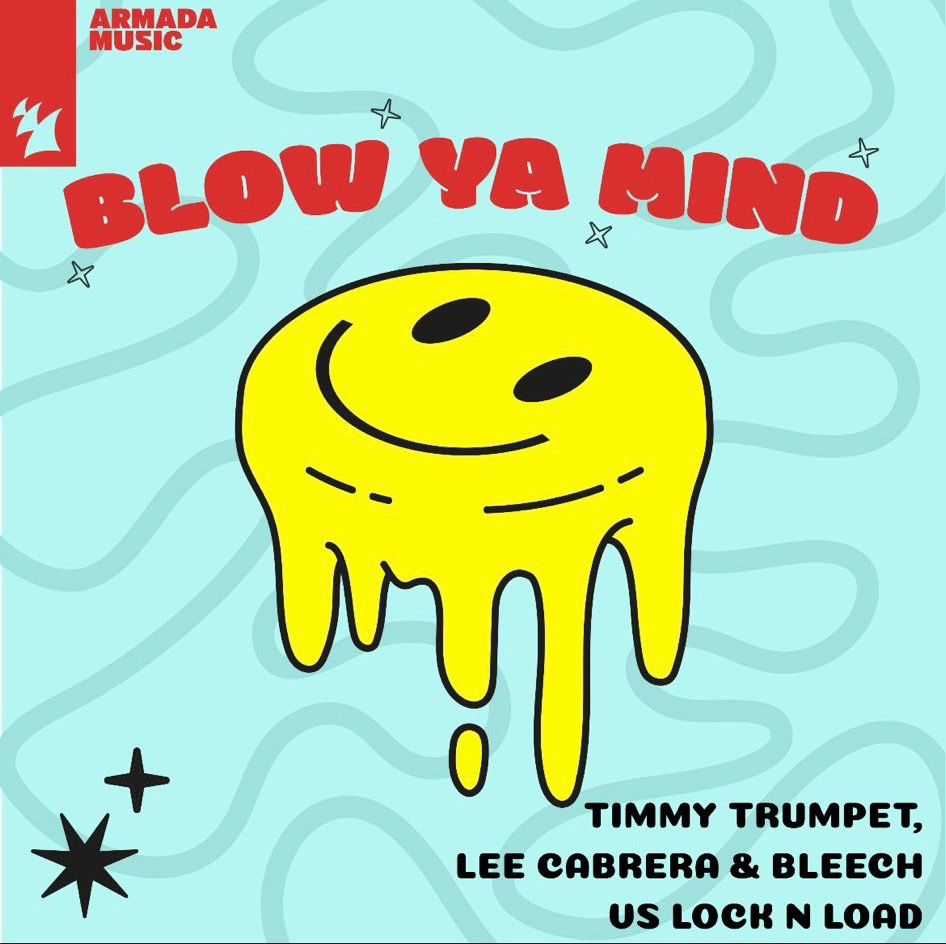 Timmy Trumpet, Lee Cabrera, & Bleech Drop 'Blow Ya Mind' on Armada
Today, twenty years after its original release, Lock 'N Load's 'Blow Ya Mind' is reborn into a new festival banger. Who is responsible for such a banger you ask? None other than the Australian heavyweight Timmy Trumpet, Lee Cabrera and Bleech. This reimagined masterpiece drops just in time for the festival season and is sure to shake up mainstages around the globe. Be sure to check out 'Blow Ya Mind' for yourself, out everywhere now!
Fit for a new generation of dance music lovers who crave the sound of the '90s, this rendition promises a soundscape of thumping bass, claps and suspense in tandem with sirens and rolling snares at a slower BPM than the original 1999 classic. Homing in on Timmy Trumpet's signature sound blended with Lee Cabrera's ear for reworking classics, this banger is set to wreak havoc across the summer.
Everything started when Lee Cabrera picked up on the track being played out again in sets over the past couple of years.
"I've always loved the record and all of the edits from back in the day and had it on my mind to put my spin on it for a long time. So, I called up my good friend Bleech ('Gimme Gimme' collaborator) to hop in the studio and see what we could come up with."

– Lee Cabrera
Then it wasn't too long before the pair knew that to complete the track, Timmy Trumpet would be the ideal candidate. In no time at all, the almost-finished track was ready for dance floors, bringing a fresh take on the classic to 2023.
On the new version, Lock 'N Load commented:
"Over the past few months, we've received so many videos from industry friends of DJs such as Solomun playing the original version again in their sets, so a re-release was just a matter of time. For us as the original producers, it's amazing to see that a 24-year-old track can stand the test of time, is still rocking the global dance floors, and has now found its way to a whole new generation of DJs and producers".

– Lock 'N Load
About Timmy Trumpet
DJ, producer and live instrumentalist Timmy Trumpet is undoubtedly one of the most prolific performers in the DJ Mag Top 100. An award-winning, multi-platinum-selling recording artist, Timmy has forged his way to the top of the industry alongside the influential artists taking the world by storm. His breakthrough release, 'Freaks', has reined in over half a billion streams, reached six times platinum status in Australia and dominated the charts in ten countries, becoming the highest selling track of all time on Ministry of Sound Australia.
About Lee Cabrera
At 19 years old, Lee Cabrera burst onto the dance scene with his hit single 'Shake It (Move a Little Closer)'. Fast forward to 2022 and with hundreds of projects to his name, the success continues as he sees his 'Gimme Gimme' single approach 100 million streams after starting as an edit. To this day, it remains one of the biggest dance records in the world to the likes of Fisher, Diplo, Chris Lake, Seth Troxler, Nic Fanciulli and many others.