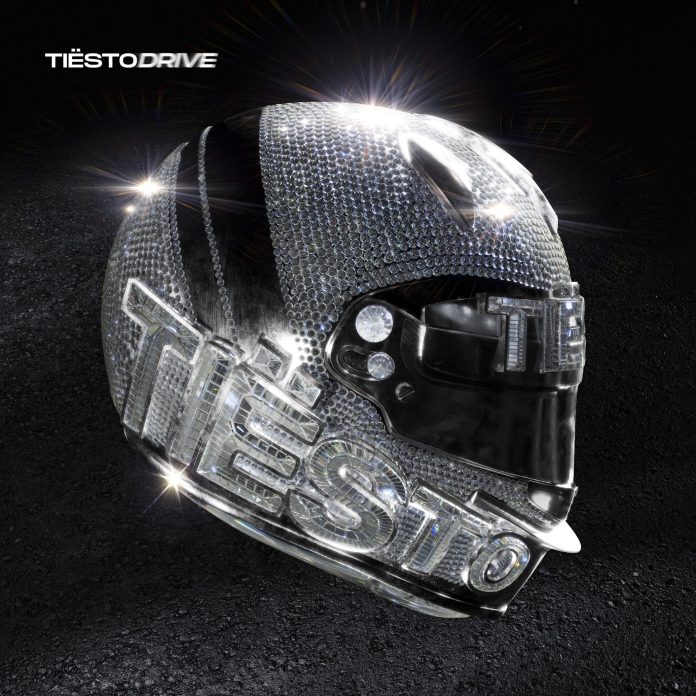 Tiësto Debuts Highly Anticipated Album Drive
Drive is a musical odyssey that pays tribute to Tiësto's career
WATCH "ALL NIGHTER" MUSIC VIDEO HERE
Tiësto has officially released his long-awaited album, Drive – the crowning achievement that celebrates the latest period of Tiësto's career. Drive is Tiësto's first conceptual album since Kaleidoscope in 2009, it's visual component paying homage to his life-long fascination of Formula 1 racing. The art is inspired by the 2004 Monaco Grand Prix, where a $430,000 diamond affixed to the front of a racecar disappeared forever – a tale that sets the album's tone of sophisticated glitz and intrigue. Listen HERE. 
Also released today alongside the album is the official album DJ mix – listen HERE. Watch the accompanying visuals HERE.
"I am so beyond excited for this project to be out in the world!" said Tiësto. "This album is something anyone can enjoy on the dancefloor, in the gym, on a car ride, anywhere or anytime you are looking for incredible sonics and energy. Seeing how much everyone is loving the string of singles has been incredible, and it was amazing putting the full album all together."  
Drive showcases the sleek and sexy sound that's become Tiësto's signature. Lead single "The Business" (2X PLATINUM) has already amassed over 1.7 billion streams worldwide, and the album features even more hits. Named for the perpetual momentum of his creative calling and the physical movement his work continues to inspire, the album also includes multi-million streaming worldwide hit singles "Don't Be Shy" with Karol G (GOLD CERTIFIED), "The Motto with Ava Max (PLATINUM)," "Hot In It (With Charli XCX)," "10:35" with Tate McRae (quickly approaching gold status) and "All Nighter" which together have a combination of over 4.4 billion global streams. Drive's new music video for "All Nighter" follows a string of videos from the previously released tracks directed by Christian Breslauer, Hannah Lux Davis and Courtney Phillips, which combined have amassed 775 million views.
Tiësto hosted a cutting-edge, first of it's kind 3D listening experience in Los Angeles where those who attended got lost in the remarkable experience that revolutionized the way fans interact with live music. The captivating visuals alongside fresh music from Tiësto took over the internet with fans + VIPs sharing their experience.
Musically, the concept album details an epic night out, certainly an experience Tiësto understands better than most. This nightlife voyage begins with "All Nighter" a call to arms for the madness to come. Ava Max then encourages listeners to "drop a few bills and pop a few champagne bottles" on "The Motto" before the evening shifts into full gear with the clock striking "10:35." It's then time to hit the dance floor and get down to "The Business". This party then welcomes vocal guests A Boogie "Chills (LA Hills)", Charli XCX "Hot In It", The Black Eyed Peas "Pump It Louder" and Karol G "Don't Be Shy", with the vibe then shifting into house music that will make you fall in love on the dancefloor on "I'd Bet", and the alluring afterhours feel of "Back Around." The LP closes with "Lay Low," the one to play at dawn when all you want is to live the night over again. Drive makes the thrill of the dancefloor available whenever, and wherever, listeners turn it on. 
Tiësto is no stranger to pushing boundaries, and Drive promises to be no exception. With its innovative production, genre-defying collaborations, and infectious hooks, the album cements Tiësto's status as one of the most influential artists in electronic music today.
Catch Tiësto at his upcoming live shows (dates below) and every Tuesday from July 4th – August 29th at Ushuaïa Ibiza – which marks his first Ibiza residency in over a decade.
Live Dates:
4/22: Las Vegas – Ayu Dayclub 
4/28: Las Vegas – Zouk Nightclub
4/29: Washington DC – Project Glow Festival 
5/4: Atlanta, GA – Domaine 
5/5: West Concord, NC – Breakaway Carolina 2023
5/5: Las Vegas – Zouk Nightclub
5/6: Miami Beach – LIV Nightclub 
5/7: Miami, FL – E11EVEN
5/13: Brooklyn, NY – The Brooklyn Mirage (Night Show)
5/18: Las Vegas, NV – Zouk Nightclub
5/20: Las Vegas, NV – Ayu Dayclub
5/20: Las Vegas, NV – EDC Las Vegas 2023
5/22: Las Vegas, NV – Zouk Nightclub
5/27: Quincy, WA – Gorge Amphitheatre
5/28: Las Vegas, NV – Zouk Nightclub
6/10: Las Vegas, NV – Ayu Dayclub
6/11: Chicago, IL – Heatwave 2023
6/17: Las Vegas, NV – Zouk Nightclub
6/23: Las Vegas, NV – Zouk Nightclub
6/24: Atlantic City, NJ – HQ2 Beachclub 
8/4: Las Vegas, NV – Zouk Nightclub
8/18: Las Vegas, NV – Zouk Nightclub
9/2: Las Vegas, NV – Ayu Dayclub
9/22: Minneapolis, MN – The Armory
9/29: Las Vegas, NV – Zouk Nightclub
Tracklist:
All Nighter
The Motto with Ava Max
10:35 with Tate McRae
The Business
Chills (LA Hills) with A Boogie With Da Hoodie
Hot In It with Charli XCX
Pump It Louder with Black Eyed Peas
Learn 2 Love
Don't Be Shy with Karol G
Bet My Dollar with Freya Riding
Back Around with AR/CO
Lay Low