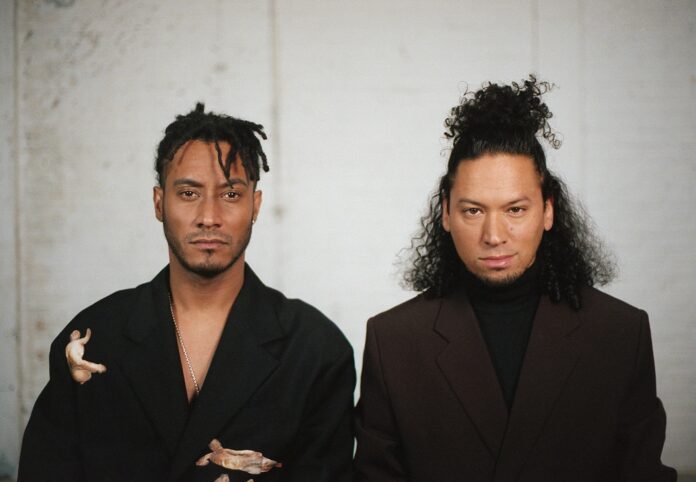 SOFI TUKKER AND SUNNERY JAMES & RYAN MARCIANO RELEASE NEW COLLABORATION 'TROMPA'!
Global phenomenon SOFI TUKKER have teamed up with world-renowned DJs and producers Sunnery James & Ryan Marciano on the exhilarating new single, 'TROMPA', released today on Armada Music. Premiered live at Coachella by SOFI TUKKER and already played across Sunnery James & Ryan Marciano's most notable live sets (including the Tomorrowland mainstage), 'TROMPA' is a massive collaboration between the global dance superstars and the Dutch mainstays for a summer anthem that gives the crowd something to roar about. 
Flaunting the infectious groove of SOFI TUKKER and Sunnery Ryan & James Marciano's respective trademark sounds, 'TROMPA' is laced with Portuguese singing by Sophie and Surinamese vocals by Sunnery James. Based around a sample from a 1980's samba song by Brasiliera artists Robson Jorge & Lincoln Olivetti, 'TROMPA' is a euphoric slice of dance heaven poised to induce rhapsodic dance parties all summer long. Apple TV will also feature the track during Major League Soccer, which launched May 13th (watch the spot here).
On 'TROMPA', Sofi Tukker says "I (Sophie) remember hearing at the samba de rodas I used to go to in Rio with my friends… it was one of those songs everyone knew and sang along to together at our ritual musical jams, everyone either dancing samba or playing an instrument. When I hear it now, years later, it still brings me right back to that time and place. Ever since making it, it's been a staple in our DJ sets. And just as we expected, it makes people unconsciously shake their asses on another level! We've played it with Sunnery and Ryan at Tomorrowland in Belgium, we've performed it at Coachella, and it has been a part of our peak experiences. With the original inspiration being so nostalgic for Sophie, to say we are excited to finally put it out is an understatement!"   
Sunnery James & Ryan Marciano add "It's been a wonderful ride getting to the moment now that we are finally releasing 'TROMPA' with our friends SOFI TUKKER. We started working on this more than a year ago, through a mutual love and appreciation of each other's music. When Sophie came with the Brazilian Portuguese lyrics the rest flowed seamlessly. It's such a great vibe and energy that we believe really reflects what we're all about – all four of us. We've been playing the track for some time in our live shows and it's a highlight. Our fans have been asking for ages when it will be released, so now it finally is. We're very proud of this song."