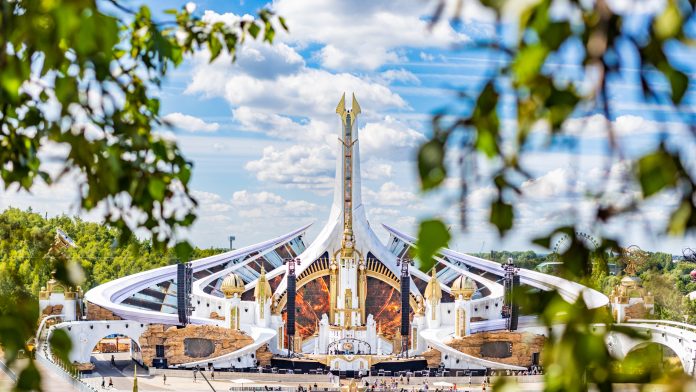 Reflection of Love Coming to Tomorrowland Brazil 2023
Tomorrowland just confirmed the theme of its Brazil edition, and it's going to be the already-iconic 2022 Belgium theme. Love will reflect in Brazil! The People of Tomorrow can start preparing for another magical new chapter, as Tomorrowland Brasil 2023 will revolve around the theme symbolizing the love and unity that is shared at the festival by people from all around the world.
Tomorrowland Brasil takes place on October 12-14, 2023, in the beautiful festival area of Parque Maeda in Itu, a municipality of São Paulo. The mesmerizing 'The Reflection of Love' stage was first introduced for the 2022 summer edition, and was brought to life by the creative team behind Tomorrowland and is 100% made from in-house décor, crafted with love and passion.
The Reflection of Love stage
100% locally crafted
53 meters high
270 meters wide
990 square meters of video tiles
1.273 lamps
214 speakers & subs
61 lasers
18 fountains
More info about the line-up will be announced in the coming months. Pre-registration for the ticket sales is now open, and the Worldwide Ticket Sale starts on March 30. Discover all ticket info and prices on tomorrowlandbrasil.com.