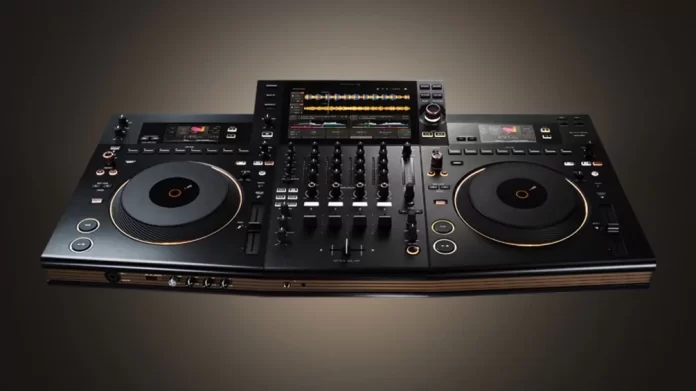 Pioneer DJ Announces New Stand-alone DJ system, OPUS-QUAD
Pioneer DJ just revealed its latest piece of hardware, the Opus-Quad, a 4-channel all-in-one DJ system, that brings a touch of high-end design to the brand's catalog. This release comes only one week after the brand-new Pioneer DJM-A9 mixer.
The Opus-Quad has a unique and new matte-black finish with earth-colored accents. It also offers independent playback on four decks with a distinguishing color for each channel. Two screens are next to every Jogwheel to display the track's data, and one main display stands in the middle similar to the RX3 unit. Eight Hot Cue buttons sit above the CDJ Nexus 2 jog wheels while the product itself has been designed at a 5° slope for extra comfort.
The design is definitely the main attraction around the Opus-Quad. With it, Pioneer DJ promises to "enhance the aesthetics of any environment" and features a "freshly designed user interface" with a 10.1″ touchscreen . The beautiful design and new features come at a price of USD 3,299 making it one of the most expensive stand-alone units in the market.
Compatibility-wise, a plug-and-play Rekordbox option is of course available, along with Serato, Bluetooth, Cloud, and 4 USB inputs in total (USB-C, 1x USB Type-A (3.2), and 2x USB-A standard).
Watch a demo video below and find out more via the Pioneer website.
[embedded content]