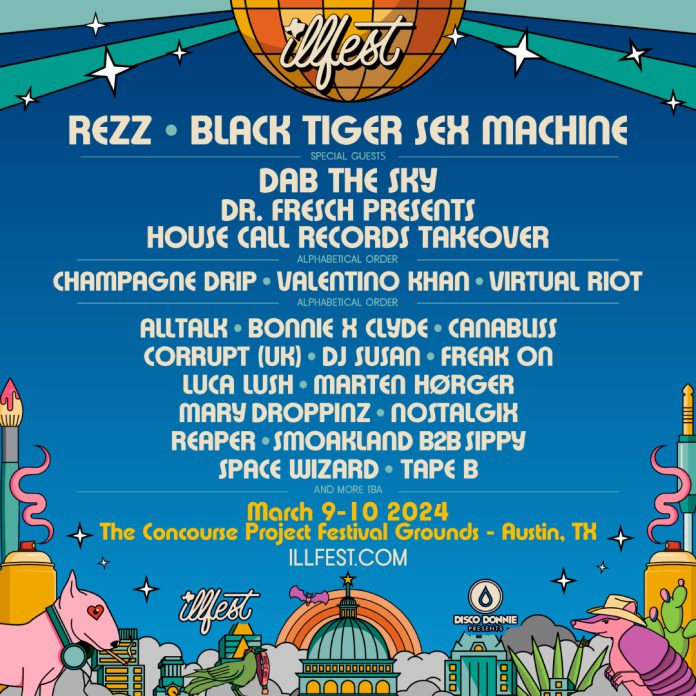 ILLfest Drops 2024 Lineup, Announces New Partnership With Disco Donnie Presents
ILLfest just dropped the lineup for next year's event, and announced a new joint venture partnership with Disco Donnie Presents. Set to take place at The Concourse Project Festival Grounds in Austin, Texas on March 9th and 10th, 2024, ILLfest will welcome headliners REZZ and Black Tiger Sex Machine, as well as Dab The Sky, Dr. Fresch, Champagne Drip, Valentino Khan, Marten Hørger, Tape B, and many more.
The Texas-owned-and-operated event, now in its 6th year, features an unforgettable fusion of music, street art, and Texas EDM culture, praised for its ground-breaking curation and celebration of life through art and music. Now, partnering with Disco Donnie Presents, the festival will combine its homegrown Texas curation and artistic energy with the deeply impressive production experience of Disco Donnie Presents, bringing it to new heights.
ILLfest has earned its reputation as Austin's premier electronic music and street art festival, and 2024 is set to raise the bar even higher. With a commitment to its artistic vision for curating an unparalleled experience for festival-goers, ILLfest will feature a carefully selected lineup of top-tier artists and surreal street art installations in an atmosphere where the opportunities for creative expression are endless.
Jason Millsap, President and Founder of ILLfest, comments, "We're excited to announce our 6th production and newly formed partnership with Disco Donnie Presents". He adds:
"By joining forces, we're building something in the Texas market that will impact the lives of an even broader audience, while showing love to the art and artists that continue to form the cultures of street art and electronic music."

-Jason Millsap.
Tickets for ILLfest 2024 are on sale now on the festival's website here. Don't miss your chance to be part of this incredible experience!