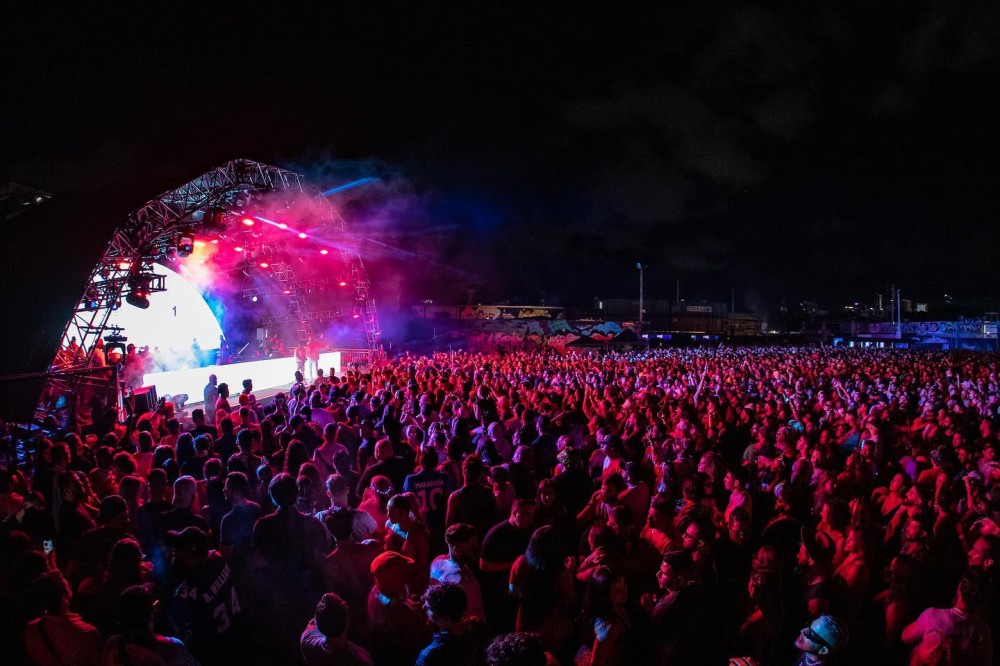 III Points 2022 Was a Love Letter to Miami Locals
We already know that Miami is basically the epicenter of dance music in America, if not the entire continent. It's home to Ultra Music Festival, Miami Music Week, Space, and Art Basel. However, Miami also has its "hometown" festival that has grown into a juggernaut of its own in 2022. III Points is squarely aimed at celebrating all things Miami, with less of that global focus you expect from a festival like Ultra. Now that's not to say it loses the international focus, because Miami has a strong Latinamerican community. That's why Rosalia was one of the major headliners for the event.
While III Points bills itself as a more stripped-down experience, it has grown into a festival that can occasionally feel like a clusterf**k. With upwards of 8 stages sprawled out around the urban landscape of Wynwood, III Points has become pretty huge and quite crowded.
III Points leans into the urban setting and doesn't pigeonhole itself with dance music. It features a wide range of artists from Porter Robinson to ANNA to Rosalia and LCD Soundsystem. With such a wide variety of artists spread across such a wide swath of stages, it can feel a bit overwhelming trying to get your bearings. The festival runs until 4am and you'll probably arrive somewhere around 10pm, so it's an entirely nighttime experience. While that's pretty cool and unique for a festival in Florida, it also means you won't have much daylight to explore where each stage is located before the sun sets.
However, the festival grounds are a thrill to explore. There are exciting finds scattered all over the place, like a genuine roller rink set up inside the Mana Wynwood warehouse space. There is even a trendy bar tucked inside what looks like one of those spinning-top theme park rides. There is one major downside to this urban setting combined with such a fast-growing festival. There was almost a complete dead zone for cell phone service. While festivals usually grant media passes for 2 writers, III Points granted us only 1 pass and our other writer bought a regular ticket. This meant that we had to enter through different parts of the festival, which normally wouldn't be a big deal. Except, the minute you enter the festival grounds you lose all cell phone service (data and phone calls). So from the minute we arrived, we were separated with no ability to get in contact. This led to a panic-inducing 2-hour search for my colleague, relying purely on luck and guesswork to find him. Until this issue is fixed, do not under any circumstances separate from your crew at III Points.
However, once you found your crew there were so many cool experiences to explore. Dance music artists were spread across several different stages, each with a completely different feel. With there being so many stages, I couldn't even tell you the names of them besides the RC Cola stage – which was the stage I found myself at most often. While the festival can be chaotic, it's certainly worth checking out if you want a taste of Miami's local flavor.
As if the festival itself wasn't enough, it also came with a full slate of Space afterparties (since the Space promoters also operate III Points). That meant that III Points hosted an amazing closing party at Space on Sunday featuring Rufus du Sol and Artbat. As usual, the event sold out extremely quickly and the party was packed to the gills. While ADE may have been roaring across the Atlantic, III Points kept us all well occupied over in North America that weekend.
Best Sets
Out of every performance I caught during III Points my favorite was also my closing set of the weekend. ANNA performed a rip-roaring hard techno set at a stage that I didn't have the opportunity to see until her set. This stage was an indoor warehouse setting, perfect for the vibes ANNA was dishing out. It's a shame more DJs were not there over the weekend, but that was because in 2021 the stage became dangerously overcrowded. This spawned the Outer Space Stage, which sits directly across from the main stage, and came to life when the main stage closed down for the night.
Madeon also had one of the best sets of the weekend. Perhaps the best moment was was Madeon brought out his Shelter brother, Porter Robinson to perform Shelter together, and then Porter performed a short Virtual Self cameo right in the middle of the set. It was thrilling and complemented Madeon's vibes perfectly.
As discussed, the stage you would probably find yourself at most often would be the RC Cola Stage. My favorite set there was Artbat, who put on a gangbusters performance of melodic techno. They featured many hits, including the Eric Prydz remix of ANYMA's Consciousness, that got the crowd fired up beyond belief.