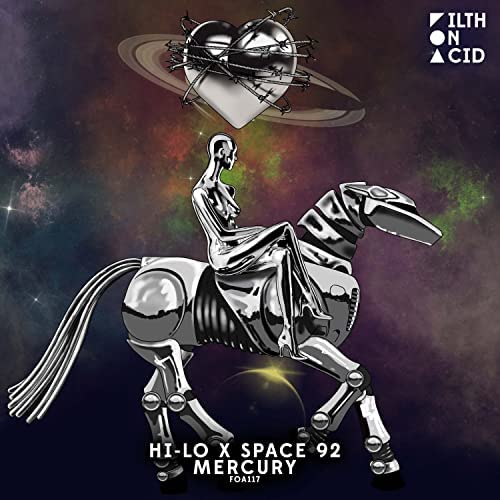 HI-LO & Space 92 Team Up To Bring Us 'Mercury'
HI-LO is a name that needs no introduction. The same could be said for Space 92 if you reside in the techno realm. The last time we wrote about Space 92, it was for his Marvelous The Door EP Via Filth On Acid. HI-LO on the hand was last written about here at EDMTunes, for his tune 'Flying Octopus'. This was released alongside Filth on Acid label head Reinier Zonneveld. Today, we bring you a new tune from HI-LO & Space 92 by the name of 'Mercury'. If you're a fan of either of these artists or Filth on Acid, then this is a tune for you.
Mercury
'Mercury' starts off quickly with an acid bassline and a four-on-the-floor kick. As the track builds the rest of the drums come in to include some hi-hats and percussion hits. At about thirty-seven seconds in, the producers turn things up a notch. They do this by introducing a galloping synth, that really drives the energy forward. The song does its thing for a few bars and is then broken up with a bridge. At the two minutes & thirteen-second mark, we see the song reach its climax. In the process, giving us a vibe we can't help but Berghain shuffle to. Overall, this is a tune made for the dancefloor, I for one hope I get to experience this live, and soon.
With a runtime of three minutes & forty-five seconds HI-LO & Space 92's 'Mercury' is a fun one. Having said that, this is the type of tune you can expect to hear during peak time at your nearest warehouse or underground. If you're into HI-LO, Space 92, or just great techno then this is a track for you. HI-LO & Space 92's new tune 'Mercury' is out now on Filth on Acid, and can be streamed below, enjoy!
HI-LO x Space 92 – Mercury | STREAM