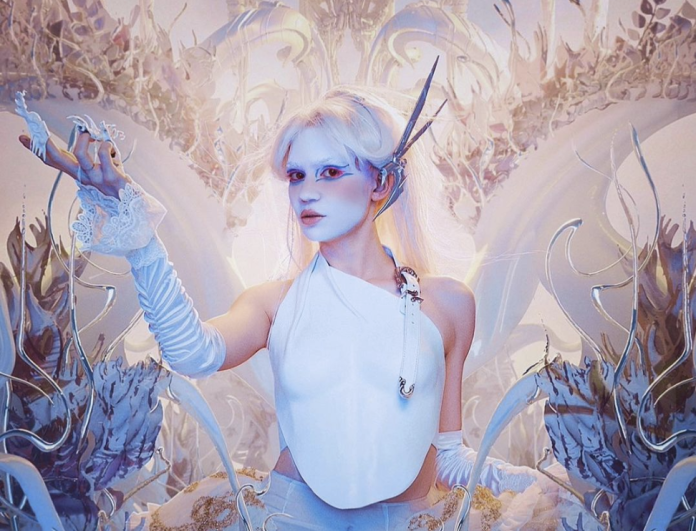 Grimes Says She'll Split Royalties With AI Producers Using Her Voice
Grimes has promised to split royalties—payments received by musicians when their original songs are played on streaming services, at concerts, in shows, etc.—fifty-fifty with any artificial intelligence-created music that imitates her voice.
In a time when most artists and labels are pushing back against the use of AI-generated vocals, the Canadian artist is embracing it. She has often been outspoken in her support of tech advancements, in general, but noted she wants to "kill copyright" when it comes to music.
Her comments were in response to recent controversy over a song featuring AI-generated vocals of Drake and The Weeknd, that went viral on social platforms and was later removed. The track was created by an anonymous producer named ghostwriter and reportedly removed by request from Drake and Universal Music. It's not yet known if the removal was due to infringement of copyright.
Grimes tweeted that anyone could use her voice "without penalty" on AI-generated tracks, stating it's the same deal she would have with any artist she collaborated with. Since then, Uberduck, which allows users to create music with AI vocals, has announced a contest. Producers can submit their music with Grimes' AI vocals to the company and the winning track will win $7,000.
She referred to her own music as an "art project, not a music project," adding "I have no label and no legal bindings."
Further on in the thread, Grimes added some caveats, "Ok hate this part but we may do copyright takedowns ONLY for rly rly toxic lyrics w grimes voice: imo you'd rly have to push it for me to wanna take smthn down but I guess plz don't be the worst."
When a fan noted that an objectionable song or lyric could still run rampant throughout the internet and create misleading information, she said, "The ultimate goal has always been to push boundaries rather than have a nice song. The point is to poke holes in the simulation and see what happens even if it's a bad outcome for us."
Fittingly, Grimes is the keynote speaker at this week's annual International Music Summit in Ibiza. She will speak on the subjects of artificial intelligence, music technology and the metaverse.
Listen to her pre-AI music on Spotify.