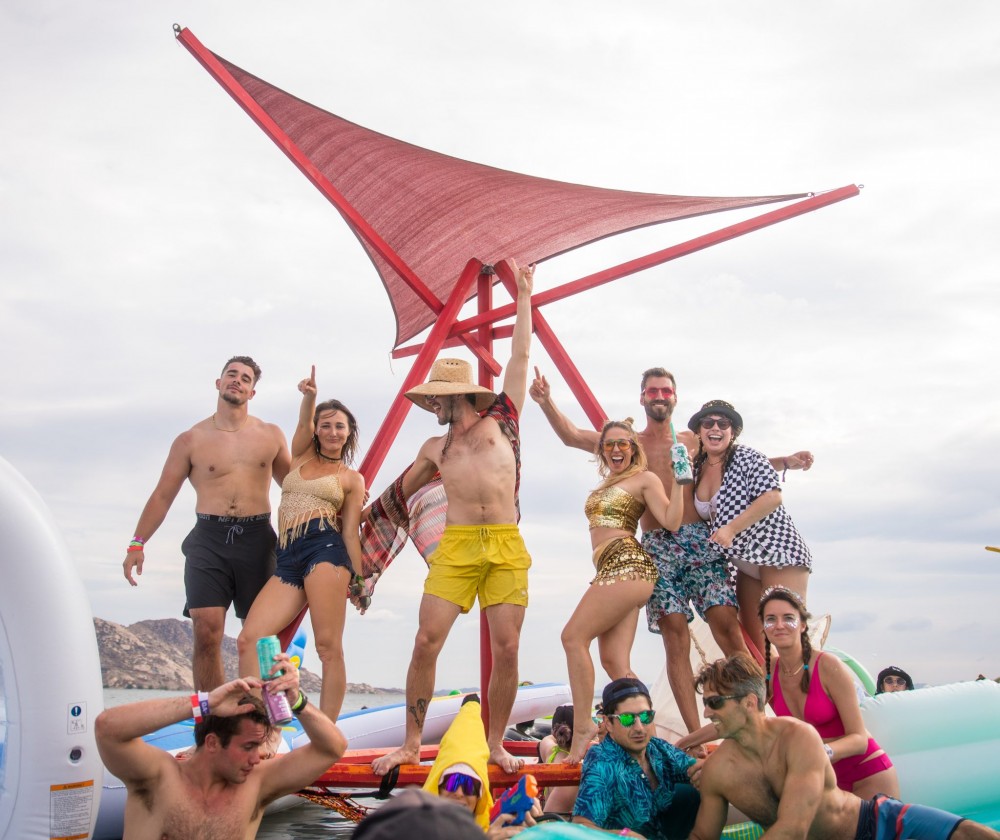 [Event Review] Same Same But Different Fest Braves Southern California Hurricane
Same Same But Different is an intimate camping electronic music festival on a beautiful desert lake in Southern California. Despite still being in its infancy, with only four years running, Same Same boasts turn-key experience and a stellar line up with big acts like Tipper, Griz, and Chromeo.
The Storm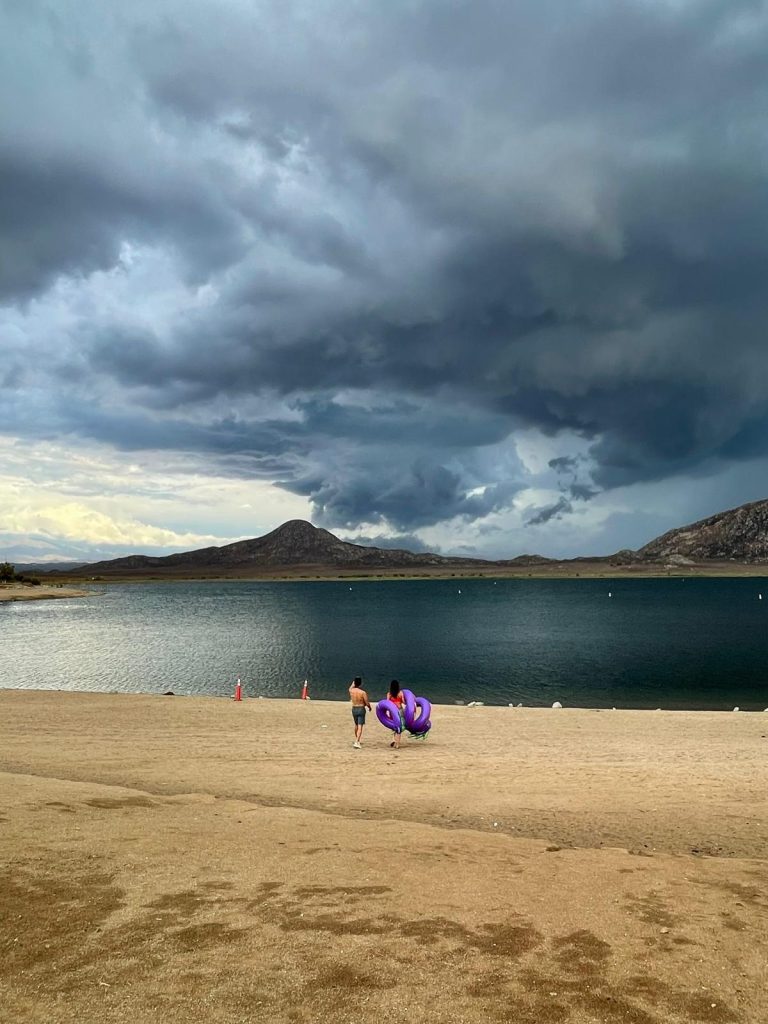 The festival has a lot of things going for it, it is a painless drive from Los Angeles and San Diego. It has easy in and out, so if you need to pop over to Walmart to grab cheap ice or extra supplies, you can. And it has a dreamy landscape of blue sky desert weather.
Except this for this year – when Hurricane Kay hit. 
Because the camping is first come first served, it is relatively easy to grab a spot on the beach if you arrive the Thursday before the festival starts. The staff is very chilled out, which has its pros and cons. The gates opened about 45-minutes late the first day due to the "staff sleeping in." And there was no clear signage for will call, so some people had to wait in the entrance line twice to get in.
However, when it came to upfront parking, people with lower level parking passes were able to get in to Gold because the staff was understandably a bit scattered with the coming storm. The Gold parking lot is a must for future years when there is no Hurricane to distract the staff; and although campers weren't "supposed" to, people brought their cars right up to the sand to protect their camping equipment from the big winds and heavy rains. The cops seemed to have bigger fish to fry with the impending threat of destroyed stages and electrocuted swimmers. So literally everyone got to bring their cars right up to their campsites, which made the whole thing a dream. Chillness works in mysterious ways it seems. 
Aftermath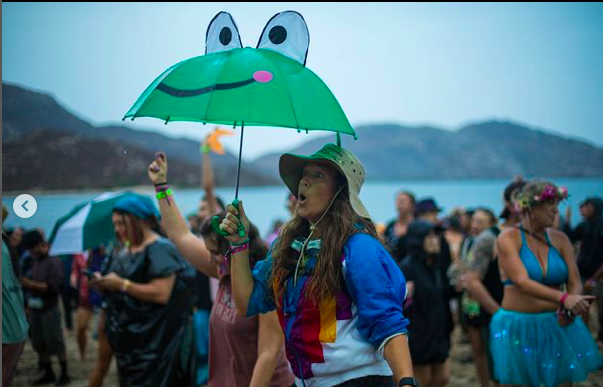 Because of the impending Hurricane, attendance at the festival was likely lower than it would have otherwise been. Which meant that as a festival goer, there was always ample room to dance, even at the front of the stage. It meant there were little to zero lines ever, and that there was much space between campsites to set up under the trees on the beach with lake and festival views. Thursday night was the worst of it, with high winds and rains ripping through the festival all night. Friday was not much better, but the rain became less consistent and the wind more sporatic.
Justin Jay had a brilliant storm set on the beach. His music which could be described as a "cool" styling of house, seamlessly blended pop and nostalgia into his working beats to set the tone for the weekend. And with no threat of lightning, people braved the beach to dance in the rain and the wind.
The storm caused other problems which put small dampers here in there. Many sets were postponed on Friday, Chromeo was forced to switch from a live set to a DJ set, and my favorite artist Washed Out was not able to make it in to the festival in time for his set… saddest of days… but all things considered, Same Same But Different and its attendees handled the Hurricane beautifully. Musical acts were lively and people were energized to dance in the rain.
To quote Lieutenant Dan: "COME ON! YOU CALL THIS A STORM?"
The Calm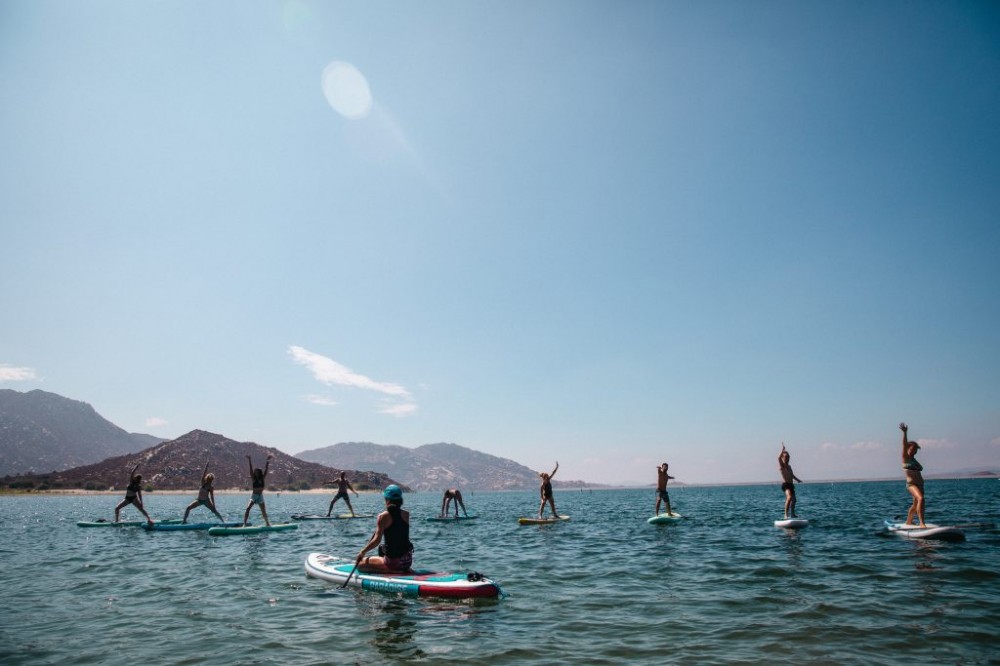 Saturday was far and wide considered the best day by festival goers, as the hurricane had cleared, the weather became cool and comfortable for dancing. Programming was in full swing with handstand workshops, yoga classes, and acrobatic demonstrations. There were sound baths, vendor shopping, and the Floatopia pool party was finally able to kick off.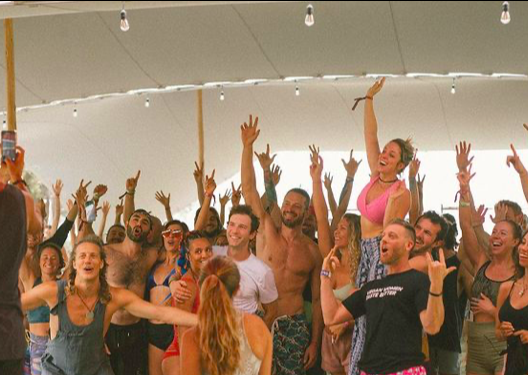 The Floatopia is by far the best feature of the festival. On a hot desert day, it is an oasis of cool water, and a swarth of massive floats and people wandering, splashing, swimming, laughing, and partying. The Brothers Malkovich and Poolside both had sets during the peak hours of the adult swim. There were structures in the water to dance on, and people twerking and thumping to gnarly beats on giant flamingos and massive floating platforms.
A little known fact about the festival is that there is a float contest, where individuals are rated based on creativity, craftsmanship, floati-ness, where the winner is gifted two VIP tickets for the following year.
Stages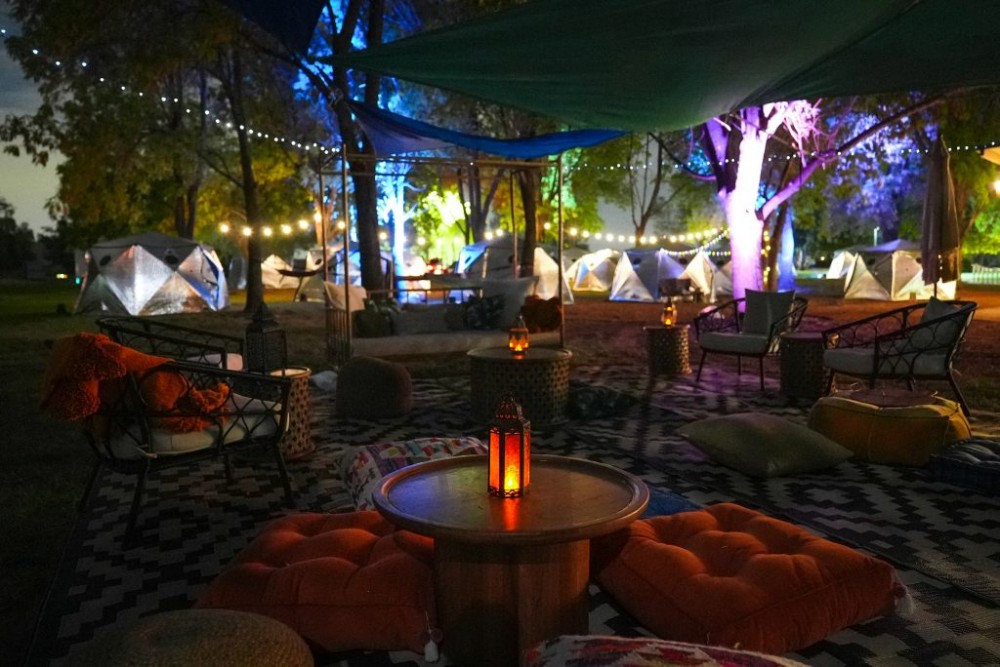 The evenings were jam packed with star line ups. Essentially the stages would alternate from the 'Same Stage' to the 'Different Stage', so you never really missed an act. The 'But Circus' offered an alternative stage if you were tired of the main stream and want to opt to a chiller area. There was also the 'Coconut Club', which operated as the Floatopia stage, and reopened for late night hard-style house and dubstep. There was also a little Disco stage where you could plug in a flash drive and perform your own set if you wanted to. Additionally there were little chill zones placed strategically throughout the festival grounds. You could pick up a guitar or drumstick and riff, have some tea, gamble some ground scores, or lounge with some children's books and tarot cards. This festival literally has it all, and you don't have to miss anything.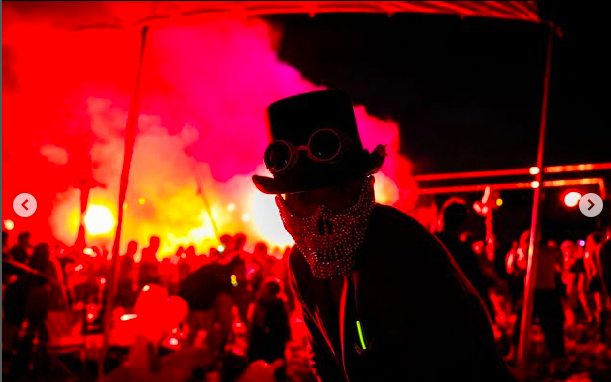 Since people were camping, and there was a lot of close access to nearby grocery stores, there wasn't a huge push for food venders. Most people simply packed and cooked for themselves. There were some options like poke bowls and breakfast burritos available for the less prepared. The bathroom and shower facilities were also incredibly clean, so good job there.
One thing that I thought was especially smart was they had an area where if people were messed up or tired, they could sleep peacefully under the supervision of a security guard without probing from the med team, or the police. The festival created a lot of natural safe harbors for deescalation to keep things from spiraling; and in general this was very true. 
Howl At The Moon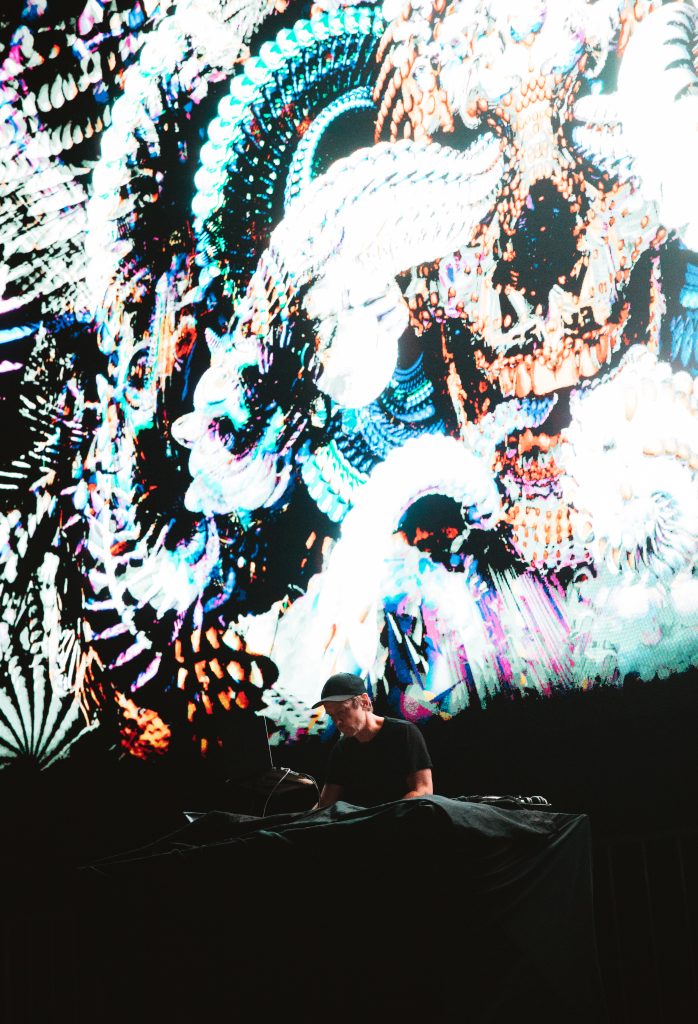 However, the Saturday Night Tipper Full Moon trifecta proved to put some heebeegeebees out into the atmosphere. The med tent faced the brunt of the burden. They say that eerie things can often happen during a Tipper set. The style of music is likened to moksha-achieving deep self-realizations, and moments in touch with the ethereal heaven, and shining lights of divinity and greatness. However, he also dabbles into the inner sanctums of darkness and fear. (It's a mixed bag, alright). And so those who are ill prepared for the inner journey may find themselves lost and in need of a kind warm helping hand from those in the med tent. 
The head of the Med Team had this to say:
The Storm Part II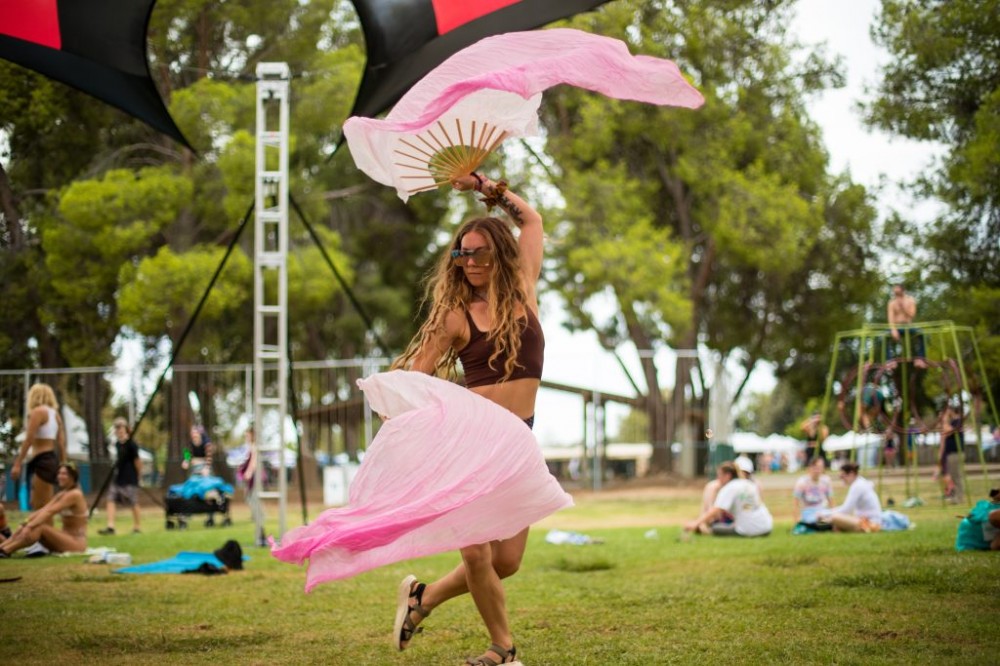 Sunday was a morning of pure bliss. The sun came out from behind the clouds for the first time and the temperatures rose into the high 80s. This meant that it was THE morning to lounge, recover properly from Tipper, and have a bubbly beverage waist deep in the cool water. People began to infiltrate the floatopia once more. The Sitarist Evan Hatfield played a chill FKJ style set at the But Circus. People wandered around with parasols eating burritos and checking out the merch. All was well.
But it turns out there were two more thunder squalls that were intent on passing through. And while Friday brought the high winds, the Sunday rain came heavier and with thunder and lightning. They had to clear the lake (twice); and put everyone in a safe place under a tree grove while the squalls passed. Many people took this as an opportunity to break down their tents and get ready for their evening flights. Some people had to get ready for work Monday.
After the last storm had passed there was a huge exhale over the whole festival. It was over. And any music we were gifted now was the cherry on top of a miraculous weekend. This meant that the finals sets on Sunday were very intimate. There was a lot more live music, and a lot more dirty hippies digging their heals into the sand. The California Honeydrops, Vulfpec and Lettuce made sure of that.
Final Thoughts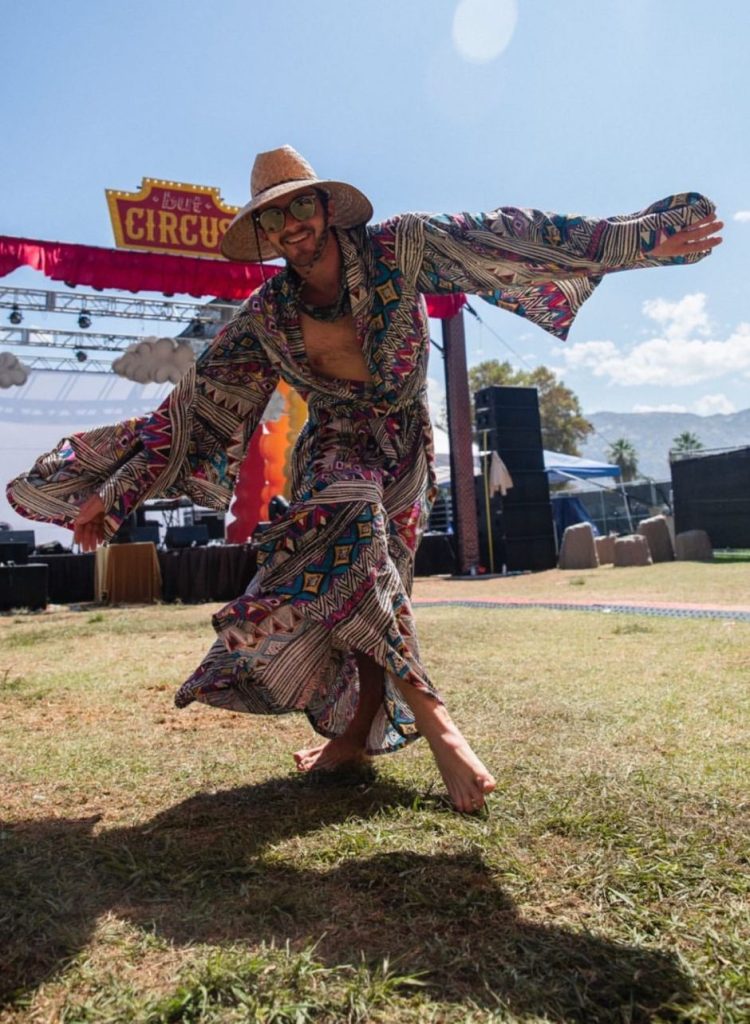 On the whole this budding festival gets it better every year. In the face of the first Hurricane to hit Southern California in 25 years, Same Same But Different performed beautifully. The director of the festival even came out to personally apologize when Washed Out dropped out. This whole festival feels like a glitch in the matrix. How is it possible that so many good acts can perform at such a good venue, at such a reasonable price, with so few people to compete with for dancing room? We all hope that Same Same But Different maintains its small and intimate feel.
Some notes this author would like to make for improvements. VIP did not offer much except for a surprise California Honeydrops jam session in the back parking lot. The best value for an improved experience is by getting good parking. The parking stickers leave pretty gnarly residue on the cars, so maybe spring for a friendlier material next year. But the things that matter – safety, freedom, and good music – were all there. And that's all the really matters.