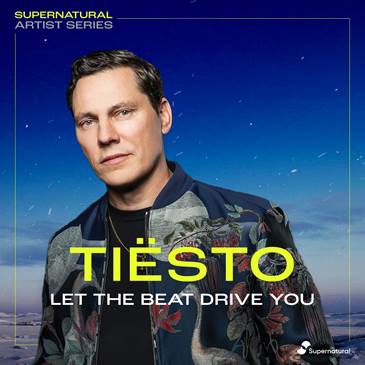 Workout With Tiesto in VR with This Fitness App
It's no secret that VR apps have been taking the fitness industry by storm. Supernatural has positioned itself as one of the most promising players in the field by launching a wide range of interactive workouts which incorporate hits from today's top artists including Megan Thee Stallion, The Weeknd, Kid Cudi, Billie Eilish, and more.
According to recent studies, VR workouts have proven to have a positive impact on the user's overall outcome, including benefits on a physiological, psychological and rehabilitative level. As such, EDM lovers will be thrilled to know about Supernatural's latest addition to its newest "Artist Series", featuring the greatest hits from the one and only, Tiesto. With this new addition, app users will be able to customize their VR workouts with some of Tiësto's most iconic tracks, including music from his highly anticipated upcoming album, 'DRIVE', 10:35, The Business, BOOM, Hot In It, Lay Low and more.
With Supernatural VR, fitness enthusiasts get to experience some of the most breathtaking destinations around the world while getting in shape to the beat of their favorite songs! And since everyone is on a different fitness journey, the VR app is proud to offer a unique selection of workout options and wellness routines, including: 
Boxing: Let's get down to business and dominate the ring to the infectious beats of Tiësto! Knee strike your way to new heights with Coach Leanne in this epic Supernatural Artist Series.
Flow (Cardio): Ignite the dance floor with the electrifying beats of Tiësto in this Supernatural Artist Series! Embrace the motto as you Flow through some of his biggest tracks with Coach Raneir.
Meditate: Instantly tune into the present moment. Guided and non-guided meditations quiet distractions, allowing you to focus, breathe, and reconnect.
Recover: Improve flexibility, mobility, and recovery time with coach-led stretching sessions, whether you're warming up, cooling down, or taking a rest day.
Without a doubt, Supernatural is more than just a fitness app, it is an immersive, virtual reality fitness experience that combines the best music, coaches, destinations, and movements into an incredible home workout. Due to the increasing number of subscribers, Supernatural releases new workouts every day, all carefully designed so that each movement is fun, rewarding, and tailored to everyone's body and ability. Their interactive fitness programs allow users to get fit while being face-to-face with real coaches. In order to make the Supernatural experience and unforgettable one, all of their workout movements are mapped by hand to the best major label music available today.