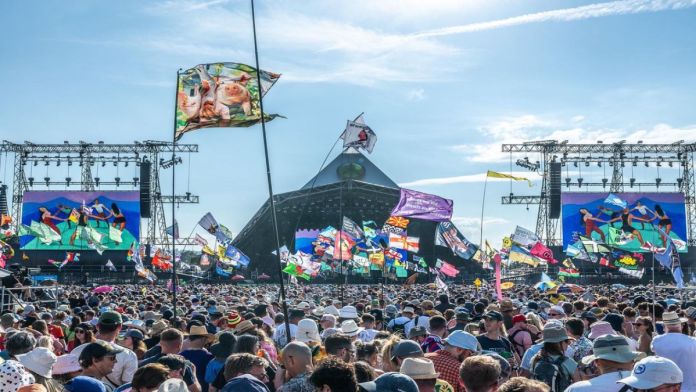 Two Men Confirmed Dead at Glastonbury Festival
Two men have been officially declared dead at Glastonbury Festival this year. Neither death is being treated as suspicious, and further investigations are underway.
Officers were called to the Glastonbury Festival site in Somerset at about 2:20 pm on Tuesday, June 27, 2023. They found a crew member in his 40s unresponsive in his tent. The man was pronounced dead at the scene.
The festival did end Monday, but crew members remain on-site to clean up and prepare the fields for cows to graze.
This came after another man passed following a medical incident on a footpath, known as the old railway line, early Sunday morning. 48-year-old DJ and radio host Jason Winder was found unresponsive, also in his tent, according to Avon and Somerset Police. He received treatment from emergency services but was pronounced dead at the scene.
Around 200,000 people attended the festival at Worthy Farm this year, and several deaths have been reported at the site in recent years.
In 2019, a security guard in his 60s was found dead in his tent during the festival. His death was not considered suspicious.
Glastonbury Festival is a five-day festival of contemporary performing arts held near Pilton, Somerset, England. The festival was founded in 1970 by Michael Eavis and his late wife, Jeanette. It has been held every year since then, except in 2020 and 2021 due to the COVID-19 pandemic. The festival has grown in size and popularity over the years, and now attracts hundreds of thousands of people each year. Past headliners have included David Bowie, The Rolling Stones, Beyoncé, Coldplay, Adele and Billie Eilish.
This year's lineup included Elton John, Guns n' Roses, Lizzo, Måneskin, Arctic Monkeys, Lewis Capaldi, Lana Del Ray, Lil Nas X and more.
Glastonbury is known for its eclectic lineup of artists, its relaxed atmosphere, and its commitment to environmental sustainability. The festival is entirely self-sufficient, generating its own power and water. It also has a strong focus on recycling and composting.
In addition to music and arts, Glastonbury also offers a variety of other activities, such as comedy, theater, dance, and circus. There are also a number of food stalls and restaurants, as well as a variety of shops selling festival merchandise.