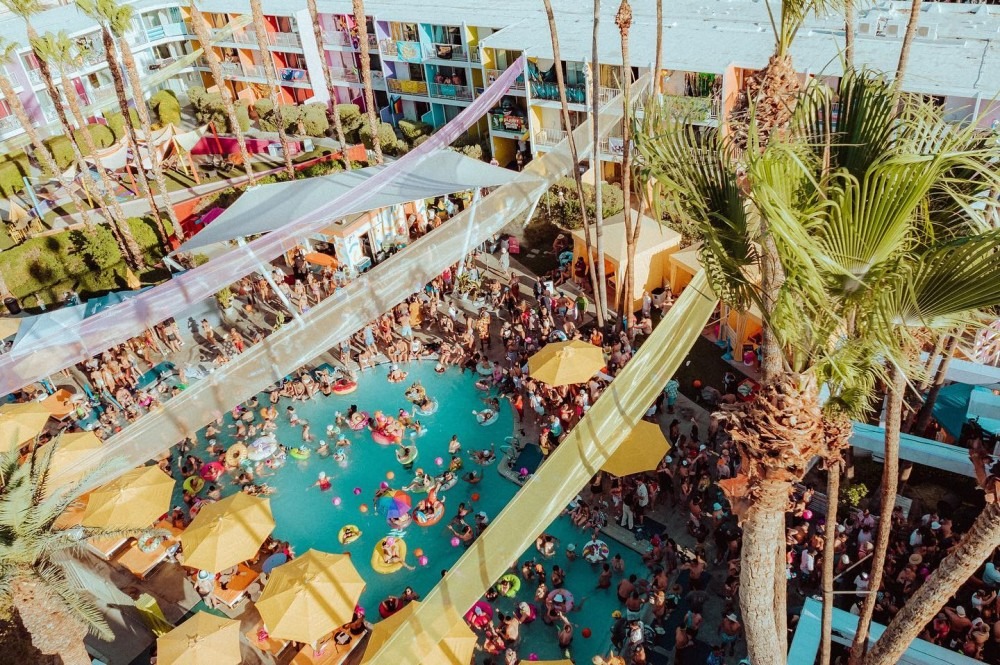 Splash House Drops Weekend One Set Times, Maps & Daily Recommendations
Summer is upon us, and if you're in Southern California, that can only mean one thing — Splash House. This year, the oasis in the desert known as Palm Springs is once again playing host to the pool-party trifecta otherwise known as Splash House. 2022 marked the first time that the weekender was set to take place over the course of three different weekends. With the June edition now behind us, we shift our focus to the two remaining August dates, the first of which is set to take place this weekend, August 12-14. If you're on the fence about going, keep reading, as you might just end up joining in on the fun by the time you're done reading.
Venues
In typical Splash House fashion, the fun is split between three of Palm Spring's most iconic hotels/ venues. These are the Renaissance Hotel, Margaritaville Resort, and Saguaro Palm Springs. In addition to this, the nightly After Hours Programming is set to take place at the Palm Springs Air Museum. It should be noted that a single ticket gets you access to all three, as well as the free shuttle linking all of the parties together. For a brief rundown of each venue, check out each venue's respective map, below.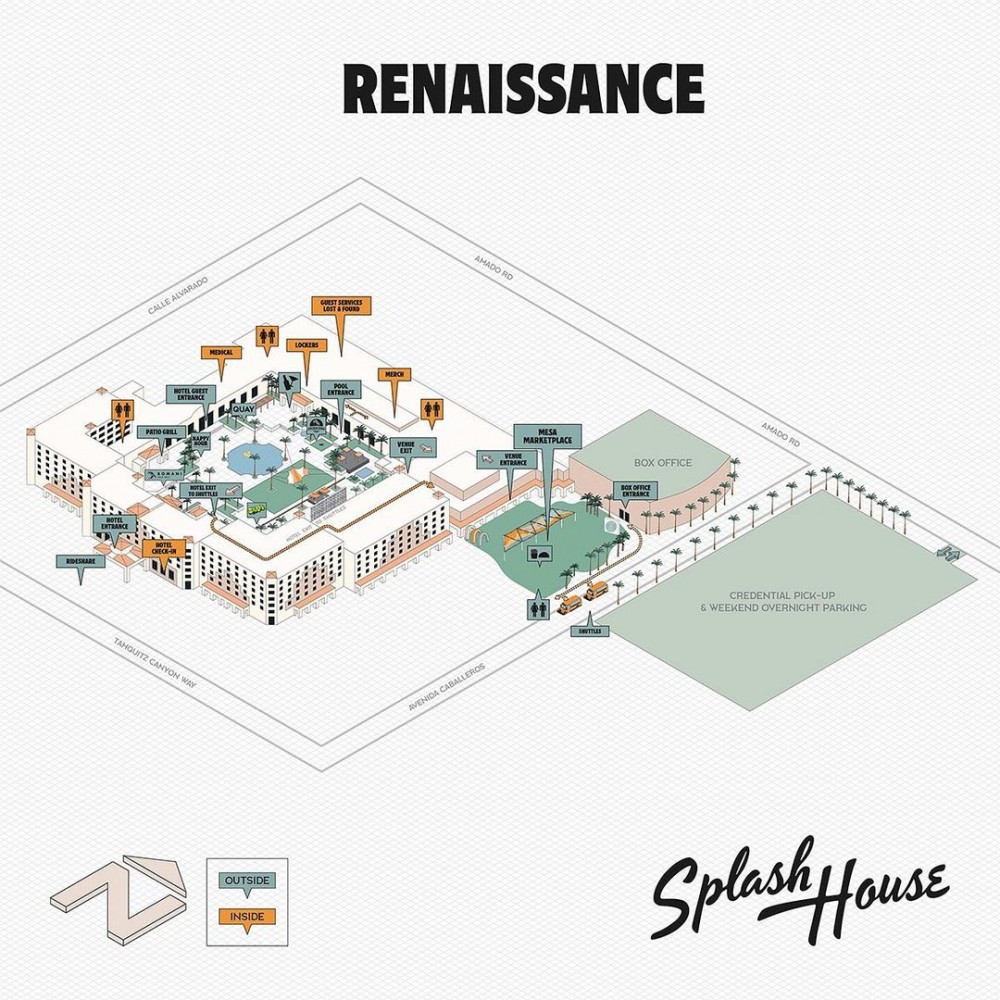 Before we get to the daily programming for each day, I wanted to share with you some of my personal recommendations. I'm going to skip over the headliners such as Nora En Pure, John Summit, Dombresky, Polo & Pan & Dabin, as I'm sure your own musical taste will dictate where you end your night. I'm personally torn between seeing Nora & Summit, but will most likely try to split my time between the two. On the other hand, I must say I am excited to see who the special unannounced b2b is going to be, so there is a chance I might just head there instead. Without further ado, I will now shift the focus to some of the other artists on the lineup, as well as some of the opening acts.
Daily Recommendations
To start things off, I would recommend checking out Offaiah. If you've been around for a while, you might recognize him from his past moniker, and real name Micheal Woods. A legend in his own right, it goes without saying he knows how to move a crowd.
Next up is Joshwa. The London-based DJ/producer has quickly risen as one of the most exciting names to come out of the Underground Dance scene. You might know him from his breakout track 'My Humps' alongside Lee Foss.
Luke Andy is another name that sticks out to me, I've seen him play a few times, and he always brings the heat. He has releases on major labels such as Dirtybird, Rules Don't Apply, Desert Hearts, and Basement Leak. If you want to have a good time, check him out.
Cassian is next. A last-minute addition, replacing Rebūke, Cassian is one of my most anticipated sets of the weekend. He works closely with Rüfüs Du Sol, and has even won a grammy for work on RDS's track 'Alive'. While his work with them speaks for itself, his own sets and productions are out of this world. His tune 'React' has been stuck on repeat for a few months now, and his recent remix of RDS's 'On My Knees' is just as good. You don't want to miss this.
My last few recommendations are going to be Massane, and Torren Foot. Massane has released on Lane 8's 'This Never Happened', and shares a similar vibe to the label boss. Torren Foot on the other hand is an Australian producer/dj. He was nominated for the 2017 ARIA Award for Best Dance Release for his song 'Be Randy' alongside Dom Dolla. They are both worth checking out.
Opening Acts
While the latter portion of each day's respective lineup is filled to the brim with talent, the earlier portions are no different. To start things off, I highly recommend checking out Eric Sharp. This will be his debut and always brings the heat. We wrote about his latest Emergence EP which is worth a listen. You can check that out here.
As far as the rest of the lineup goes, your pick is as good as mine. Splash House is known for its excellent lineup curation, and this year's events are no different. I've heard some sets, as well as tunes from Twinflame & Rozegarden, Brett Hart, and AM In the PM. Having said that, I look forward to catching their sets. For a peek at what to expect from this weekend's festivities, check out the official set times below.
Daily Set Times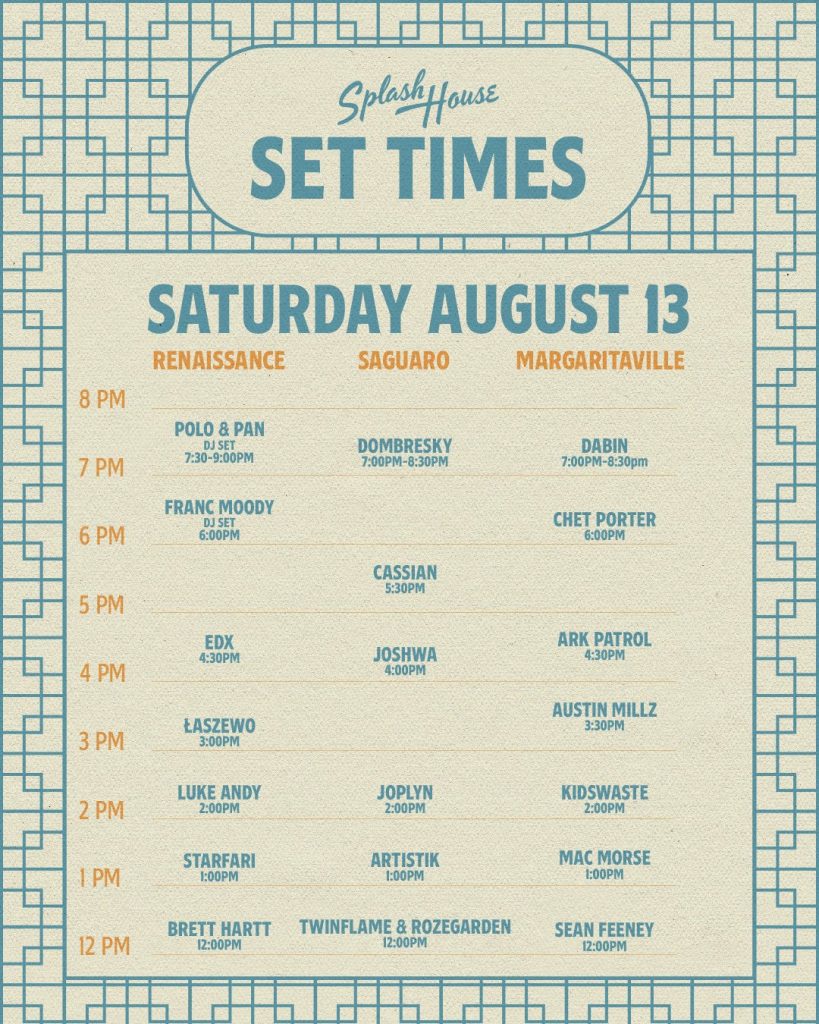 For more information, be sure to check out the official Splash House website, here. The official lineups can be found above. Tickets to both August weekends can be found, here. See you there!
For an idea of what to expect, check out our in-depth review of a past Splash House, here.
Follow Splash House:
Twitter | Facebook | Instagram