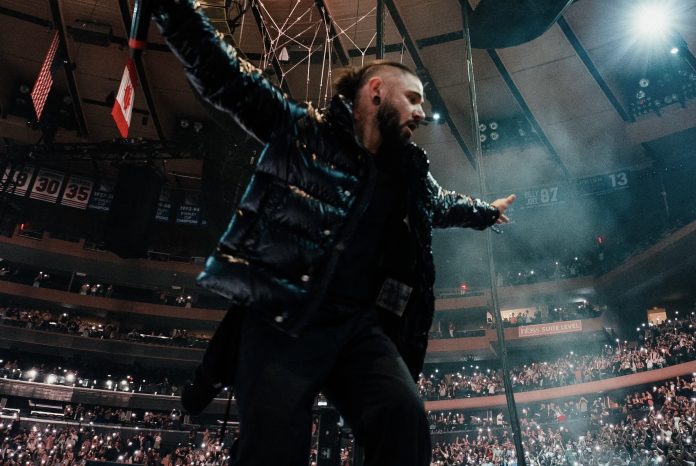 Skrillex Just Released Surprise Second Album From Madison Square Garden
Only ONE DAY after releasing his album 'Quest For Life', Skrillex surprised us by releasing another new album, 'Don't Get Too Close', during his  Madison Square Garden Live Performance alongside Fred again.., & Four Tet this eve. The dance music scene is being treated to a great ride by one of the scene's icons! All after an almost decade-long album drought.
Compared to 'Quest For Fire', 'Don't Get Too Close' is way more about pop and hip hop. Notable features include Bibi Bourelly, Justin Bieber, Kid Cudi, Chief Keef, Swae Lee, Yung Lean, Bladee, PinkPantheress, and more. The DJ and producer gives a beautiful finale to his whirlwind run of releases and performances in NYC this week which included a surprise Valentine's Day pop-up, a larger party on Thursday at Le Poisson Rouge, and a massive live set in the middle of Times Square for The Lot Radio on Friday broadcasted from a school bus turned sound system before his final performance on Saturday at MSG which caught the attention of many around the world.
Available at the event were bootleg CDs of the album during the announcement that will not be available anywhere else. Don't Get Too Close comes as Skrillex's new off-kilter personal pop-leaning album where the iconic producer pours every ounce of skill and personality into the songs creating a highly personal and relatable album with small universes built into each song.
Listen to 'Don't Get Too Close' Here. What's your favorite track?
Skrillex – Don't Get Too Close
Skrillex & Bobby Raps, "Don't Leave Me Like This"
Skrillex, Pink Pantheress & Trippie Redd, "Way Back"
Skrillex & BEAM, "Selecta"
Skrillex, Yung Lean & Bladee, "Ceremony"
Skrillex & Bladee, "Real Spring"
Skrillex & Kid Cudi, "Summer Time"
Skrillex, Corbin & Chief Keef, "Bad For Me"
Skrillex, Prentiss & Anthony Green, "3am"
Skrillex, Justin Bieber & Don Toliver, "Don't Go"
Skrillex, Sonny Moore & Bibi Bourelly, "Don't Get Too Close"
Skrillex & Swae Lee, "Mixed Signals"
Skrillex & Bibi Bourelly, "Painting Rainbows"