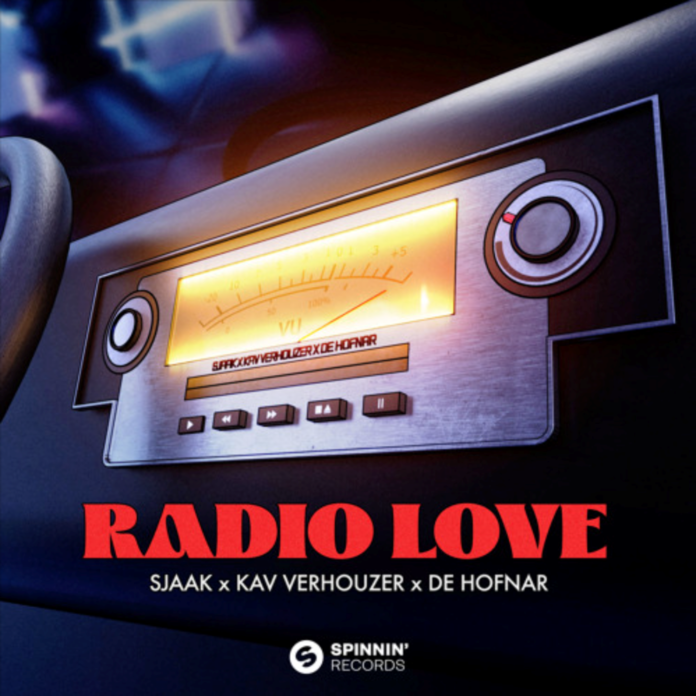 Sjaak x Kav Verhouzer x De Hofnar share their 'Radio Love'!
In a wave of mutual infatuation, one of Holland's most beloved bad boys Sjaak teams up with fellow Dutch artists Kav Verhouzer and De Hofnar for a sweet dose of "Radio Love." Built around Sjaak's deep, tempting vocals, the song lets him thrive on a smooth house groove, featuring nice jumpy basslines, tantalizing synths and a punchy melodic hook that will keep you tuned in for the rest of the summer. What a love affair is taking place here; a rare blend of vintage pop vibes and melancholic dance rhythms making moves on the airwaves – feel the "Radio Love" now on Spinnin' Records.
Having dropped an ongoing series of fresh, inventive hip hop records, Dutch phenomenon Sjaak has grown out to become a force of his own. With raw tracks like "Trompetisto," "Stap Voor Stap" and "Machinegeweer" he continuously found new ways to surprise his audience, similar to his collabs with tastemakers like Bizzey and JeBroer. Before all these claims to fame, though, Sjaak already teamed up several times with Kav Verhouzer in the late 10's, including the massively popular 2019 tune "Turbo," making anticipation for this new collab even higher.
Kav Verhouzer, on his turn, kicked off his triumphal path in 2014 when releasing the Sam Feldt collab "Hot Skin," currently counting 23 million Spotify streams. Making increasing waves with his feelgood dance productions, he also gained popularity with his "Nothing Really Matters" bootleg of Mr Probz and "Get What You Came For" featuring BullySongs. In 2018, his collaboration with Sjaak on "Stap Voor Stap" achieved platinum status and reached the 11th spot in the Dutch charts.
Making similar waves in the feelgood genre, De Hofnar (translated into 'the court jester') helped pioneer the tropical house genre in the mid-10's, gaining recognition with his remixes for Tiësto, Laidback Luke, Pete Tong, and Armin van Buuren. His debut album Kings and Queens reached over 30 million streams on Spotify alone, while De Hofnar recently received wide acclaim with his Soave Sandcastle label, and last year's hit release "Good Times," a collab with Dukewood and Kav Verhouzer.
It's a clear sign these artists know how to get the best out of each other. "Radio Love" emphasizes their creativity like nothing before, a song that breathes good vibes and nostalgia, reminiscing the golden age of radio with its warm, melancholic groove and punchy hooks.
Kicking off with his characteristic deep vocals, Sjaak clearly feels in the mood with this tune. While he's backed by subtle chords and an oldschool pulsating bass line, the song gains momentum as infective synths swirl around Sjaak's tasty lyrics. Dropping into the chorus, a lively beat takes over, providing that uplifting sound, courtesy of Kav Verhouzer and De Hofnar's seasoned production style.
It's a tasty tune, exclaiming the guys' "Radio Love" with a catchy blend of smooth house rhythms and captivating pop hooks. A song that resembles their love for indestructible songs you simply can't get out of your head, while adding a touch of dance floor energy – exactly the way you'd like your classics served. Beware of this tune, as radio airwaves and festival stages will all get their share of this love affair, making it an inevitable anthem this coming summer.