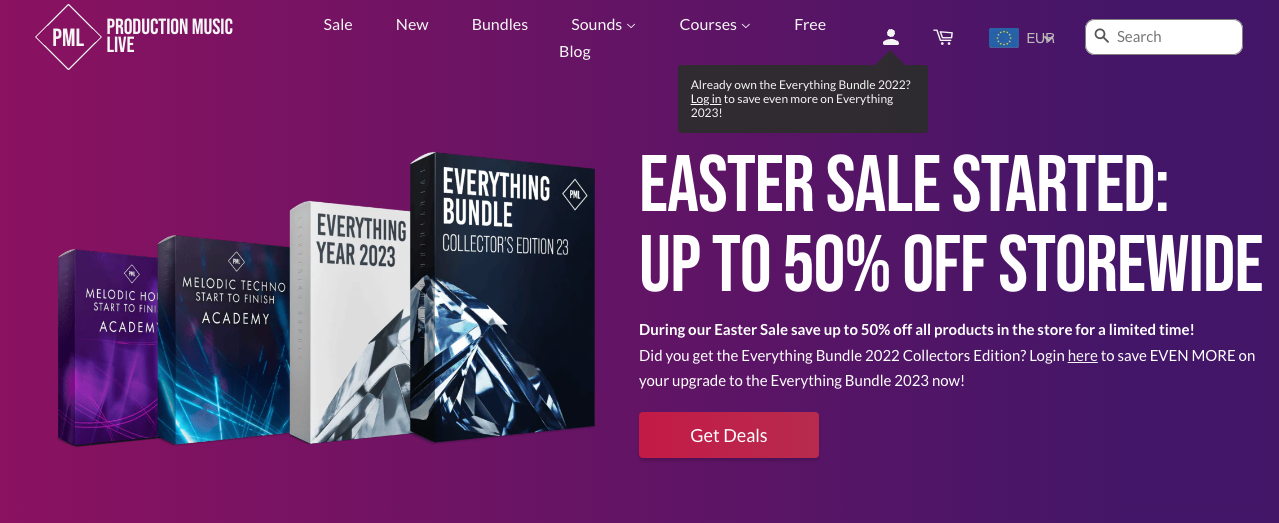 Production Music Live Offers Massive Easter Sale
For all you producers and DJs out there, you won't want to miss this one. Production Music Live is offering a 50% off storewide for its Easter Weekend sale. In case you've never heard of them before, Production Music Live has some of the best samples, presets, templates, and courses for electronic music that is available today. Their stellar roster of creators features big names like Ben Böhmer, alongside other masterful sound designers. They cover a wide range of genres spanning from Melodic House to Techno. They receive shout outs from some of the biggest artists in the game like Amelie Lens, for their immaculate precision and quality.
I have personally tested the bundles for myself and in all honestly, its incredible. You feel like a kid in the candy store while exploring all the samples and presets that the packs have to offer. The templates are amazingly thorough and use all internal plugins. Users can literally open the template and study the methods and plugin chains used to create the crisp and professional sound. My personal favorite is the Ben Bohmer Ableton Template, which gives you a lens into the artists beautiful, clean cut, deep house sound.
Product Bundles
The bundles offer a wide range of options catered to genre such as Melodic Techno, Melodic House, Deep House, etc. You can focus on a grabbing the pack catered to your genre, or grab the Everything 2023 bundle which literally includes everything you need! We highly recommend grabbing the everything bundle if you're a creator who likes to explore multiple genres and cross pollinate sound. The bundle is jam packed with everything a bright new music producer could need to create a hit record.
For more details on what the Everything Bundle 2023 includes, check out the Production Music Live Youtube channel below!