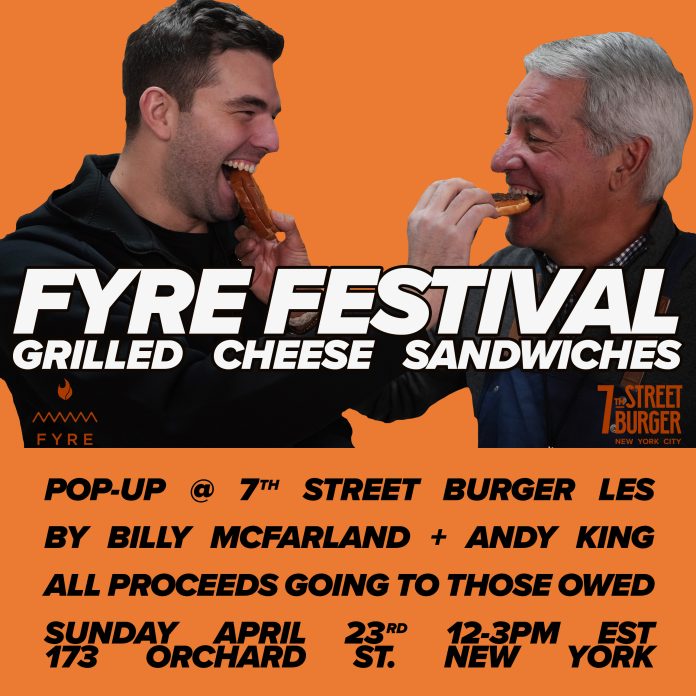 No One Showed Up for Billy McFarland & Andy King's Grilled Cheese Event
It seems there are not many people that cared about Billy McFarland and Andy King's grilled cheese event last Sunday. Proceeds were to benefit those affected in the Bahamas. A couple of weeks ago, the pair took on Twitter to announce the event, making it the first time the two would appear together in public since the Fyre Festival debacle. Well, as it turned out, nobody really cared about it.
A journalist from Rolling Stone magazine went to the event on Sunday. The grilled cheese pop-up was in New York City, at 7th Street Burger in the city's East Village. For the first two hours, a few people showed up at the burger joint. However, they left immediately when they were told that only cheese sandwiches were available. The first buyer was apparently a friend of McFarland, who apparently had him on his podcast.
"I think I'm really willing to do whatever it takes. I don't think cheese sandwiches are gonna pay back [the millions I owe], but it's a nice enough Sunday," McFarland says. So let's have some fun, do it for a few hours, and see what happens."
As for Andy King, he seems content to spin his viral notoriety into a new thing. The man that went viral for a particular scene in the Netflix documentary is getting recognized in the streets everywhere he goes, according to him. King said that he is there to support McFarland in his quest for redemption, but he will not do the same mistake twice.
"Anything that I do moving forward will be very explicit with contracts and payment structures," King says. "But I feel like I'm a good influence on Billy and I'm proud of what he's done so far. He is making his financial commitments right now."
Obviously, the event did not turn out the way the two men wanted. It remains to be seen if King will support McFarland in the second edition of Fyre Festival, as the convicted felon announced a few weeks back that he fully intends to plan a redo. Check it out below.
Stay tuned for more news!