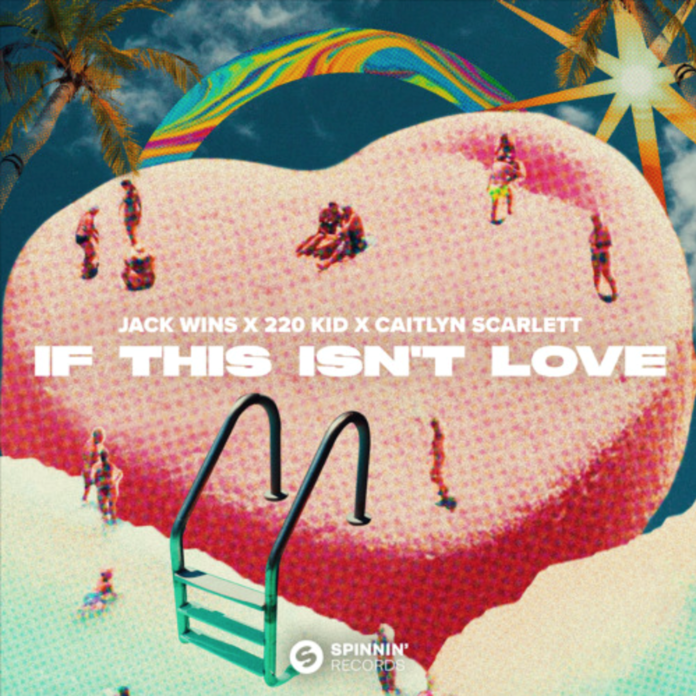 Jack Wins teams up with 220 KID and Caitlyn Scarlett for feelgood summer gem !
Working up one of his most freshest tunes to date, Dutch DJ/producer Jack Wins teams up with UK artists 220 KID and Caitlyn Scarlett for their feelgood summer tune "If This Isn't Love." Centered around a warm, infectious house groove, Scarlett's vocals guide you towards an extremely upbeat chorus, delirious and high on sweet singalong vibes, making this a destined floor and radio tune to soak up at any given sunlit moment. Following early support by David Guetta, Tiësto, Sam Feldt and The Chainsmokers, summer 2023's anthem is here, out now on Spinnin' Records.
Jack Wins just keeps on making moves. Having delivered a slew of releases on labels like Spinnin' Records, Selected and Axtone, he's explored his productions with various, surprising sounds, acclaimed for their uplifting qualities, featuring funky basslines, lively samples and irresistible vocal lines. From massive club hits in the late 10's like "Freewheelin," "One Thing" and his widely acclaimed Ed Sheeran remix "Beautiful People," to recent tunes like "Light Up My Life" (alongside Joe Stone) and this year's "Infected" (with Thando1988 and Anton Karskiy), he's continued to drop crossover dance hits as steady as the clock.
Now, Jack strikes again, joining forces with UK phenomenon 220 KID, the widely acclaimed DJ/producer who's been making major waves with numerous hit records. From his 2019 claim to fame "Don't Need Love" (89M) to his remix of Nathan Evans' "Wellerman" (392M) to last year's "See In Color," his sultry house productions strike a chord on both club and radio audiences – counting over 645 million streams by now.
Together, the guys have created a mesmerizing pop dance record in the shape of "If This Isn't Love." Featuring a nice groovy bassline beneath a sturdy, uptempo house beat, the record is further set on fire by London singer-songwriter Caitlyn Scarlett, famed for her impressive resume since the mid-10's, including collabs with Jack Wins' "Freewheelin" and "Animals." 
The reunion couldn't be more rewarding, as Scarlett delivers a star performance here, building momentum towards an undeniably uplifting chorus, ending up in the euphoric exclamation 'believin' in love!'. In the meantime, a steady sound production provides the perfect backing with floating synth chords, upbeat percussion and subtle melodics, making this a tune to get hooked on for the rest of the summer season. Such a lovely threesome taking place here, clearly marking its intention to provide the audience with an ultimate feelgood summer gem. "If This Isn't Love," than it's definitely a sun drenched infatuation, in any case you can't do without this record this season.