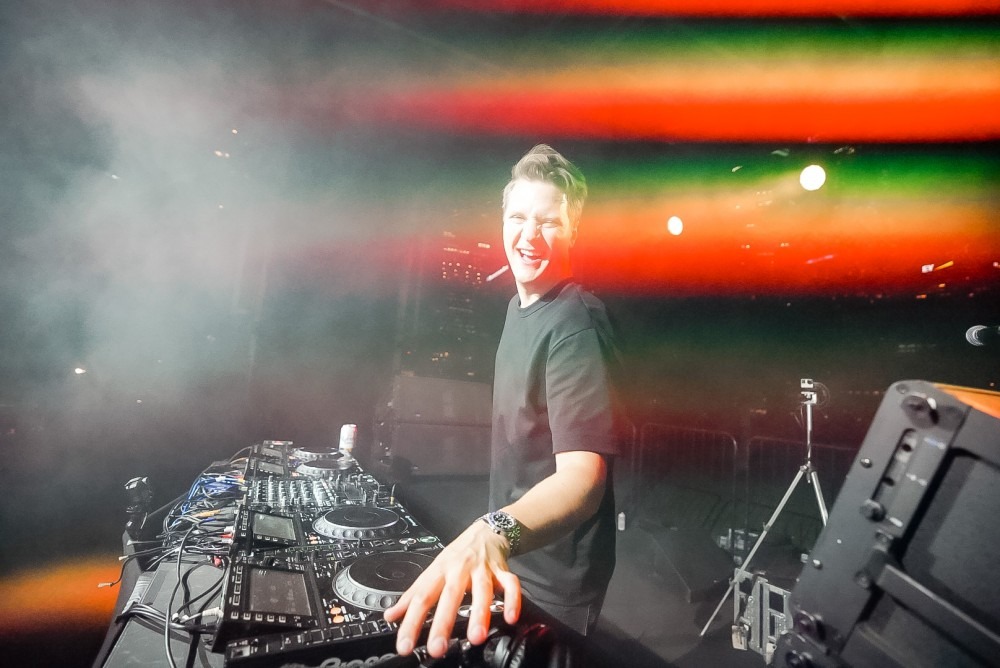 [INTERVIEW] Matoma Talks New Music and Upcoming Shows in New Exclusive Interview
Back in July, I had the chance to meet and be humbled by Matoma at the first installment of Loving Life Festival in Los Angeles; keep reading to get all the juicy details. It was a wonderful weekend that closed with a memorable performance from the modest yet talented Norwegian DJ.
His set was full of energy and, of course, some ear-pleasing house tunes. You can feel the passion Matoma brings when he performs and you won't want to stop dancing. Additionally, to cap off the night, Matoma embraced a fan waving the DJ's flag and brought him on stage to share a special moment (see below). It was a wonderful time, full of good people, the best vibes and a change of pace from a giant festival, being that this was the first Loving Life.
So, that's enough from me; let's get into the insightful conversation:
Me: "Are you excited for tonight?"
Matoma: "I'm actually quite excited; it's been a while since I played in LA. Especially on the 4th weekend, we're celebrating the constitution and the love of the people and we have that national day in Norway on the 17th of May. But we do it quite differently; we dress up, we have these national suits; it's actually quite funny like my suit is 300 years old."
Me: "Jumping into the music, can you tell me a little bit about your inspiration and creative drive for your most recent releases, 'Heart So Big' and 'Midnight Sun'?"
Matoma: "The biggest reason those records have come alive is because of Covid. Covid made me take a step back, made me reflect on where I am right now musically and I made a decision that I wanted to go on an independent path. So respectfully and mutually, I parted my deal with Atlantic and I signed a publishing deal with Downtown Music which gave me so much creative freedom."

Matoma continues: "And during Covid, I just found myself exploring new sounds. And during the pandemic, it actually gave me the time to be with my family and be with my friends. Even though we were in lockdown, I could call them. I had the full day off every single day. I could just make music. Being an artist that had been touring non-stop for seven years, like we could do 250 travel days per year, so it wasn't actually much time for me to be home and have that regular lifestyle. And that made me re-discover myself, re-discover the sounds and re-discover just like the passion for music."
Me: "So, if you can answer this, what do you prefer playing, a nightclub or a festival like this? And why?"
Matoma: "There's really no answer to what type of gig is the best; it's mostly the people. You can have a nightclub gig which is fantastic because the people that are there are just loose and they just want to party and have fun; they're there for the music. But then you can have nightclub shows where you have tables and you have bottle service and people are quite stiff and it's like you really have to work hard to get the crowd pumped. So, I do find that challenging like when I'm playing rooms where I really need to give everything for myself, to make them jump, to make them smile, to make them just like feel alive. And when I do that, it's an accomplishment; it's like, wow, this is so fantastic and then when I go to bed, I go to bed with the best feeling."

Matoma continues: "And then I can play festivals where I feel so disconnected from the crowd because there may be so many people, I'm too far from the people, I can't even see like are they smiling, you know. The energy from a bigger crowd, of course, gives you more adrenaline and fills your energy level up. But there's nothing like playing an intimate room for 200 people and seeing every single person in that room smiling. Feeling that individual energy is just so fantastic, so I'm really looking forward for tonight."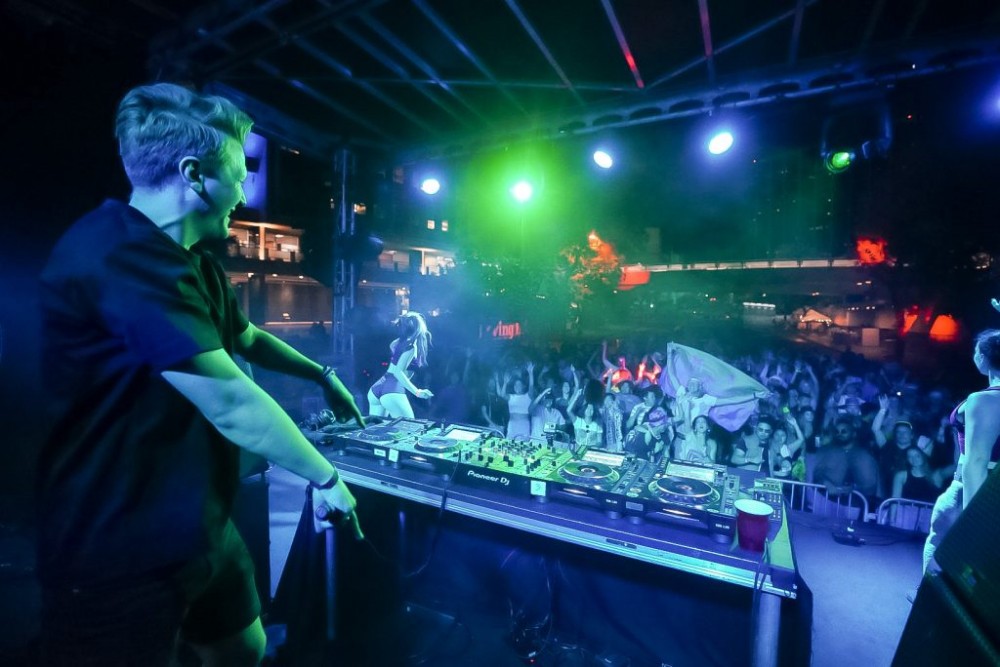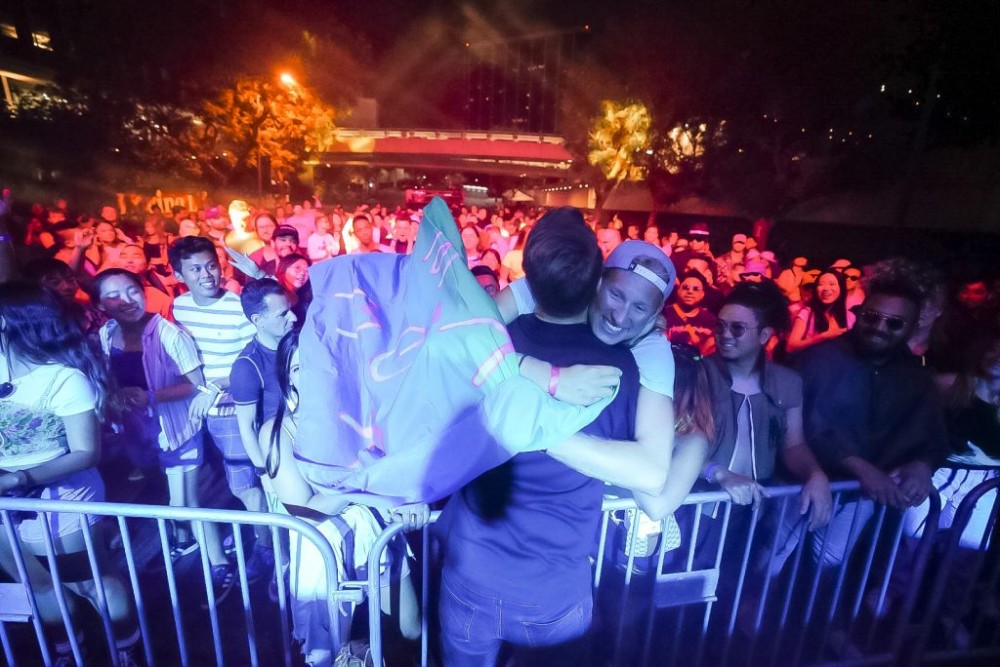 Me: "Yeah, this is a first-time festival, so does that make it any different for you?"
Matoma: "Oh Yeah! I've played so many first-time festivals. I think my agent has really really gone on and beyond for me and for my brand to always try to push and to be playing new festivals where you're creating something new. Yeah, I just love it."
Me: "Amazing. Can you talk about what made you want to put up those billboards for Ukraine on the road to Coachella? What really drives you to do something so powerful like that?"
Matoma: "You know it's not rocket science; here you have a festival that brings people together, brings the best out of people, joy, happiness, love and then on the other side of the world, you have a country that is so oppressed. They say that they are a democratic country with votes and they have free speech, but they clearly don't. And they have fake news and they have a president that is a dictator and oppress' people.
Matoma went on: "To witness that in 2022 is just like f*$%ing crazy; words can't describe it. And in that moment, the only thing I care about is people and if I can help in some sort or in some way. I'll gladly do that and wouldn't like take even pride in it because I just feel like it's something I need to do as a human for another human being."
Me: "That's a very modest answer. I like that. So now, jumping back into performing, do you have a ritual for performing? I know we're sitting right here and you're about to play in like what 50-something minutes. But do you have a ritual?"
Matoma: "My ritual is basically going to the toilet… when I played Coachella, I had a sensitive stomach; I get quite nervous before a show. Even if it's for 200 people or if it's for 70,000 people, it doesn't matter because every person that have paid a price to see me play they have expectations. And if I was to look at that as like 'oh, I'm a god!' I feel like some artists they take the whole aspect of playing for a crowd for granted. And for me, ever since I started playing, even at the student community back in Norway when I was like 21 years old, I was so nervous, I was nervous all the time. And it was just because I wanted to deliver for people; I wanted them to be happy; I wanted them to have the best time of their life. I wanted them to like smile, just like forget about their times, just like enjoy the music. And I think over the years that has never changed, the day on show, the only thing I think about is like: 'how can I be the best, to give them the best?'"
Me: "What's next for you in 2022? What can we expect? If you can share anything about it."
Matoma: "I'm doing some really amazing shows; I'm supporting for The Chainsmokers. And they're the same people as back in the days when I played with them. So, we have some history together; I kind of like was their special guest on their first like proper bus tour back in 2014 or 15. I don't remember the name of the tour, but one thing that I remember is that it was fun."

Matoma continues: "We were living the life and that tour kind of set the expectations of like the industry for me, just like good people, being surrounded with talented people. On that tour, it was all about spreading love, like taking care of all the people in the crew. They have a work ethic that is so incredible. From when they wake up in the morning to when they go to bed, it's all about like: 'how can we make this record stand out?' And I really learned from it and I remember when we were sitting back on the bus, me and Drew, we were making music every day and he helped me out. So I learned a lot from Drew and we became quite close. So I'm excited to be back with them. I haven't seen them for a while. I have actually not seen them; it was right before Covid, actually, so that's going to be an amazing time. Then I'm doing Red Rocks with Zedd, being a special guest there, that's going to be amazing. Never done Red Rocks before, but I've been to Colorado a couple times. And then the music, of course, I really feel like I'm going towards a more, I wouldn't say, like, darker vibe. But it's more soulful and more like housey. So yeah, I do have a couple singles that I'm quite excited about; my next single is 'Power'. It's with a female artist called Clementine; she's fantastic and has such a powerful voice."
Me: "What's kind of been the most challenging part about being an artist? Especially like an electronic artist in this new era, especially because it's such a saturated industry now. What's really the hardest part about that?"
Matoma: "Don't lose focus. I think there is so much noise right now, so much noise like you have social media and you have TikTok and you have this and that. It's so easy to be caught up and like be like anxious and get like depressed because you think that you're not good enough. You always measure yourself, comparing yourself with all these other people and then you forget your qualities, your abilities of being a human. And for me, that has been a challenge, but I'm very happy and glad that when I entered the music scene and when I became international, I was 23 years old. So I'm 31 now and I think if I was growing up today, if I was 22 today and my music blew up today, I would have had such a more harder time adapting, adjusting because the industry is so consuming. It's just like you find something; you chew it; you spit it out without even blinking. It's very cynical and you have to have a strong-dedicated heart, a strong-dedicated soul and passion for what you're doing and being laser-focused, not being interrupted by all this noise if you want to succeed."
Please keep those eyes peeled on Matoma as he continues to make forward-thinking strides in EDM. And don't forget to peek at his social pages to see what new things he's cooking up.
Photo Credit: Alfredo Lopez