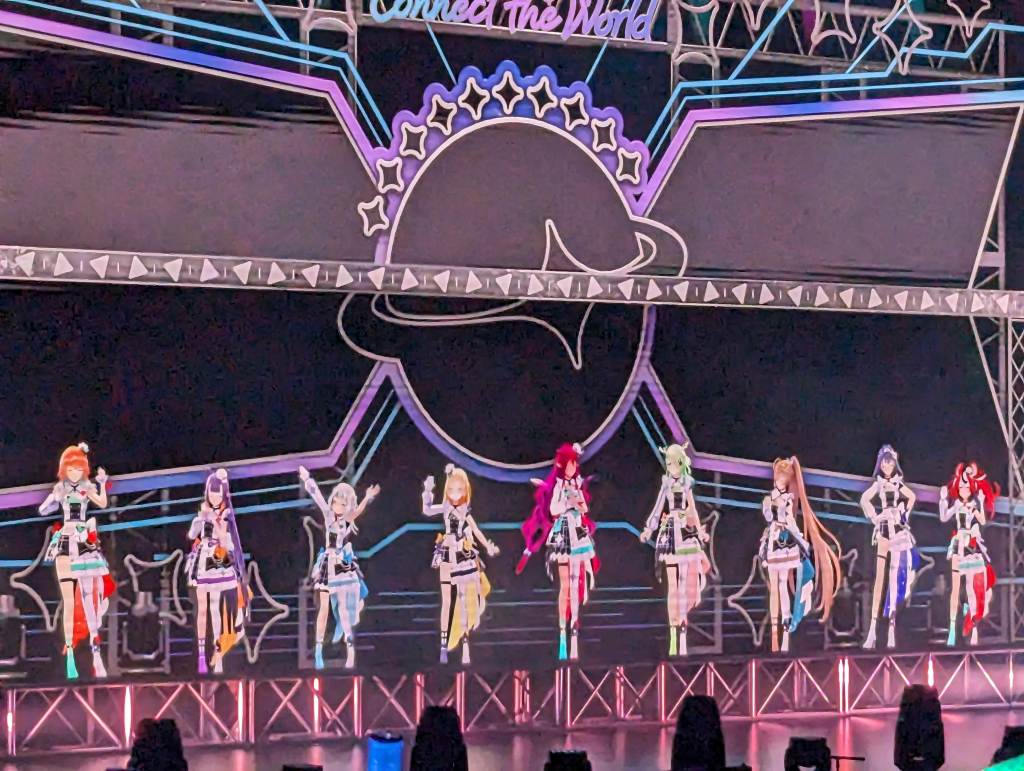 I Was There: Hololive EN Connect the World
Concerts are normally not my thing. I'll attend them at anime cons as an extension of my greater fandom, but I typically don't travel specifically for music events.
That all changed with Hololive English's inaugural live concert, Connect the World. Well, sort of. Attending a Virtual Youtuber concert can be viewed as a natural consequence of being an otaku, but it's also akin to seeing a KPop and J-Idol group. Either way, my fondness for the stars' antics outside of musical performance was just as much a motivation to see them as the concert stuff. And as the very first Hololive concert to be held in the US, I felt that I had to at least try to go. I might never have such an opportunity again, because as much as I'd love to attend the Holo Fes events in Japan, it's just not realistic for me. 
So with a bit of luck and perseverance (and lots of angry cursing at Ticketmaster), I managed to secure myself a ticket and a pretty decent seat. Fast forward a few months later, and there I was with penlight in hand, cheering alongside 5,999 other Holo fans. It was a fantastic overall experience, and I'm grateful to have been a part of this moment in VTuber history.
Summary
Connect the World began with a message in English from A-chan, whose role in Hololive can be described as the ultimate behind-the-scenes pillar. A central figure in the development of Hololive from its humble beginnings, she has garnered a fandom of her own that made itself known through enthusiastic cheers. The concert then went into full swing with a full-roster performance of the Hololive signature theme "Shiny Smily Story," followed by ten individual performances from the EN girls, two guest numbers by reps from Hololive Japan and Hololive Indonesia, three generational songs, the titular  "Connect the World," and then an encore with "Kirameki Rider."
Unlike later Hatsune Miku concerts with full-on 3D holograms, this was done with a flat projection screen and additional monitors on the side—similar to what is done even in the Japan events. So it wasn't the fully immersive experience one might expect, but I think part of the "live" feel actually comes from being shoulder to shoulder with one's fellow fans. In other words, we help make it "real" just as much as the VTubers.
The Opening Acts Were Made for Me
I feel incredibly blessed that the first couple of solos were by two of my favorites in EN. The first, Hakos Baelz, is nearly undisputed as the best dancer in Hololive EN (as well as being one of the strongest in Hololive as a whole), and I couldn't help but be drawn to her as she killed the dance floor. Even basic movements, like swaying left and right during "Shiny Smily Story," carried a sense of poise and confidence when executed by Bae, and she continued that same spirit into her original song "Psycho." Almost as impressive was her singing, which possessed a powerful throatiness that I enjoyed a lot and fit the song well. Someday, I'd love to see her more energetic movements alongside the amazing rhythm and fluidity of fellow dancer extraordinaire La+ Darknesss. 
I've read people's complaints about how the camera work didn't do Bae's self-designed choreography justice, and I can sympathize. Seeing it live really drove home how beautifully she moves, and I feel fortunate to be among those who could witness it straight on and uninterrupted. That being said, I feel like the criticism of the camera can be overly harsh, not only because I think it has its moments but also because the approach taken is meant to play it safe. In other words, it's better at hiding flaws than accentuating strengths—sometimes it works, and sometimes it doesn't.
The second star on stage, Amelia Watson, went with her first and only original song, "Chiku Taku." For Amelia, neither singing nor dancing have ever been her strong suits, but part of the joy of witnessing Amelia on stage is in experiencing her energy and seeing the strides she has made with respect to the "idol" aspects of being a Hololive VTuber. The highlight for me was the kicking motions in her dance—what I've since learned is ska dancing, or "skanking." 
Having both of the above performances be in the free YouTube preview works out in my favor, as it means I get to revisit them as much as I want. The fact that Bae was also part of the free preview at the Holo 4th Fes Deco*27 stage makes me think that they know full well what a draw she is.
Other Favorites
One stand-out moment was IRyS's "Gravity," which is my favorite of her originals, as well as one of the Hololive songs I love most. I was happy to hear IRyS herself say that she's partial to "Gravity" as well. The song just accentuates her talents as a vocalist, especially because it has that illusion of effortlessness that only comes when someone is immensely skilled at something. I feel like I achieved something just by hearing it live. 
Later when the EN girls did their group songs, IRyS actually ended up with another solo performance just because she's technically a generation unto herself. This has led to multiple jokes from fans and from IRyS alike—"Who do you like more, IRyS or IRyS?" Incidentally, prior to the start of the concert, I was chatting with a friend about her, where I mentioned wanting to hear "Gravity," and in response, he said that he really wanted her to sing "Caesura of Despair." That just so happened to be her second song, and while we had no actual say in the song list, it's fun to pretend that we willed it into existence. Between both tunes, they really show off the crystal clarity of IRyS's voice.
I expected that we'd get some surprises at Connect the World, but I didn't expect the debut of two new original songs, one by Gawr Gura and the other by Ouro Kronii. Truth be told, I don't listen to enough Hololive songs to always know what is a cover, what is an original, and what is brand new, but they both sounded unfamiliar to me at the time. Gura's "Full Color" and Kronii's "Souten ni Moyu" both fit their respective characters, personalities, and voices very well, and I think they're each VTuber's best songs to date. Neither has an official release yet, but I'm definitely looking forward to them.
The Teaser
After the encore was a mysterious teaser that had the audience clamoring. Featuring stills of fiery imagery and ending with a symbol that somewhat resembles a toothy grin, the natural assumption is that this is the long-awaited next generation of Hololive—the first since 2021. With no other info at this point, it's anyone's guess as to what it all means.
Given the dark tones of the teaser, my hope is that it's some kind of heel faction. Obviously it wouldn't work quite like pro wrestling—you don't actually want the viewers to despise them—but I imagine them dropping in to interrupt songs as they begin and talking smack as they belt out some tunes. Hololive EN also has a tendency to start with elaborate lore that then falls by the wayside, so I don't know if they could maintain that sort of gimmick for long.
Issues
There were a few hiccups at the event, and I don't just mean Amelia's at the end of "Chiku Taku." 
The first was that the monitors on each side were off-sync from the main screen, which made looking back and forth between them kind of awkward. The second was that the singing could sound a bit chimpunky at times. Was it the audio equipment at the venue or maybe something else, like use of pitch correction? I don't have the knowledge to diagnose that sort of thing, so I'll leave it to the experts.
Technical problems aside, I had also hoped to see more interactions between the different branches English, Indonesia, and Japan, but there wasn't any mingling. I suspect that they wanted to just do the basics and save stuff for future concerts. I recall a similar situation with JAM Project's first US appearance at Otakon 2008, where it was almost like an introduction to the American audience.
None of these things are deal breakers, particularly because I understand that the sheer complexity of trying to pull off a huge concert with 3D models means something might not work as intended. Take these as minor quibbles among an overall great experience.
Final Thoughts
I'm proud to have been part of this first Hololive concert in the US. I feel content knowing that I got to see some of my favorite entertainers shine on stage. I do hope we get a blu-ray soon, though, as I would like to have a permanent physical way to re-watch it. Then again, the 4th Fes blu-ray isn't even out yet, so we might be waiting a good while longer. 
I hope we get to see more international concerts in the future so that others have the opportunity to go in person, even if I end up being personally unable to attend them. Of course, depending on location and lineup (Haachama and La+ in particular), I might just have to find a way again.
And now that I've gone to a concert for virtual idols, who knows what's next? Maybe I'll attend some concerts by 100% flesh-and-blood musicians as well. Ironically, the VTuber rabbit hole might just lead me back to the real world.