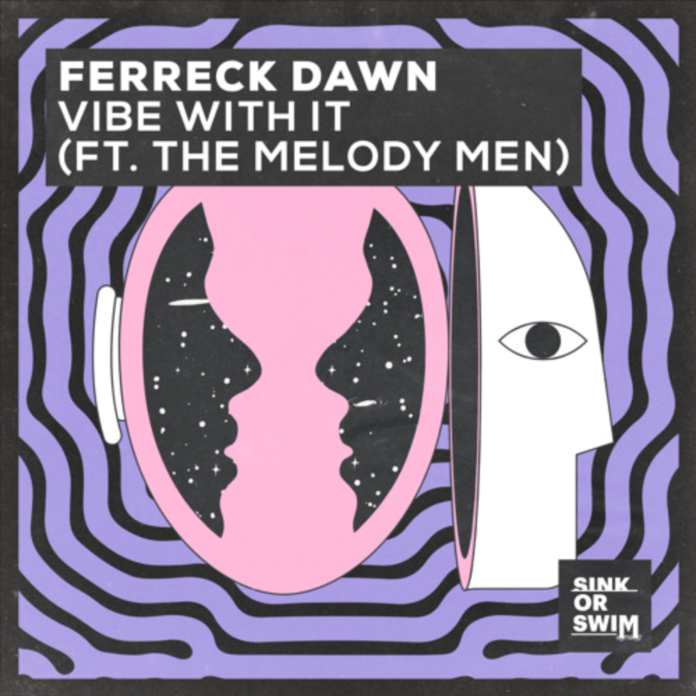 Ferreck Dawn sets off into the season with fresh DJ weapon !
Marking a resounding return to esteemed house label Sink Or Swim, widely acclaimed Dutch DJ/producer Ferreck Dawn delivers his new single "Vibe With It" on a powerful groove featuring deep, rhythmic beats, enhanced by warm wobbly basslines and the enticing vocals of London duo The Melody Men. Having built a strong club profile for himself throughout the years, Ferreck Dawn proves once again his specialty is mixing up the best elements of punchy tech house with funk and soulful sounds, sure to spark up excitement all around this season's beach party's. Following initial DJ support by the likes of Oliver Heldens, CID and Promise Land, the heat is officially on, as "Vibe With It" is available now on Sink Or Swim.
Ferreck Dawn has come a long way, exploring the deeper genres of house music with loads of catchy, inventive tunes for over a decade, becoming one of the club crowds' most treasured live artists. Having developed a trademark sound for himself on waves of sultry tech house, the Amsterdam based DJ/producer has released a series of essential club  records on labels like Defected, Toolroom, Spinnin' Deep and Sink Or Swim, recently highlighted by 2021 hits "Back Tomorrow" and "By My Side," last year's "Life" and his recent milestone collab with Todd Terry on vintage house gem "Get On Down."
As the Dutchman is currently prepping an ambitious summer season, including key festival shows and a residency at Ibiza venue Eden, he now brings one of his proven DJ weapons into position, releasing the aptly titled, infectious new tune "Vibe With It." 
It's a return to Spinnin' imprint Sink Or Swim, the tastemaker house label where Ferreck Dawn also dropped the undeniable 2021 gems "Caught In The Rain" (alongside Guz and L.I.T) and "I've Been Missing You" (with Jack Back and Guz), as well as last year's club favorite "Aphrodisiac." "Vibe With It" suitly follows these tightly nit grooves, bursting out with his characteristic deep, punchy kicks, while building tension with subtle backing chords, sturdy percussion and a cool, ominous bass line. In the meantime, a warm vibe gains strength, courtesy of The Melody Men, the London based female duo that recently turned into the go-to writing team for many highly respected names in dance music, including Martin Ikin, Mat.Joe, CASSIM, Mike Mago, Mason, and D.O.D.
Known to cover every vocal style from rap and ragamuffin to soul diva and indie songstress, The Melody Men emphasizes its talent as it brings "Vibe With It" to life, moving from tasty repetitive lyrics to a tantalizing, soulful intermezzo during the breakdown. Ferreck Dawn proves himself a seasoned crowdpleaser here, building up anticipation with rumbling drums and enticing reverbs, only to divert attention to those catchy vocals before giving it all away with that trademark groove of his, deep and alluring.
Already played live to enthused crowds by Ferreck Dawn these last months, "Vibe With It" has also seen support from fellow house heads like Oliver Heldens, CID, Promise Land, and Futuristic Polar Bears, demonstrating its peaktime potential, while showcasing once again Ferreck Dawn has got things covered on the floor this season. Be sure to vibe with him as this one drops.