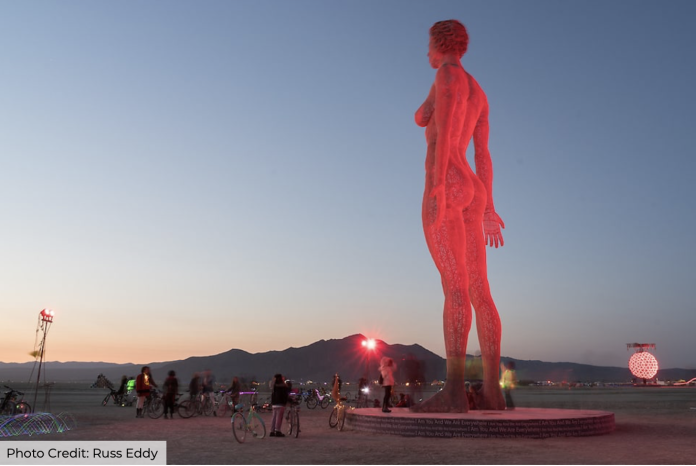 Burning Man Sculpture, From The Desert To Miami Beach For Art Basel
As the winter season approaches, Lincoln Road in Miami Beach is getting ready to showcase something truly extraordinary. Among the splashing fountains, bustling shops, and mouthwatering restaurants, a towering 45-foot-tall glowing sculpture of a woman will take center stage. Created by artist Marco Cochrane, this larger-than-life structure named "R-Evolution" will be a sight to behold during Miami Art Week. With LED lights that make it glow in the sunlight and illuminate in the night, this sculpture promises to captivate and inspire all who lay eyes on it.
"R-Evolution" first made its debut at Burning Man several years ago, but this will be the first time it will grace the East Coast with its presence. Its immense size and intricate design make it a true masterpiece that embodies feminine strength and liberation. With 16 motors in its chest that simulate breathing, this kinetic sculpture symbolizes the energy that radiates from within and its involuntary impact on the world around it.
The Origins and Significance of "R-Evolution"
The story of "R-Evolution" begins at Burning Man, an annual event held in the Black Rock Desert of Nevada. Burning Man is known for its celebration of art, self-expression, and community. It is a place where artists from around the world come together to showcase their creations in a unique and immersive environment.
Marco Cochrane, the mastermind behind "R-Evolution", was inspired to create this towering sculpture as a tribute to the strength and beauty of women. He sought to challenge societal norms and prejudices by showcasing the power and vulnerability that exist within every woman. By crafting a sculpture of a woman that stands tall and proud, Cochrane aimed to break down barriers and foster a sense of empowerment and liberation.
Bringing "R-Evolution" to Miami Beach
The decision to bring "R-Evolution" to Miami Beach for Art Week is an exciting one. This vibrant city is known for its thriving arts scene, and Art Week attracts artists, collectors, and art enthusiasts from all over the world. By showcasing this monumental sculpture in the heart of Miami Beach, Cochrane hopes to reach a wider audience and spark conversations about femininity, strength, and liberation.
Lincoln Road, a popular pedestrian mall in Miami Beach, is the perfect location for "R-Evolution." Its vibrant atmosphere and diverse crowd make it an ideal setting for this awe-inspiring sculpture. As visitors stroll down the road, they will be greeted by the towering figure of a woman, bathed in the warm glow of LED lights. Whether it's day or night, "R-Evolution" will leave a lasting impression on all who encounter it.
The decision to showcase "R-Evolution" on the East Coast for the first time is a testament to the impact and significance of this sculpture. Cochrane's creation has already captivated audiences at Burning Man, and now it has the opportunity to inspire and empower a whole new group of people in Miami Beach.
The arrival of "R-Evolution" on Lincoln Road for Miami Art Week is an event that should not be missed. This monumental sculpture, with its glowing presence and powerful symbolism, is a testament to the strength and beauty of women. Marco Cochrane's creation has the power to challenge societal norms, spark meaningful conversations, and inspire individuals to embrace their own power and liberation.
As you walk down Lincoln Road this winter, take a moment to pause and appreciate the towering figure of "R-Evolution." Let its energy wash over you and consider the impact that feminine strength and liberation can have on the world. Allow yourself to be inspired and empowered, and join the conversation that this breathtaking sculpture is sure to ignite.