Attending HARD Summer? Here's What You Need to Know
Sold out over two weeks before the first day, this might be the best HARD Summer yet. The lineup is stacked with rising and seasoned artists with a wide variety of genres ranging from Rap/Pop to Insomniac's favorite, EDM. This year's line up headliners consist of Future, Rezz, Kaytranada, RL Grime, Baauer, Don Toliver, Jauz, Ekali, Lil Dirk, Maya Jane Coles, G Jones, Eprom, A-Trak, Wax Motif, DJ Snake, Malaa, Dillion Francis, 2 Chainz, Skream!, Kayzo, Iann Dior, Hulk Gang(Valentino Khan + 4B), Slushii, Joyryde, Saymyname, and Solardo.
It is a long list and a good one too. Every year, Insomniac, the HARD Summer corporate owner, never disappoints its festival-goers with their lineups. Also, they have many other artists in attendance that many of us will be dying to see. Below I have attached the full lineup for you to see. Now let's dive deeper into this lineup.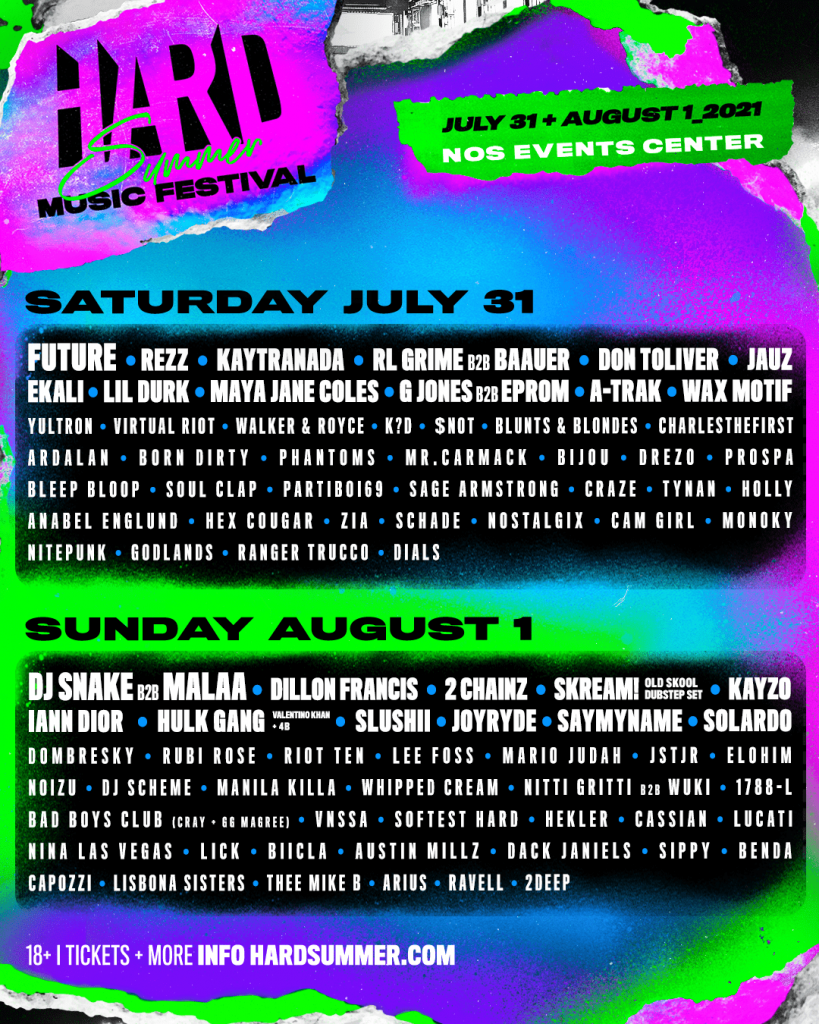 B2B Sets at HardSummer
You can't have an Insomniac lineup without the energy driving back-to-back sets. This year HARD Summer is giving us 4 B2Bs, 2 each day of the event. On Saturday, you have an RL Grime and Baauer B2b on the HARD Stage from 9 P.M to 10:15 P.M. For the 2nd Saturday B2b, they are giving us a G Jones and Eprom show at 11 P.M to 12 A.M closing out the Green Stage.
Sunday, if you're at the HARD Stage for the closing set you will see DJ Snake and Malaa's B2B. If you are not, make sure to catch Nitti Gritti and Wuki's B2B earlier in the day from 4:45 P.M to 5:45 P.M on the HARDER Stage. Back to Back sets are filled with two talented DJ mixes and combined transitions. They make for good switch-ups on your festival days and gives you a chance to catch not just one but two DJs at once. We strongly suggest adding at least one to your A-team list.
& For Special Sets
Special sets are a growing popularity amongst festivals. They are usually a special live set with live instruments, or a popular artist playing under a different identity, or even an artist playing a different genre or lower/higher tempo than their usual. HARD Summer is supplying us with 3 special sets other than the B2Bs. They are Skream!'s "Old Skool Dubstep Set", Hulk Gang, and Bad Boys Club. In more detail, Skream!'s "Old Skool Dubstep Set" will be a set playing his style of old-school dubstep. If you are a fan of the oldies this will be a set not to miss.
Going down the list, Hulk Gang is a collaborative project between the likes of 4B and Valentino Khan. This is a killer duo between two well-known producer DJs. Ongoing, we run into Bad Boys Club, another collaborative project between artist Cray and GG Magree. These two ladies making up Bad Boys Club will be controlling the Green Stage between 7 and 8 P.M.
Between the B2Bs and the special sets, you have a lot to think about.
Set Times and Festival Closers
Set times have been released on the HARD Summer website and their social media platforms. We suggest saving a copy just in case the phone signal becomes a little iffy with the masses. Ranger Trucco, an up-and-coming house artist is the first set on the HARD Stage. His groovy set will give life to the festival for the weekend at 2 P.M. on Saturday. Saturday will end with a bang with closing sets from Future, Rezz, and the G Jones and Eprom B2b set. Sunday's Main Stage will start up with Arius at the same opening time of 2 P.M. Closing the festival we will see sets from Kayzo, Skream!, and another B2b with DJ Snake and Malaa. Below I have attached both days for you to get a better look at the full set times.
Remember to grab a copy for your exciting weekend.
Hard Summer Location & Parking
Luckily, HARD Summer does a good job at supplying black and white info for its attendees, but we're here to make it even easier for you. Hard Summer will again be at the NOS Events Center located in San Bernardino, CA. A massive venue that continues to have a long and solid relationship with Insomniac. If you need the address of the venue it is 689 S E St, San Bernardino, CA 92408.
In regards to parking, HARD Summer has supplied a detailed message on where to go here. Free parking for attendees will be adjacent to the venue and they have made it clear to NOT park in the surrounding neighborhoods. Also, Accessible Parking will be located near the VIP entrance off of Arrowhead Avenue. If you are Ubering, using LYFT, or any kind of drop off you will need to give your driver directions to NOS events center and tell them to follow the "Guest Drop-Off" signs. The same thing flies with being picked up. They suggest arriving early if this is the option you are thinking about.
If your hotel is part of the shuttle program or you are coming from Orange County or Downtown Los Angeles, HARD Summer is still offering shuttle passes on their website. You can find the city shuttle passes here and the hotel shuttle passes here.
Last but not least make sure to read through the parking lot restrictions and Pro Tips on the HARD Summer parking page.
Have a Safe HARD Summer
HARD Summer is one of Insomniac's most popular west coast festivals and brings in thousands of fans from all over the world. It focuses on having fun, meeting new people, and of course seeing our favorite artists. In the midst of all the fun make sure to drink lots of water but not too much, watch for occasional bummy pickpockets, and look after all your fellow HARD Summer attendees.
See you there!