ATB Set to Return to North America this Fall
ATB is back in action, and we couldn't be more excited! For proof of this, check out his newly announced fall schedule. Firstly, André Tanneberger, better known by his stage name, ATB, has just returned to the United States for a quick fall tour. The German DJ/producer's North American fall tour is currently underway and is in support of his most recent single 'Your Love (9pm)' alongside Topic & A7S.
ATB North American Fall Tour
Currently, ATB's North American Fall Tour is at its halfway point. Firstly, he's already performed sets at EDC Orlando on November 11th. In addition to this, he's also played at Time in Costa Mesa on the 12th. The remaining two dates are scheduled for the 18th & 19th of November. The first of these is set to take place in Seattle, at Ora. The last & final tour stop is scheduled for Dreamstate, in San Bernardino, CA.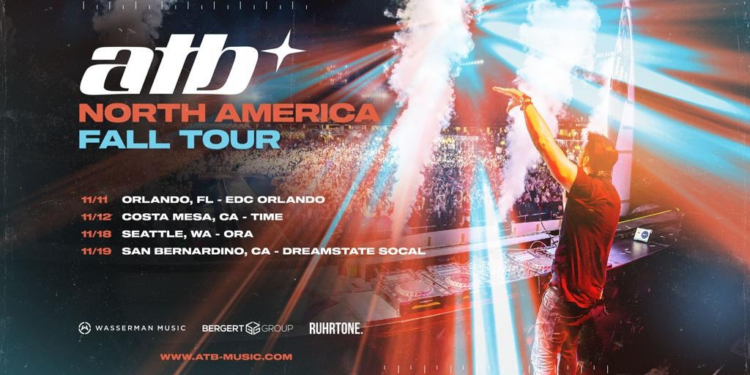 If you've yet to see ATB live, I highly recommend checking him out. I say this, as he lays claim to an illustrious 25-year-long career, with a discography that features numerous hits, and even more fan favorites. It should be noted that ATB's debut single, "9pm (Till I Come)" was what broke him into the trance scene. This took place way back in 1998.
Having said that, this single took the German producer/ DJ to the top of the UK singles charts. In the process cementing his legacy forever, by becoming the first dance song to reach number 1 in the UK! Lastly, for more information, as well as tickets to your nearest ATB show, be sure to check out his official website here. In conclusion, I've included ATB's North American Fall tour dates below, enjoy
ATB North American Fall Tour
̶1̶1̶/̶1̶1̶ ̶–̶ ̶O̶r̶l̶a̶n̶d̶o̶,̶ ̶F̶L̶ ̶–̶ ̶E̶D̶C̶
̶1̶1̶/̶1̶2̶ ̶–̶ ̶C̶o̶s̶t̶a̶ ̶M̶e̶s̶a̶,̶ ̶C̶A̶ ̶–̶ ̶T̶i̶m̶e̶
11/18 – Seattle, WA – ORA
11/19 – San Bernardino, CA – Dreamstate
Follow ATB:
Instagram | Official Website | Facebook | Twitter