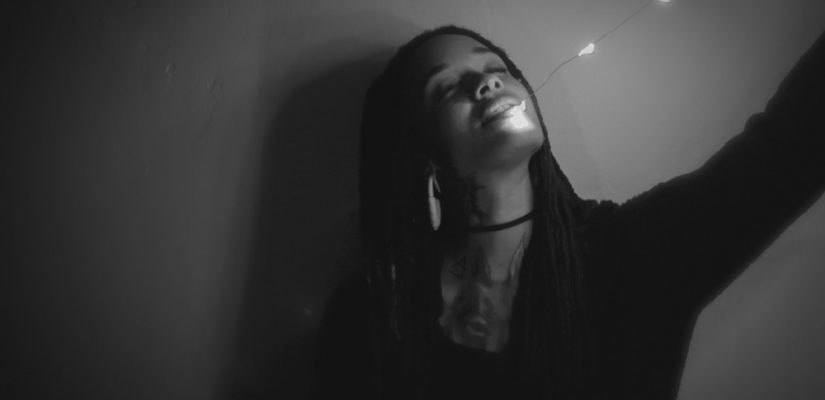 A Hundred Drums Invites Us To Beat As One – EDM Joy | EDM Music Blog, Festivals & Electronic Dance Music News
Photo by Daniel Aldag
Denver-based producer A Hundred Drums demonstrates her wide array instrumental talents and genre diversity on her self-titled album, available this Valentine's Day on Gravitas Recordings. Sitting comfortably at seven tracks, this album is Gabrielle Watson's most ambitious project to date.
Detouring from the deep dubstep sounds that first made a splash in the scene, Watson uses A Hundred Drums to create her own sound and break away from familiarity by showcasing her vast musical influences.
The Valentine's Day release date and self-titled album is a symbol what A Hundred Drums intends to accomplish: "A Hundred" was chosen for its spiritual and societal primacy, and "Drums" call our hearts to beat in sync. A Hundred Drums aspires to align all listeners' heartbeats to her BPM, unifying us all in the music. We beat with one collective heart on the day celebrating love.
A tribute to her passion project, "Shakti Sound" sets listeners on a globetrotting journey into mysterious and minimalistic 808s. A Hundred Drums puts a spotlight on her signature hand drums in "Circles," which blend in an abstract, downtempo experimental soundscape before James Xavier sings a wicked flame. Dashing down the dark road, A Hundred Drums tells the haunted tale the "Boogie Man," slicing through inky blackness with an eerie bassline and haunting whispers. "Psy Area" incorporates cascading psytrance as liquid bass is gradually dripped onto the track. Featuring A Hundred Drums's first ficial collaboration with fellow Denver artist, Templo, "Apex" rides the wave through a cave deep dub and metallic beats. Vibe Emissions "Circles" back to fer an energizing remix the aforementioned song, incorporating various deep dubstep rhythms and textures. Legendary producer Leon Switch remixes "Lord Tings," released originally by Heavy Traffic Recordings and featuring Jayne Gray, into a seductive stupor, closing out A Hundred Drums's self-titled album in a state bliss.
On February 14, Gravitas encourages all hearts to beat as one with A Hundred Drums. Listen and download for free on Bandcamp here.