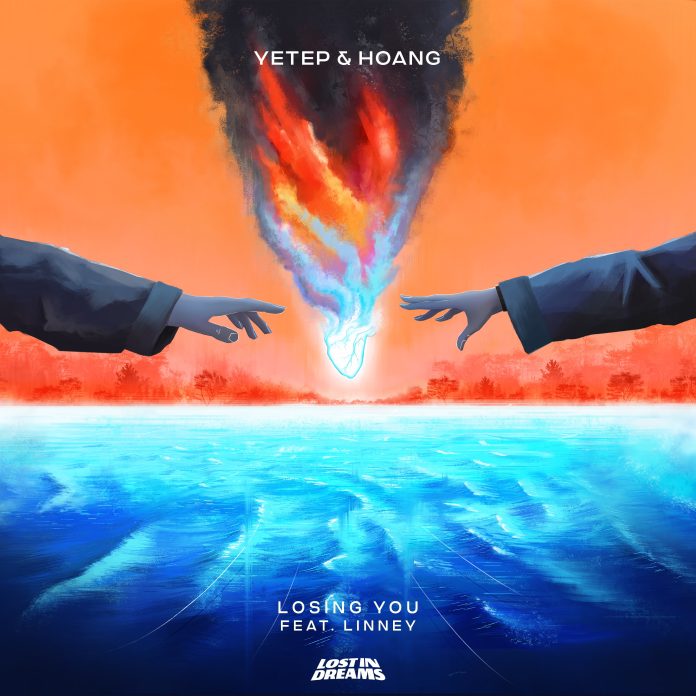 Yetep & Hoang Drop 'Losing You' ft. Linney
This week, Los Angeles-based yetep and Vancouver-born Hoang drop a fire new single titled 'Losing You' on Lost In Dreams. This time they join forces with LA-based electronic music artist Linney who delivers an incredible vocal performance. The release marks a return to the label for all three artists and acts as their first collaborative work together. Be sure to check out 'Losing You' for yourself here, out everywhere now!
'Losing You' is a gripping electropop ballad that harnesses the power and weight of love. Linney's lush falsetto takes centerstage, unleashing swells of emotion with a raw yet beautiful edge. Bearing her soul, the lyrics explore the pain of love lost while underlying the willingness to do it again for that intangible high in spite of the lows. A bed of somber piano chords deepens the sentimental sound. Punchy drums and heart-fluttering risers build into an epic release of tear-inducing synth work. The slamming percussion and torrent of synths wash over like breaking waves on a rocky shoreline. The downtempo break shifts the scene into a sense of pensive reflection, which is complimented superbly by Linney. The rehashed final drop possesses a sense of cathartic triumph, offering a release in its purest form. Gentle keys and delicate harmonies drift over the horizon as the sun welcomes a new day filled with possibilities. 
Hoang provides deeper insight into the trio's chemistry, saying:
"We've been making music back and forth for a little over 2 years now and I'm so excited to have created this song with the family Yetep and Linney!"

– Hoang
Reflecting on how long his current offering has been in the works, yetep shares his enthusiasm:
"'Losing You' has been in the making for the last two years, and I'm so excited to finally release this on Lost In Dreams with Hoang and Linney."

– yetep
Linney provides deeper insight, saying:
"Everything we love has a particular power, weight,  and hold over us because the more invested we are, the more afraid we are to lose it. And the decision to open your heart to someone also comes with the risk of losing them eventually—whether it be an unrepairable difference or disagreement that leads to a fall out, or spending your entire life with them until their or your dying day. The lyrics are about being afraid to fall but doing it anyway."

– Linney
Championing community-driven music, LA-based producer yetep continues to impress the music industry via innovation and individuality. The Asian American artist's dance and melodic bass project is deeply rooted in fostering community growth, mental health awareness, and tackling issues with homeless youth. He's previously released singles on the label with 'Never Go Back' alongside Afinity and Micah Martin; 'Melting' with Danny Olson; and 'Damaged' alongside KLAXX. He's currently wrapping up his Elysian Tour with upcoming performances at Escape Halloween, Boo! Seattle, and a headline show at Stereo Live (Houston and Dallas).
Canadian sensation Hoang is a breath of fresh air, renowned for crafting electronic music that appeals to visceral emotions. He's fresh off the release of 'Made For' with nøll and RUNN, and his previous release on the imprint, 'Hard Part's Over,' was a runaway success nearing four million streams. He is currently co-headlining the 'Million Days' tour with SABAI, in addition to a few upcoming festival plays at both Escape Halloween and Creamfields Guangzhou.
Los Angeles-based singer, songwriter, and artist Linney is becoming a sought-after voice in the electronic music scene. She's graced Lost In Dreams with the previous single 'Gone' with MitiS and Crystal Skies, and the title track from Taylor Kade's 'Slow Down' EP. Her music has seen past radio support on Sirius XM Chill.