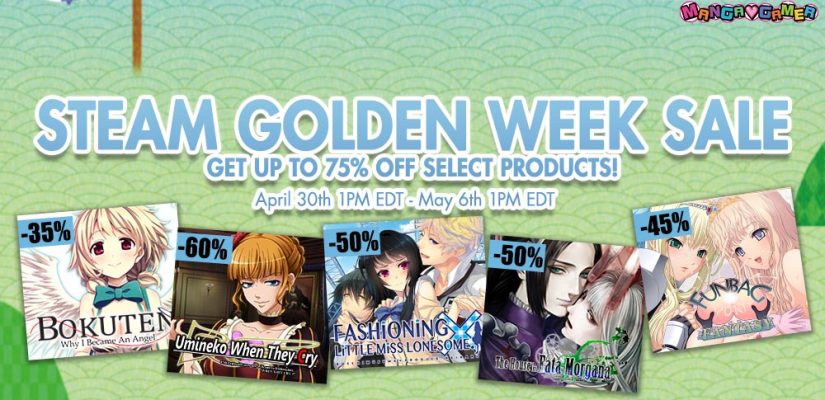 Steam Golden Week Sale!
Steam's Golden Week Sale has officially begun! Get up to 75% off select products during this limited-time sale! What's more, we're matching all of these discounts on all applicable products on our storefront!
Sale Period: April 30th, 2020 1PM EDT – May 6th, 2020 1PM EDT.
Steam DLC
eden* PLUS+MOSAIC DLC $4.99 $3.74 (-25%)
Go! Go! Nippon 2015 DLC $7.99 $4.00 (-50%)
Go! Go! Nippon 2016 DLC $7.99 $5.99 (-25%)
Games
A Kiss for the Petals – Remembering How We Met $7.99 $3.20 (-60%) MG | Steam
Amatarasu Riddle Star $39.99 $27.99 (-30%) MG | Steam
Bokuten – Why I Became an Angel $44.99 $29.24 (-35%) MG | Steam
Cho Dengeki Stryker $34.99 $8.75 (-75%) MG | Steam
Ciconia When They Cry – Phase 1 $39.99 $33.99 (-15%) MG | Steam
Da Capo III R $39.99 $18.00 (-55%) MG | Steam
D.S. Dal Segno $39.99 $23.99 (-40%) MG | Steam
eden* $19.99 $10.00 (-50%) MG | Steam
ef – the first tale $29.99 $19.49 (-35%) MG | Steam
ef – the latter tale $34.95 $22.72 (-35%) MG | Steam
Evenicle $44.99 $31.49 (-30%) MG | Steam
Fashioning Little Miss Lonesome $24.99 $12.50 (-50%) MG | Steam
Funbag Fantasy $44.99 $24.74 (-45%) MG | Steam
Funbag Fantasy: Sideboob Story $44.99 $38.24 (-15%) MG | Steam
Funbag Fantasy 2 $44.99 $33.74 (-25%) MG | Steam
Funbag Fantasy: Sideboob Story 2 $44.99 $38.24 (-15%) MG | Steam
Gahkthun of the Golden Lightning $39.99 $14.00 (-65%) MG | Steam
Go! Go! Nippon! $9.99 $2.50 (-75%) Steam
Hadaka Shitsuji $34.99 $22.74 (-35%) MG | Steam
Hashihime of the Old Book Town $34.99 $22.74 (-35%) MG | Steam
Himawari $34.99 $19.24 (-45%) MG | Steam
Kara no Shojo $34.99 $24.49 (-30%) MG | Steam
Kindred Spirits on the Roof $34.99 $22.74 (-35%) MG | Steam
Kindred Spirits on the Roof ~Full Chorus~ DLC/Upgrade Patch $9.99 $5.00 (-50%) MG (Upgrade) | Steam (DLC)
Koropokkur in Love ~A Little Fairy's Tale~ $14.99 $4.50 (-70%) MG | Steam
Lilycle Rainbow Stage $24.99 $16.24 (-35%) MG | Steam
MYTH $14.99 $6.00 (-60%) MG | Steam
No, Thank You!!! $39.99 $23.99 (-40%) MG | Steam
OZMAFIA!! $34.99 $22.74 (-35%) MG | Steam
Princess Evangile All Ages Ver. $34.99 $20.99 (-40%) MG | Steam
Princess Evangile W Happiness $34.99 $20.99 (-40%) MG | Steam
Sorcery Jokers $39.99 $18.00 (-55%) MG | Steam
Space Live $9.99 $2.50 (-75%) MG | Steam
Steam Prison $34.99 $22.74 (-35%) MG | Steam
Supipara Ch.1 $14.99 $7.49 (-50%) MG | Steam
Supipara Ch.2 $14.99 $7.49 (-50%) MG | Steam
The Eden of Grisaia – Unrated Edn. $29.99 $16.49 (-45%) MG
The Expression Amrilato $24.99 $17.49 (-30%) MG | Steam
The Fruit of Grisaia – Unrated Edn. $39.99 $20.00 (-50%) MG
The House in Fata Morgana $24.99 $12.50 (-50%) MG | Steam
The House in Fata Morgana Deluxe Edition (Game + OST) $34.99 $17.50 (-50%) MG | Steam
The House in Fata Morgana – A Requiem for Innocence $14.99 $7.50 (-50%) MG | Steam
The Labyrinth of Grisaia -Unrated Edn. $29.99 $16.49 (-45%) MG
The Shadows of Pygmalion $34.99 $8.75 (-75%) MG | Steam
The Spirit Master of Retarnia $14.99 $6.00 (-60%) MG | Steam
The Tower of Five Hearts $14.99 $8.99 (-40%) MG | Steam
Tokyo Babel $34.99 $8.75 (-75%) MG | Steam
Trinoline $34.99 $26.24 (-25%) MG | Steam
Umineko When They Cry (Answer Arc) $29.99 $15.00 (-50%) MG | Steam
Umineko When They Cry (Question Arc) $24.99 $10.00 (-60%) MG | Steam
OST
Bokuten – Why I Became an Angel OST $9.99 $7.99 (-20%) MG | Steam
Gahkthun of the Golden Ligtning OST $5.99 $4.49 (-25%) MG | Steam
The House in Fata Morgana OST $11.99 $6.00 (-50%) MG | Steam
The House in Fata Morgana – A Requiem for Innocence OST $9.99 $5.00 (-50%) MG | Steam

Drama CDs
Kindred Spirits Drama CD Vol. 1 $9.99 $6.99 (-30%) MG | Steam
Kindred Spirits Drama CD Vol. 2 $9.99 $6.99 (-30%) MG | Steam
Kindred Spirits Drama CD Vol. 3 $9.99 $6.99 (-30%) MG | Steam
Kindred Spirits Drama CD Vol. 4 & OST $15.99 $11.19 (-30%) MG | Steam
Video/Concert
Kick Start Generation OVA + Album $19.95 $15.99 (-20%) MG | Steam
The House in Fata Morgana, Live in Osaka! $9.99 $5.00 (-50%) MG | Steam