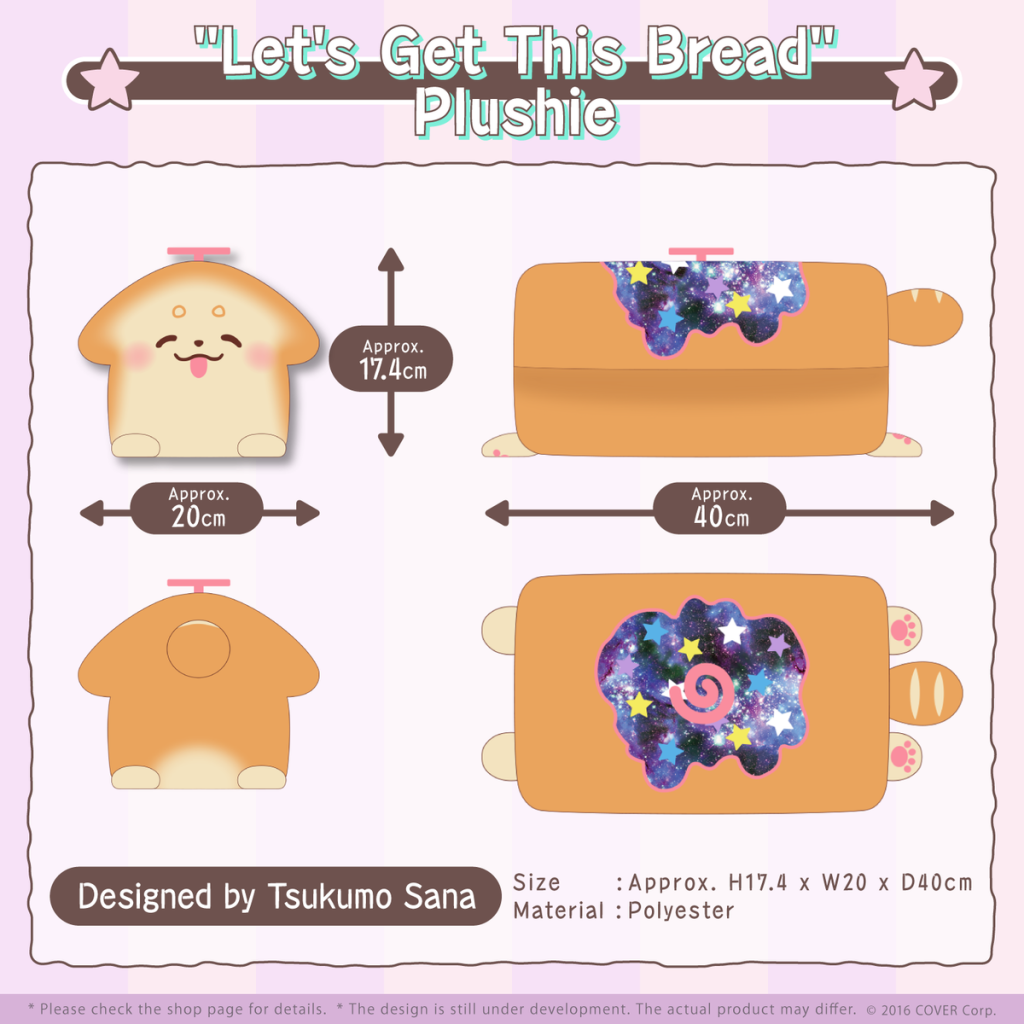 Rise of the Bread Dogs: Hololive, Precure, and Pokémon
There must have been something fermenting in the collective imagination of 2022. Last year gave us not one, not two, but three different forms of media featuring cute dogs combined with bread. And as many minds landed on this same idea of oven-baked canines, they all appeared to be guided by more than merchandising power alone.
Sanallites
The first bread dog of note is an embodiment of the Sanallites, the fanbase for the retired VTuber Tsukumo Sana from Hololive. The reason her fans are portrayed as bread is that Sana herself would express how much she loves bread, even going as far as doing a bread horoscope in an early stream. And because Sana herself is an experienced artist, she used her illustration chops to solidify the design as a whole loaf with an adorable flat face.
Sana's bread dog comes from a warm and comforting relationship with her fandom—the kind of personal-feeling connection that you could only get from a streamer.
Pam-Pam
The second bread dog is Pam-Pam, a sandwich-themed dog fairy from the magical girl anime Delicious Party Precure. Here, Pam-Pam is the mascot sidekick of the bread-themed Cure Spicy, and contrasted with a rice mascot and a noodle mascot for a trio of staple carbs. This all plays into one of the themes of Delicious Party Precure, which is teaching kids to eat balanced meals and learn to appreciate all types of food. Pam-Pam transforms into a little sandwich with her dog head sticking out, meaning her bread elements come out primarily in battle.
Delicious Party Precure's bread dog is a way to convey a theme of good nutrition. The decision to design Pam-Pam in this way is the result of trying to prepare children for the future.
Fidough and Dachsbun
The last bread dogs are the new evolutionary line from Pokémon Scarlet and Violet. Fidough, which resembles unbaked bread, evolves into Dachsbun, whose Baked Body ability makes it actually immune to fire attacks. They have more of an active bread motif than Pamu Pamu but retain more dog features than the Sanallites.
These two are actually just a couple of the many new Paldean Pokémon with a food motif—others include hot pepper plants, olives, and more. The Paldea region is based on Spain, which has a rich and diverse food culture, and both bread dogs reflect that aspect.
The Yeast They Can Do
Combining fluffy bread with furry dogs seems like an obvious winner, and these examples are certainly not the first. But to see three big franchises implement the same idea within the same year feels like a tiny miracle. There's a surprising amount of versatility to be found in the bread dog concept, and should there ever be a true bread-dog boom, I doubt anyone would mind.