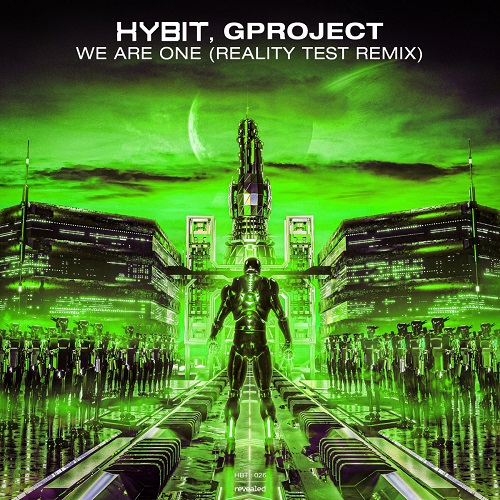 Reality Test Presents Electrifying Remix For HYBIT & Gproject's 'We Are One'
In case you missed hard-hitting, yet still unbelievably melodic Psytrance, this one might just be for you.
Recently, a track caught our eyes — and our ears. We came across a tune that is as much of a belter as it is a little caress to the soul. We're talking about Israeli DJ and producer Reality Test's take on HYBIT and duo Gproject's collaboration 'We Are One'.
'We Are One'
The original track from which Reality Test's version stems is the result of the follow-up conjoint work of HYBIT (a MR.BLACK alias) and Gproject, which succeeded their 2021 single 'The Hook'. Rather than ordinary collaborations, the hits coming from this partnership have literal years of experience to back their endeavours.
On one side we have MR.BLACK. He's a pioneer of the hybrid movement in Dance music, one that combines different subgenres to create new, exciting sounds. Two years ago, he launched a new imprint and alias titled HYBIT. The idea brings a hybrid of Psytrance and Big Room to the table. Both aliases, HYBIT and MR.BLACK, work together to complement and challenge each other.
On the other side of the spectrum, enter Gproject. They are a duo consisting of Liron and Roy Gindi, a married couple who have learnt to translate their feelings into music. They believe it is a way to capture the special moments in life. Gproject combines the underground with the mainstream, bringing yet another example of hybrid music to the table.
Reality Test
Breaking star Reality Test has had a busy schedule lately. From signing records on Vini Vici's Alteza Records to touring the world delighting crowds with her style, she's one of the most exciting names to lead the Psytrance scene in Israel, a country known worldwide for the quality and craft of said genre of EDM.
The Remix
True to the original, the remix kicks off with a healthy dose of Classic Trance melody and progression, before building the tension that will ultimately resolve on a strong, hard-hitting drop, comprised of the iconic kick and galloping bass combo. Dance the night away while you enjoy the progressive addition of elements to the base rhythm.
Back to the basics, the break that soothes the hearts of many brings that old-school Trance vibe back, making clever use of pads, arpeggios, and even textures that remind us of the '95 sound of acts like Ayla and the OG DJ Tiësto. Following that same line, the drop that's about to come doesn't forget about the chord progression, adapting the analogue bass to a melodic pattern. There's something about blending the power of a Psytrance beat and melody that makes Reality Test's mix really stand out.
Listen to the track right now! Head over to the Spotify button below, or click here to fly over to YouTube. Alternatively, click here to support Reality Test's 'We Are One' revision on your platform of choice.