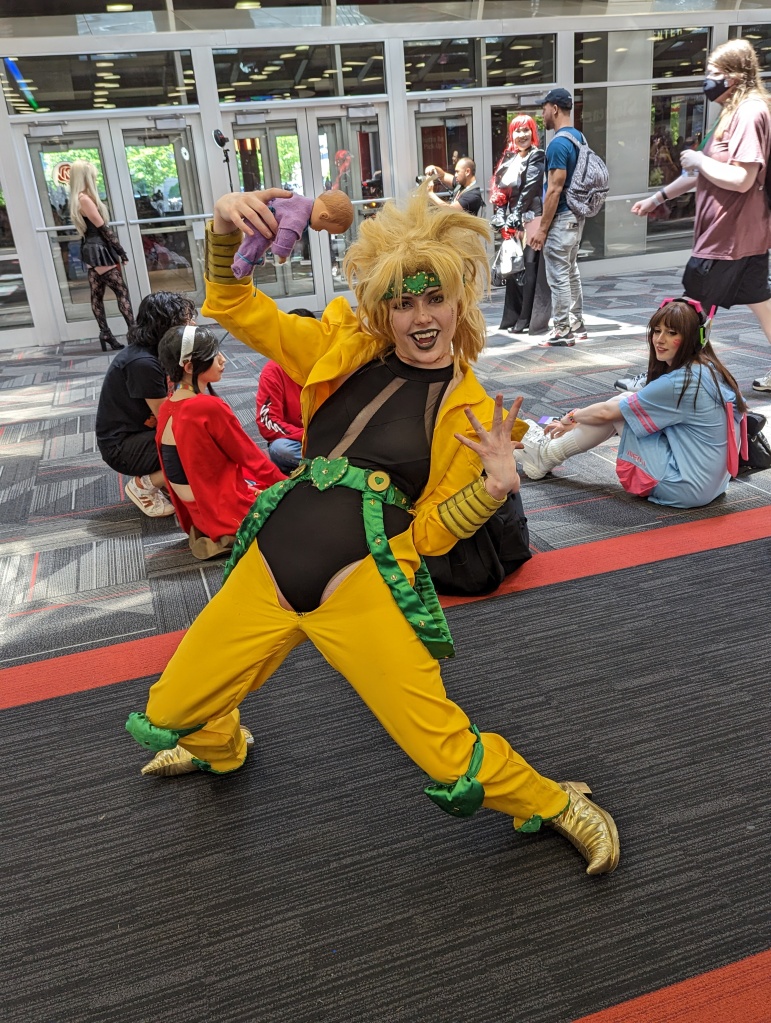 One Sick Event: Anime Central 2023
I've been to my fair share of US anime conventions—on the east coast and the west coast and even some international ones—but never in the Midwest. When I heard the news that Kubo Yurika (the voice of Hanayo in Love Live! ) would be attending Anime Central 2023, I decided I had to be there. Call it paranoia, but after one of my favorite character designers and animators, Kimura Takahiro, passed away this year, I've started feeling that I shouldn't let opportunities pass me by.
What I did not expect was to have COVID-19 while at the event—a fact that I wouldn't find out until later. While my throat was feeling uncomfortable, I had tested negative multiple times before flying out, so I figured it was just a mild cold or something similar that could be contained with good masking. Unfortunately, it turned out to be worse than I thought.
I mention all this for two reasons:
First, as far as I know, I did not spread COVID to anyone at the con—not even my convention roommate who had to hear me coughing and hacking into the night and had to fly next to me. This means that good respiratory masks (KN95, N95, KF94) really, truly work. You are doing yourself and everyone else a favor at conventions and other crowded places.
Second, because I wasn't feeling great, my experience at Anime Central 2023 was not ideal. Nevertheless, I had a good time, and I think it has to do with the fact that Anime Central still maintains a pretty down-to-Earth feel for a convention.
Basics
Anime Central 2023 took place May 19–21  at the Donald E. Stephens Convention Center in Rosemont, Illinois, just a 35-minute car ride from Chicago O'Hare airport. With multiple hotels connected to the convention center through a system of enclosed overpasses, you can easily get to the convention center itself without stepping outside. Putting aside my own hopelessness when it comes to directions, plenty of signage makes it difficult to get lost in those above-ground tunnels.
The con had a certain feel I would describe as very 2006. That's not an insult either, as I actually prefer my conventions to not be polished to the point of rubbing out any quirks. The way Anime Central manages to get big guests while still feeling very fan-run is reminiscent of my favorite anime cons.
The Kubo Yurika Experience
One of the big highlights of the con is the fact that I got to interview Kubo. That came with a caveat: Talking with her had to be under the pretense that we would be focusing on the game A Light in the Dark, for which she and Ichinose Kana (Suletta Mercury from Gundam: The Witch from Mercury) provided voices. The result still provided a good deal of insight into their careers and approaches to voice work.
I also attended her panel, and it was a joy to see her interacting with the audience as fans gushed over her. One person in particular mentioned that having an earbud accidentally get stuck in her ear while watching Love Live! inadvertently helped her doctor realize that she had a tumor—which means Love Live! saved her life. The biggest takeaway I had from all this is that it's wonderful to see such a large gathering of Hanayo fans.
Kubo was also doing a couple signing sessions and meetings with fans, but my condition that weekend basically made it impossible for me to wait the hours needed to get something. While I have some regrets about that, the positives outweigh the negatives.
Interviews
You can find my Q&As with guests at Anime Central, including with Kubo and Ichinose, here: 
Tabata Hisayuki (includes extensive discussion about Kimura Takahiro)
Tanaka Rie (to be included)
Panels
I didn't get to attend as many panels as I would have liked, but the ones I saw were all good in their own ways. Tadokoro Azusa made for a lively guest eager to answer questions from the audience, and I was glad to hear people ask her about her time as Kiriya Aoi in Aikatsu! Helen McCarthy's panels on the late Matsumoto Leiji and the history of cosplay both took deep dives into humble origins, and I recommend sitting in on any of her talks if you have the chance. And then there was "Kani-me 2: Crabs of Anime," which struck a decent balance between crowd-pleasing antics and being informative. As someone who once co-ran a panel called "Such Dog, Much Anime, Wow," I felt a connection.
Food Scarcity
Now here's a downside: Compared to other cons I've been to, getting meals can be inconvenient. While there is an entertainment area nearby that has a number of restaurants, there aren't a ton of options for quick eats or delivery. Normally, I wouldn't mind traveling to Chicago proper to get my fill, but because I didn't have the stamina, I had to make do with what was available. The food truck situation was pretty dire, in that there were literally only two, and they were run by the same people. The different hotels provide options at hotel prices, and the Convention Center "ramen" was more like a lo mein cosplaying its Japanese cousin. Supermarkets and grocery stores are also hard to come by without a car. In other words, it's best to pack some snacks and more nutritious options in your luggage if you plan to go.
Final Thoughts
Attending Anime Central 2023 was an exception of sorts for me, and regardless of the quality of the event itself, I can't say if I'll be able to go back next year. However, it gave me plenty of reasons to consider the possibility, and hopefully I'm not suffering from a once-in-a-lifetime plague by then.
For those in and around the Chicago area, it might just become your go-to regional con, but I get the feeling that you already know that better than I do.