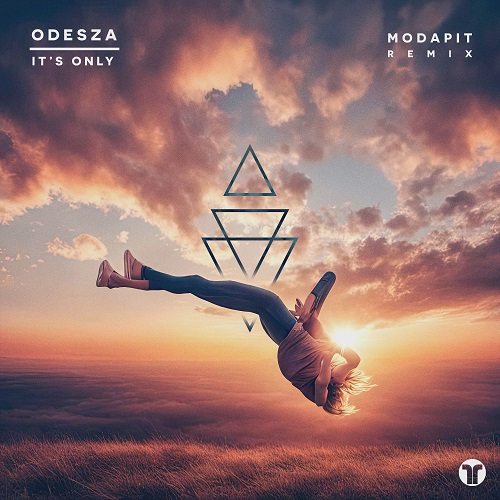 Modapit Reimagines ODESZA And Zyra's Classic Track 'It's Only'
Listen to this year's standout artist breathe new life into the emotional track from nearly ten years ago.
Yeah, you read that right. Time does fly, doesn't it? 2014 was a year in which we got some timeless gems in the EDM industry, we're talking Galantis' 'Runaway (U & I)', Porter Robinson's 'Sad Machine', ZHU's 'Faded', and the summer-scented mega collaboration between Sander van Doorn, Martin Garrix, DVBBS, and Aleesia, 'Gold Skies'. Also from 2014, is Seattle duo ODESZA's second album, In Return.
In Return was not only a collection of thirteen of the best pieces of the duo, but also home to 'It's Only', a heartwarming track featuring the vocals of Zyra. This one has seen a handful of revisions and remixes since its release, including a remix by a younger RÜFÜS DU SOL, and even a very own ODESZA VIP revision.
To the countless remixes already available for 'It's Only', we add today the 2023 touch of an artist who's taken the world by storm, and all without revealing its face. Enter Modapit.
Modapit: The Electronic Sensation Of 2023
We don't know where he came from, nor where he's headed, but we do know he's doing so in style. January would see him salute the world under a dark veil with his debut track 'Dancing'. Later on, we'd get to hear from him in the form of an entire album, titled Devotion. Just a while ago, he followed the album with an excellent single, 'Time To Run'. And now, he gets to remix one of last decade's core EDM tracks. Talk about growth.
But Modapit's career has not been exclusively behind closed doors in his studio: he's graced entire crowds with performances that include Imagine, and EDC Las Vegas. Couldn't it just have been luck, you may ask? Well, feel free to bin that idea when you add to the equation the fact that he's already booked to play Freaky Deaky, Countdown NYE, and EDC Orlando. He's everywhere, and his music speaks for himself, just like he's hoped for in past thoughts.
'It's Only (Modapit Remix)'
The artist's tasty remix has come out today via Thrive Music, while licensed through Foreign Family Collective. "For me, being able to do this remix is an absolute dream come true", confesses Modapit. "ODESZA is an artist that I draw a ton of inspiration from when I am thinking about my own project and creative directions. Every time I see them live, I get invigorated to take my own music to the next level".
"Anything you hear from Modapit is truly an outward expression of how I feel."

-Modapit.
Modapit's rendition of 'It's Only' retains the melodic aspect, still coming as a caress to the feels when the intro goes away. Zyra's soft vocals go hand in hand with the arpeggiated bells. Slowly we start to hear his own elements come to play, like the sustained trumpet-like bass.
The buildup prepares you and gets your hands high in the air, and then… silence. Enjoy the journey up, with a couple of Synthwave-resembling instruments, and then, boom, there's the drop. Powerful, punchy, and melodic, perfect for a calmer drop at a big festival. I really enjoy the direction of the remix, bringing a tough four-on-the-floor beat, yet without forgetting the warm roots of the ODESZA hit, born almost an entire decade ago.
Listen to the remix right below for your Spotify play, and click here to support Modapit's take on ODESZA feat. Zyra's 'It's Only' on the platform of your choosing. Also, keep your eyes peeled, as we'll be having a little chat with the groundbreaking artist in the near future!