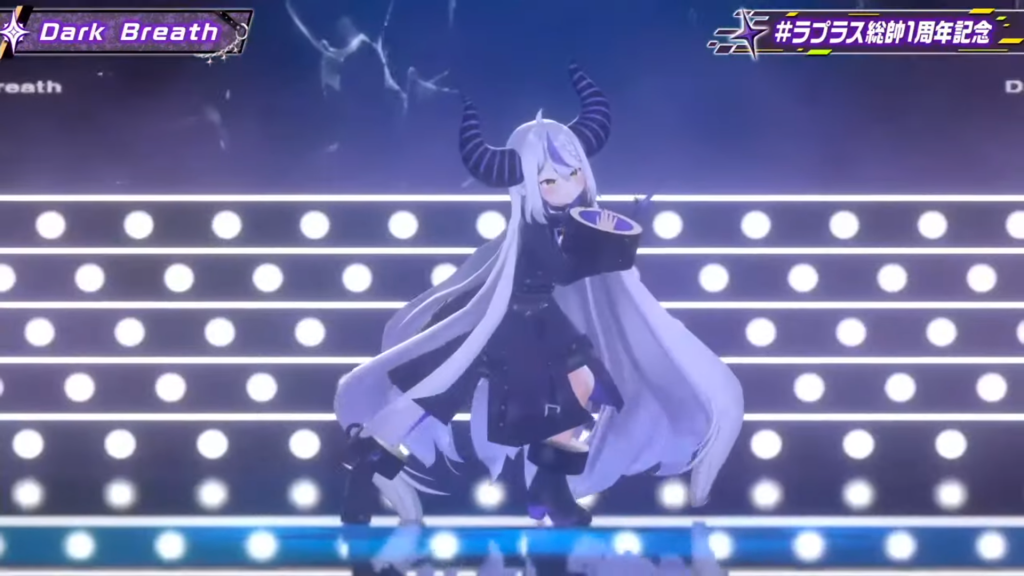 La+ Darknesss: Hololive's Tiny Dancer Extraordinaire
The 3D debut of La+ Darknesss forever changed her image as a Virtual Youtuber. This Hololive member initially presented herself as a bratty chuunibyou with legit singing and rapping skills, but seeing her with a full range of motion revealed that La+ is actually one of Hololive's best dancers. Since then, she's had a handful of performances in her own streams and as a guest in others, and they're consistently top-notch. Numerous clips and comments in multiple languages make note about how her routines just look different from most everyone else's, with one Japanese viewer summing it up well: While many others (like Subaru and Matsuri) are great at idol dancing, La+ comes across as a great dancer.
Indeed, La+'s dancing has made such an impact on me that I've previously discussed her talent in two separate posts. And now here's a third one. 
Writing another essay might seem superfluous; I'd actually thought as such myself. I'm also such an absolute dance novice that I'm completely unqualified to comment on La+'s with any authority. But as I've waited for more expert analysis of her skills, none have really appeared—even reaction videos are exceedingly rare. So, I've found myself watching her concerts over and over, trying to figure out why her abilities shine through even to someone as ignorant of the art as myself. 
Thus, I present my attempt to explain what I literally don't have the proper vocabulary or understanding for, in the hopes that someone better than me can do a more proper job of it.
Crisp, Full-Body Expression
I think the first dance that really caught my attention was from La+'s 3D debut stream: her performance of her first original song, "Aien Jihen." She actually came up with the choreography herself, and it is likely her most difficult dance to date—La+ even prefaced by saying she was only dancing to her pre-recorded vocal track.
The introduction starts off, and she strikes poses if every part of her is in perfect sync with the rest. Then the blow horns sound off, and La+ goes into the first verse with the most confident arm movements I've ever seen from a VTuber. As she pumps her body, there's a combination of elegance and forcefulness (along with some solid camera work) that just leaves a lasting impression—and that's before La+ gets into the more difficult parts of her choreo! She looks as if she's able to carry movements all the way from beginning to end with a level of precision that makes everything feel both important and impactful.
That crispness can be seen across literally everything she does. Case in point, one place where it really stands out to me is in her duet cover of Ayase's "Cynical Night Plan" with Amane Kanata, from her first-anniversary concert. At times, La+ performs more complicated moves than Kanata, but there are moments when they're doing the same steps, and she just seems to have something extra. In the above clip, the duo spread their arms in and flick upwards in steps of three; while Kanata seems to move wrist-first, La+ looks as if she's moving from the shoulders and elbows, creating a sharp ratcheting that matches the song well. I find my eyes being drawn to her as a result.
Control and Stability
The 3D debuts of every member of holoX culminated with a group stream in which they performed a cover of the song "Roki" by MikitoP. This is actually the moment that multiple VTuber clippers drew attention to La+'s dancing, and for good reason: she somehow manages to steal the spotlight without diminishing her genmates. There are just multiple moments where she dips or moves like an undulating wave, and it highlights just how much more control and stability she seems to have over her body—especially her core—compared to the rest of holoX and by extension nearly all of Hololive.
Her first-anniversary stream is also full of moments that demonstrate her incredible smoothness, but where that talent really comes to the fore is in "Dark Breath": her second original song, and one that clearly draws inspiration from K-Pop in the vein of Blackpink. Not only does she demonstrate the aforementioned crisp movement when she turns in place like the hands of a clock, but the way she leans back as if about to fall over—only to then snake right back up—seems to speak to an impressive amount of training.
Idols and Dancing
With the impressive expressiveness and control of La+ on display, I'd like to return to that previously mentioned distinction between "idol dancing" and "dance dancing." To that end, it's important to describe what idol-style dance is in the first place with a brief and highly generalized history lesson.
Japanese idol culture emerged in the 1980s with singers such as Matsuda Seiko being presented as platonic ideals of what girls could be—this is the foundation of the seiso (pure and clean) idol concept that is the butt of so many jokes.
As dancing has become a bigger part of idol culture—such as with the famous AKB48—performances follow a similar trend, being less about making you go "wow" and more about making you go "aww" or "ooh." In anime terms, this is the progression from Macross and Creamy Mami to Love Live!
Idol dance is the angle most Hololive members take, and it allows for those with and without dance experience to look fairly good and to utilize their strengths. For example, Inugami Korone is known as one of the most physically fit members of Hololive. She doesn't have the cleanest moves, but she makes up for it with sheer athleticism and stamina, famously pulling off a front walkover flip while also nursing a broken finger. In turn, Oozora Subaru may not be as athletic as Korone, but she brings a similar amount of boundless energy, a kind of joyful expressiveness that's really endearing, and visible improvements over time that play into the narrative of watching idols as "works in progress." 
Two members who actually have significant backgrounds in idol performances are Natsuiro Matsuri and Takahashi Kiara (Hololive Myth's best dancer), and it shows in how stable they look while in motion.
In the above clip, Matsuri's "Hare Hare Yukai" dance from Suzumiya Haruhi stands in sharp contrast to Houshou Marine's memorized but somewhat uncoordinated motions. Below, Kiara's performance during her original song "Hinotori" straddles the line of idol dancing with a choreography that feels more daring, but she still has a certain staticness that is expected of idol fare, despite showing off a  great deal of balance and flexibility.
In comparison, it's clear that La+ doesn't follow the same template as most others. Certainly, she's not alone in that regard, with Kiara diversifying her style further with her later songs, and Moona Hoshinova giving a more diva-like performance for her original song "High Tide." But I think what La+ seems to have an astounding level of consistency, which leads me to the third reason I think she's such a mesmerizing dancer.
Versatility 
On the subject of idol dance, there is something important to note: Just because it's not La+'s typical style doesn't mean she's bad at it. In fact, she's one of the best:
This clip is taken from the most-rewatched moment in her first-year anniversary concert: her idol outfit reveal, which leads into "Daishikyuu Daisuki," a poppy and bubbly tune by the Japanese group Femme Fatale. It's by far the most idol-esque number La+ has ever done, and she manages to bring her crispness and control to the performance in a way that elevates the whole thing. From how she twists and bends to the subtle positioning of her legs, she looks as impressive here as her other dances. For comparison, below is a video showing other Hololive members covering the same song. The difference is noticeable.
La+ is amazingly versatile, and nowhere is that more apparent than the fact that the very same first-anniversary concert also features La+ with Aki Rosenthal, who is indisputably one of Hololive's best dancers. With a partner who is similarly skilled, La+ is able to pull off something that looks closer to a Broadway number or a dance recital at a major concert hall. The song, "One Room All That Jazz," also has a completely different feel from everything else she's done (quiet and jazzy, naturally). The number consists of nonstop highlights, but I think what really shows her (and Aki's) power is the level of elegance displayed during the instrumental section that then transitions into a wildly contrasting tap dance. Aside from possibly Kiara and Moona, as well as potentially certain members who have yet to receive their 3D models, I'm doubtful there are many who could manage this so effectively.
Dark Lord of the Dance
When La+ Darknesss dances, she displays artistry and a plethora of skills that I think put her near, if not at the top of the list of best dancers in Hololive and Virtual Youtubers as a whole. She actually outdoes Miku Miku Dance models from the best 3D animators when it's far more common for the opposite to be true.
La+ has the crisp, full-body expression that makes every movement feel razor-sharp. She has such stability and control that her moves seem somehow effortful and effortless at the same time. She has the versatility to apply her talents to different songs and genres of dance, and make all of them look good. It's as if she combines the strengths of the most notable performers in Hololive, with the possible exception of Korone-level endurance and athletic prowess (though she might merely be lacking relative to the intensity of her choreographies). And all this isn't even factoring her strong singing ability—something that makes her concerts that much more powerful. Truly, she's my favorite dancer in Hololive and there is no close second.
Which is all to say, if you haven't watched La+'s 3D concerts, you should really check them out. 
(Welcome back, Leader.)