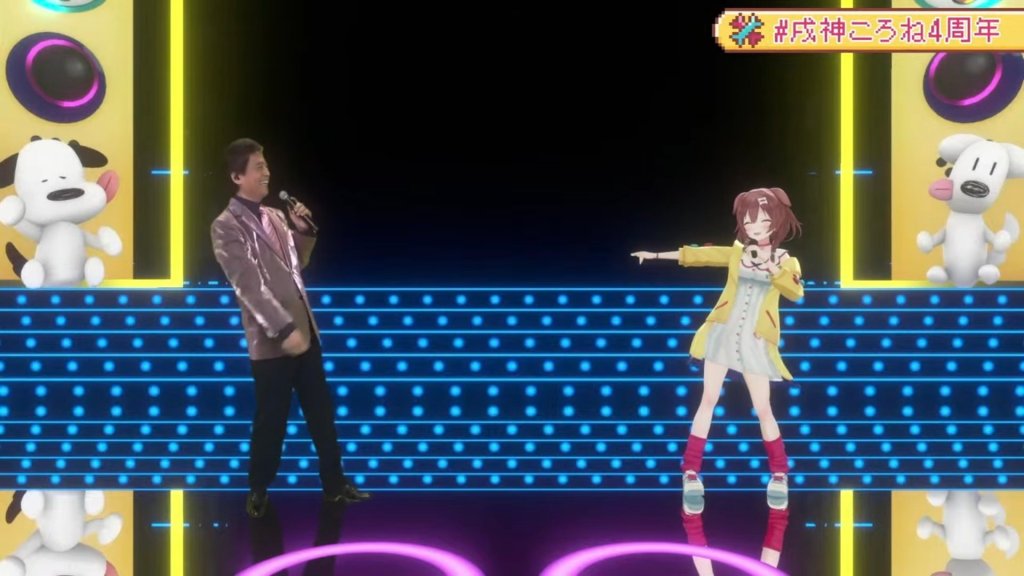 Inugami Korone, Taira Isao, and My Fandom History
As a Virtual Youtuber, Inugami Korone has always been known to march to the beat of her own drum. From doing flips and cartwheels during the biggest Hololive events to squealing with glee over a fishing game getting ported to the Switch, you never quite know what to expect from her. Even knowing this, however, nothing could have prepared me for one of the special guests at her 4th Anniversary Concert: mecha anime singer Taira Isao.
I both saw and heard Taira as he came in on the second verse of the Galaxy Gale Braiger opening, and my jaw dropped. In a world where a cameo by a VTuber from a rival company is a big deal in itself (something Korone also included), to have such an established name and fan favorite is a boss move like practically no other. And on top of that, I would have expected at most to see him on the screen behind Korone, but there he was, standing next to her and sounding as amazing as ever.
Taira is not necessarily the biggest name among musicians of giant robot anime, but the songs he has under his belt occupy a sweet spot: somewhat obscure, beloved by hardcore fans, and actually incredible tunes. Other songs he's performed are the openings to Trider G7, Daiohja, and Ideon, the last of which he also sang with Korone. In fact, Taira first became aware of Korone specifically because she sang "Fukkatsu no Ideon" during her 2022 birthday concert. 
A number of significant names in anime and game music have collaborated with Hololive, but Taira is perhaps the most personally significant thus far. Owing to my love of giant robots and my more recent interests in VTubers, I maintain an unorganized Youtube playlist called the rather self-explanatory "Virtual Youtubers Singing Giant Robot Anime Songs." 
But my fondness for the singers of Taira's generation has been with me for 20 years. Back in the mid-2000s before Youtube even was a thing, I was enthusiastically discovering and discussing video clips of live performances of musicians like Mizuki Ichiro, Kageyama Hironobu, and indeed Taira Isao. Through these concert videos, I bonded with friends online; in fact, this is how I first came to know my fellow mecha enthusiast and mahjong partner-in-crime, Dave, before we ever met offline. To see Taira show up with Korone, still snazzily dressed and still looking incredibly good for his age, feels like a culmination of various bits and pieces of my own history as an anime fan.
Even now, I find myself re-watching the 4th Anniversary performances of Braiger and Ideon music, and it actually reminds me of how I felt whenever a really good character trailer happened in Smash Ultimate. I'd watch the reveals over and over again to relive the excitement of the initial reveals, and to just remind myself that they're real. It makes sense when you think about Tairas' performance with Korone being a similar kind of hype crossover. 
How will Korone top herself next time? I'm looking forward to seeing what less-traveled road she takes.