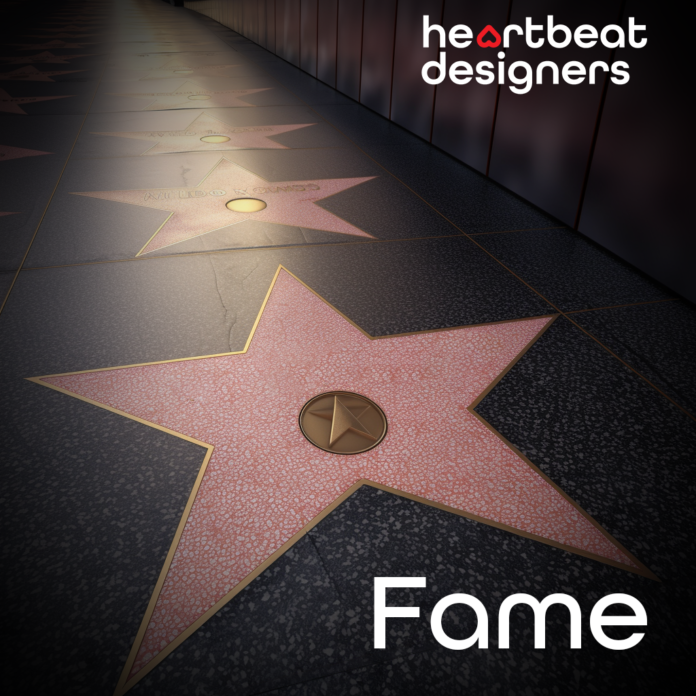 Heartbeat Designers released new hit single "FAME" !
Electronic pop music often had its roots in Germany before spilling over into the United Kingdom: as early as the 1970s, Kraftwerk was able to write milestones in music history with hits such as Autobahn and The Model. International hits in English by Ultravox, Visage, Eurythmics, Tina Turner, Haddaway or Queens Radio Gaga were produced in Germany already three to four decades ago.
Times have changed: Now two Germans, of all people, are storming the British music news with the band Heartbeat Designers and British synth-pop at its finest. The second album OPEN SESAME contains the single FAME, produced in England by the well-known and successful hit producer Ian Little, who has already worked on big productions for Roxy Music, Sparks, OMD, Bryan Ferry and Duran Duran. FAME is a gritty sounding but danceable homage to unforgettable stars like David Bowie, the famous phrase about fame by Andy Warhol and the 80s wave scene and new romantics in London.
Musicians William Forrester and John Boredom are very confident about the latest release:
"Everyone wants electronic, danceable music with old ingredients from the golden 80s, but processed here and there with new recipes. That's what the Heartbeat Designers deliver with the new single FAME", explains keyboardist John Boredom. Another three hit singles can be released from the new album, singer William Forrester gives himself confident and adds: "We are looking forward to playing all our hits live in the UK, because this country deserves the music from which this music genre originates, British Synth Pop.Thank you Britain for our music together!"
Producer Ian Little is proud of his new exciting project with Heartbeat Designers: "FAME is what is currently enriching the British music market. Together with John Robinson I produced a danceable single mix of a first class song by the Heartbeat Designers and includes remixes from three music maestros, UK Garage remixer and producer Blakk Habit, electronic producer and remixer Cellardore and Drum N Bass remixer and producer Dope Ammo. FAME will go through the roof all over the world, I'm sure. We Brits know how to make electronic music successful."