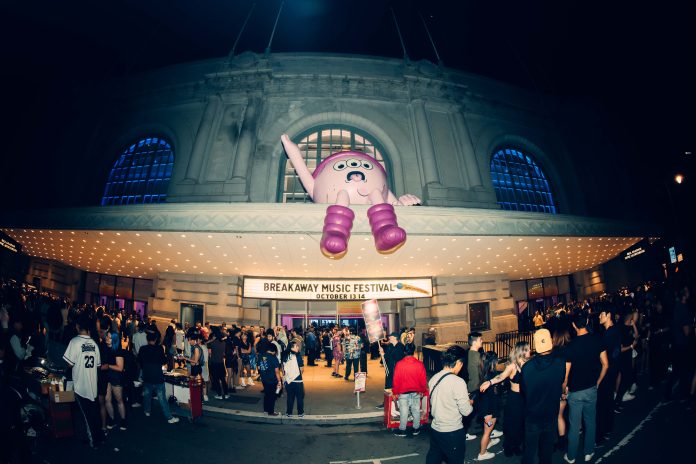 [Event Review] Breakaway Bay Area Offered Thrills At Bill Graham
This past weekend on October 13-14, 2023, San Francisco's Bill Graham Civic Auditorium hosted the 2nd edition of Breakaway Bay Area. What started off as an emerging music festival in Columbus, OH back in 2013 has now become a nationwide dance music extravaganza in nine cities, which includes two innovative festivals 'Everything Always' and 'Another World'. The producers and promoters of Breakaway Music Festival are Prime Social Group, the concert and festival promotion company that targets major college markets (particularly those that have large dance/electronic music fanbases).
*Featured Cover Photo Credit: Andrew Rosas (@afterburndigital)
Breakaway Bay Area returned to the Bill Graham Civic Auditorium in San Francisco
As for Breakaway Bay Area, which is also Breakaway's first festival on the West Coast, Prime Social Group jointly organized the festival with Another Planet Entertainment, a well-established and recognizable event promoter in the San Francisco Bay Area. After last year's memorable debut edition of Breakaway Bay Area (which also took place at the Bill Graham Civic Auditorium), the 2nd edition of the festival aimed to achieve even greater heights of success and praise. Here is the event review of the 2nd edition of Breakaway Bay Area, an edition that offered thrills for the fans who attended and are now expecting the 3rd edition to arrive very soon.
Day 1
There are two stages at Breakaway Bay Area; the first stage is the 'Main Stage' and it is the stage where many of the most memorable concerts and raves in San Francisco's music history were held. The second stage is smaller but still awesome and it is the 'Brownies and Lemonade Stage' (and it was on the left side of the auditorium). 'Brownies and Lemonade' is one of California's most exciting event promotion companies that has developed a reputable name for throwing fantastic "underground-like" shows/raves. There was also a much smaller stage on the right side of the auditorium, the 'Silent Disco' stage, which had the world-famous White Claw seltzer brand hosting it. This stage provided top-notch music for the fans via headphones (with local DJs providing the music).
As for the talents of Day 1, the 'Brownies and Lemonade Stage' hosted Musubi, Ninajirachi, Smoakland, Henry Fong, What So Not, and Moore Kismet. The 'Brownies and Lemonade' stage on Day 1 provided the perfect balance of intensity and chill so that every fan could still have a great amount of energy to keep on dancing. The 'Main Stage' on that day hosted some of the world's most popular names in the dance/electronic world: Mojave Grey, Kaleena Zanders, Night Tales, Walker & Royce, Diesel (the basketball legend Shaquille O'Neal himself), and Madeon. Night Tales' unique mix of 'Electronic R&B', Walker & Royce's groovy style of House music, Diesel's spectacular composition of Bass music with Hip-Hop beats, and Madeon's emotionally powerful tracks that made every fan feel close to their loved ones and new friends at the auditorium were among the most-memorable highlights of Day 1 at Breakaway Bay Area.
Day 2
On the second day of Breakaway Bay Area, many fans were packing inside Bill Graham Civic Auditorium to witness another night of fantastic music at both stages. The 'Brownies and Lemonade Stage' on Day 2 of the festival hosted ROSEDRiiVE, Tsu Nami, Devault, Wuki, PEEKABOO, and Rossy. The atmosphere at that stage was magnified with amazing basses and synths, especially when PEEKABOO played his hit single 'Badders' and got the fans turned up in a heartbeat. The 'Main Stage' of Day 2 provided world-class entertainment from Dathma, Hektor Mass, Bonnie x Clyde, Big Gigantic, NGHTMRE, and Alan Walker.
The superb blend of beautiful vocals and upbeat rhythms from Bonnie x Clyde, Big Gigantic's multi-talented skills on the keyboards, drums, and saxophone, NGHTMRE's offering of energetic Future Bass and Dubstep that made fans headbang from start to finish, and Alan Walker providing perfect, cinematic-like Electro House and Electro-Pop, ended an unforgettable festival weekend for everyone who was there at Breakaway Bay Area. October 13th and 14th at Breakaway Bay Area showed that the San Francisco Bay Area/Silicon Valley is one of the most significant hotspots of Dance/Electronic music in the United States. The success of the Bay Area festival can maybe lead to other West Coast hotspots such as Los Angeles, San Diego, Seattle and Portland to host their own versions of Breakaway.