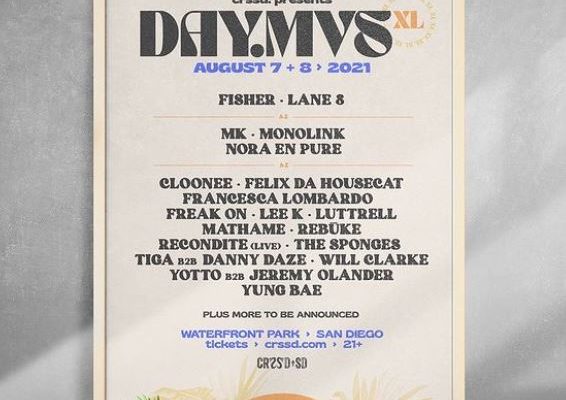 DAY.MVS XL 2021 Is Upon Us
Yep, you read that right. DAY.MVS XL, presented by CRSSD Fest, is making its way to the iconic Waterfront Park in San Diego, California this Saturday 8/7 – Sunday 8/8. CRSSD, the small but oh-so-mighty House and Techno festival also makes its return this year – but first, we get to warm up with DAY.MVS. And boy, are we stoked. The two-day event features a stacked lineup, with artists like Fisher, Lane 8, Nora en Pure, Monolink, MK, Yung Bae, and many more.
Waterfront Park
Along with the incredible talent on the DAY.MVS lineup, the atmosphere at Waterfront Park is unrivaled. The grassy venue overlooking the harbor is surrounded by palm trees and nestled next to the San Diego County Administration Center. In the past CRSSD has seen an attendance of around 15,000 festival-goers per day; and we can expect something similar for DAY.MVS. People are excited to get back out and boogie – despite the new developments with Covid-19. We can expect a plethora of incredible local food and beverage vendors – something that the CRSSD organizers have always delivered on. Combine the venue, the refreshments, AND the stacked lineup – DAY.MVS is destined for greatness.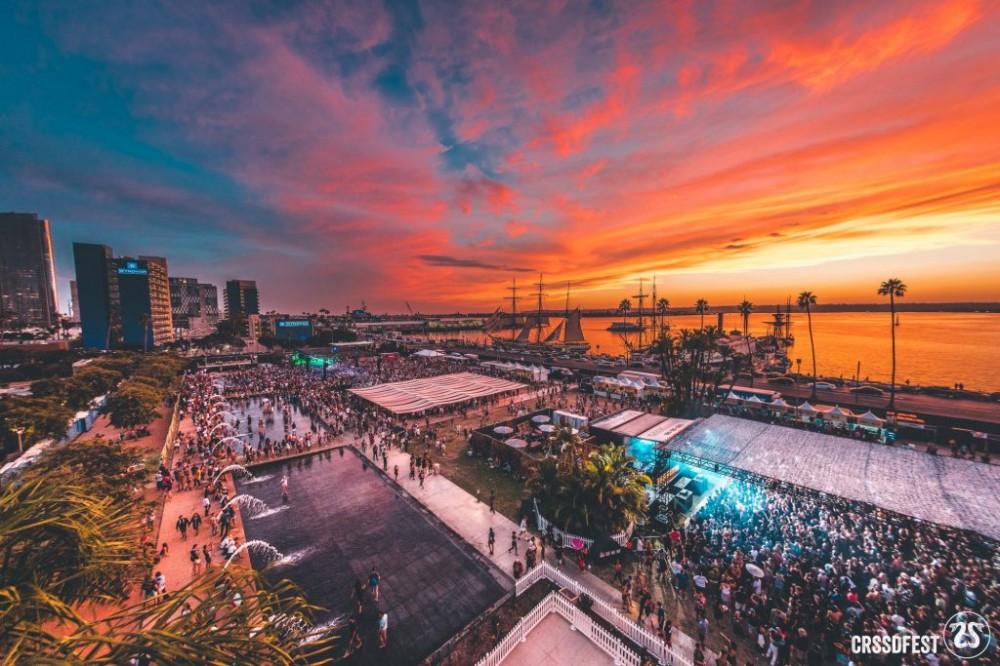 When day splits were shared for the event, a note on the announcement indicated, "PLUS MORE TO BE ANNOUNCED." Now, we have an additional 10 artists. For the time being, we will dive into some of the official lineup artists. The talent across this lineup is incredible. Although only featuring a few in this article, know that whomever you come across on stage at Waterfront Park is certain to wow you.
Fisher
This man's energy is unmatched. Prepare to be Losing It when Fisher takes the stage, and watch him do his thing up there. You won't want to miss this set, likely to be filled with wild dancing and some antics from Fisher himself.
Nora En Pure
The Queen of Deep House has become a staple at dance music festivals, and is certain to pack a punch with her cinematic sound. Nora En Pure's stage presence is epic. We are so ready to see what she throws down on the decks at DAY.MVS.
Lane 8
In the market for smooth, melodic House music? Lane 8 is your guy. He will pack on the feels with his seamless transitions and incorporation of tracks with vocalists matching his ebb and flow aura.
MK
No need to go Back and Forth on this decision – MK is a must-see at DAY.MVS. His upbeat, rhythmic tracks accompanied by realateable lyrics will have you moving and grooving the entire time.
Yung Bae
Yung Bae brings a twist to this House and Techno fest, providing a future funk and electronic sound to shake things up. His tracks are groovy, and I guarantee this set is one you do not want to miss.
Monolink
Monolink is certain to pack a punch at DAY.MVS. The artist is known for his variety in sound, sampling across the board from musical instruments and steady electronic rhythms, alongside hypnotic bass and emotional vocals. His LIVE set will certainly cover all of these bases.
Phase 2 Artists
As if the lineup wasn't already strong enough, we see the addition of the following 10 artists:
Âme
Brennen Grey
ElifErick DiazHeminguey
Joey Beltram
Michelle Sparks
Mor Elian
Rivka M
Stacey Pullen
You Ready?
We are unbelievably excited for DAY.MVS. Be sure to check out the DAY.MVS At Night events happening across multiple venues in San Diego. Additionally, be sure to review the venue's bag policy down below before entering.
Put on your dancing shoes, grab your best friends and your House X Techno bomber jackets, and let's have ourselves a weekend!
For more info, check out linktr.ee/crssdfest