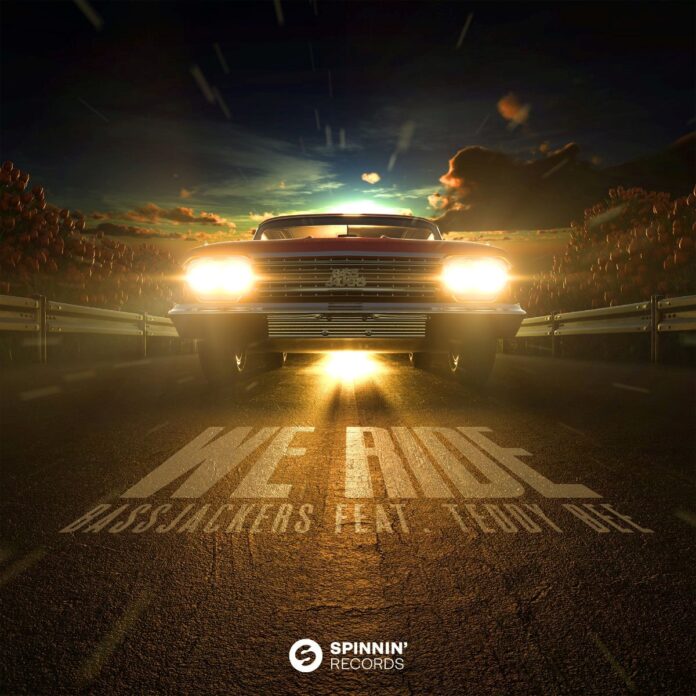 Bassjackers take off with new single!
Enjoying an incredible 2023 season, globally acclaimed duo Bassjackers sets off on a new adventure, as it releases the pop styled single "We Ride." Featuring the inspired vocals of fellow Dutch singer Teddy Bee, the guys back her up with thrilling bass chords and appealing piano chords, dropping into a powerful chorus that clearly aims to lift up this summer's festival crowds. "We Ride" offers a sure shot of pop and dance euphoria, delivered one of the most seasoned acts in the game, out now on Spinnin' Records.
Making impressive moves for over a decade, Bassjackers has become synonymous for the global rise of electronic music in the 2010's, having dropped an immense series of hit tunes, including 2011's dancefloor bomb "Mush Mush" and 2016's "Fireflies."  
Since those early days, Bassjackers have reached massive heights in their career with numerous chart-topping bangers and hit collaborations with the likes of Martin Garrix, Afrojack, KSHMR, Dimitri Vegas & Like Mike, R3HAB, and Showtek, to name a few, as well as remixes for A-list artists including Rihanna, Enrique Iglesias, Moby, and Ne-Yo. Always exploring fresh sounds, the guys have recently taken off with a series of inventive new tracks. From 2021's "The Weekend" and "Lose It" (both released on Smash The House) to this year's "Traffic" (Musical Freedom) and of course their biggest smash "Wrong Or Right (The Riddle)", which also marked their return to Spinnin' Records – all turned into crowd favorites, racking up loads of DJ support and millions of streams.
Now, Bassjackers continues this brand new hot streak, as it drops the invigorating song "We Ride" on  Spinnin' Records. Set amidst a dramatic production sound, with dark bass chords guiding Dutch vocalist Teddy Bee, the mood opens up when a lively piano melody gets things moving, steadily gaining strength until the chorus kicks in. 
The upbeat vibe is brought to perfection with this drop, giving way to a strong beat while Teddy Bee's vocals turn into a chant for the festival crowds, stressing that 'we ride until the morning comes.' Leave it up to Bassjackers to utilize this inspired atmosphere, adding dramatic synths, stirring crescendos and subtle backing vocals to set off into full euphoria.    Bassjackers proves it's still a dance act on top of its game. With a catalogue that contains countless anthems, the duo has developed a perfect sense for fresh, upwinding sounds, employing its seasoned production style to create incredible new tunes. "We Ride" says it all, demonstrating their journey has, once again, entered an exciting next chapter.