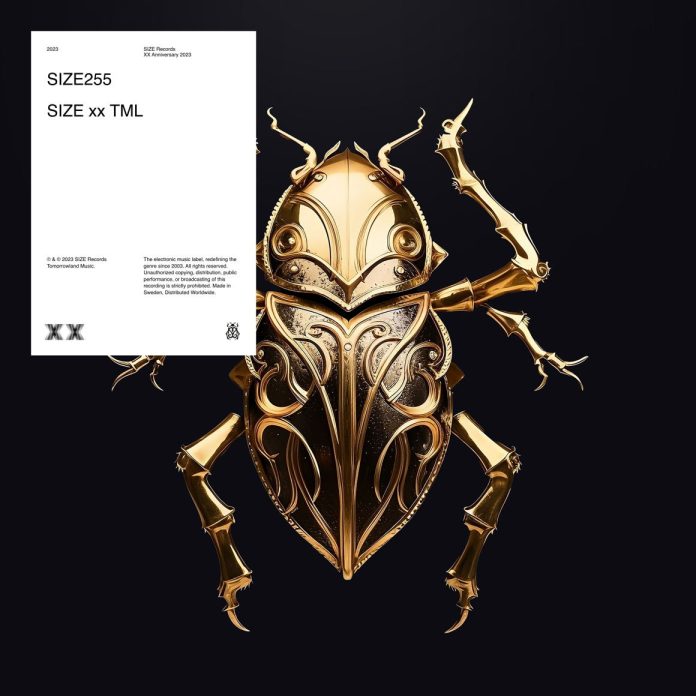 A Journey Through Time: The 'SIZE xx TML' EP Unveiled
In a time when Electronic Dance Music has become a cultural phenomenon, two pioneering entities, SIZE Records and Tomorrowland Music Records, unite. The two have masterfully converged to celebrate both a shared history and an exciting future. Today, we witness the simultaneous release of a groundbreaking collaborative project that stands as a testament to the genre's evolution. Enter the SIZE xx TML EP. The EP is a sonic masterpiece that unites the past, present, and future of electronic music in a harmonious symphony.
The SIZE xx TML EP, co-released by the iconic SIZE Records and Tomorrowland Music Records, emerges as a six-track voyage. This is one that intricately weaves together various chapters of electronic music history. Each track, adorned with its unique charm, takes us on an exhilarating expedition. From the Sunnery James & Ryan Marciano and Magnificence Remix of Steve Angello's 'Monday', to the AN21 Remix of 'The Ocean' by Angello along with Saturday, Monday, and Julia Spada, the EP showcases an impeccable balance between nostalgia and innovation.
Evolution in Harmony: Defining Electronic Music's Next Era
Firstly, HIISAK's 'Subiendo (Vazilando)' featuring Mathieu Ruz injects Latin-inspired rhythms, infusing fresh energy into the EP's dynamic narrative. Further, the beats continue to evolve with 'DANCE BABY DANCE' by Kommando, a track that compels listeners to move. 'Do You Hear Me?' by Pretty Output provides an introspective breather. This leads us perfectly to the grand finale: Daniel Etienne's 'Omniscient'. 'Omniscient' seems to reach out to electronic music's very essence, concluding a transformative musical odyssey.
This collaborative endeavor embodies the ethos of SIZE Records and Tomorrowland Music Records. One which echoes the sentiment that music is a bridge that connects the past, present, and future. The SIZE xx TML EP is a declaration of the genre's profound impact on our culture. Furthermore, the EP has the potential to shape the musical landscape for generations to come.
Conclusion: A Timeless Sonic Voyage
When asked about the collaboration, SIZE Records label head, Steve Angello, said: "This collaboration between SIZE and Tomorrowland is more than just a fusion of sounds; it's a celebration of two decades of musical evolution, friendship, and creativity". He further adds, "remixing the classics gives us a chance to honor our roots, while introducing four incredible new acts showcases our commitment to innovation and the future of music".
"Here's to the past 20 years of harmony and inspiration, and to the next 20 years, where we'll continue to break boundaries and redefine what's possible."

-Steve Angello
As the beats of SIZE xx TML reverberate through our senses, we're reminded of the rich legacy and promising future of Electronic Music. The collaboration between SIZE Records and Tomorrowland Music Records transcends time, inviting us to partake in a musical journey that celebrates where we've been and where we're headed. This EP, a fusion of electronic music's history, present, and future, stands as a milestone that encapsulates the genre's essence. Let's embrace this harmonious celebration of electronic music's evolution, today and beyond.
In conclusion, with the SIZE xx TML EP being 6 songs long, its full run time is a cool 18 minutes and 34 seconds. Having said that, if you're a fan of good music, or SIZE/Tomorrowland Music Records, then this is an EP that you do not want to miss. Lastly, the SIZE xx TML EP is out now on all platforms, and can be streamed below, enjoy!
SIZE xx TML | STREAM